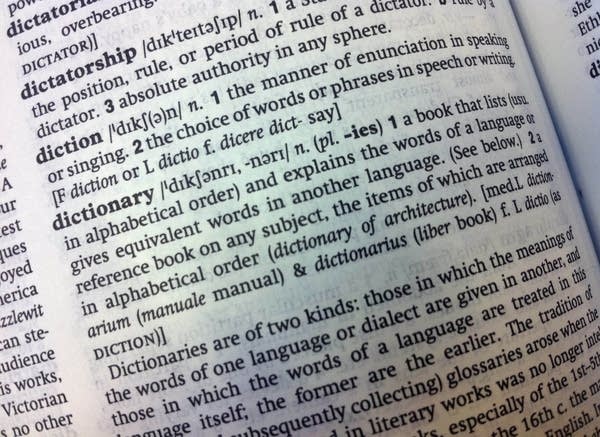 Our show on word aversion produced a plethora ... um, cluster ... make that a good number of responses from listeners. Some of them even shared phrases composed of words they cannot bear to hear:
"Crispy curly noodle-cake, mulching in the gully."
"The nurse was dabbing the weeping sore."
So here's an idea: What's the grossest sentence you can craft from the lexicon below, or from the comments at the bottom of this page?
An example might be:
I rode the funicular to the fecund clematis patch.
Or:
Use the leeches from my flesh to lubricate my luggage.
Or:
My nostrils flapped at the moist manure.
Leave your suggestions in the comments below, and add any words of your own.
OFFENSIVE WORDS, AS LISTED BY OUR GUESTS AND LISTENERS:
Aficionado
Attenuate

Boil
Bois de Boulogne
Bucolic

Catheter
Clammy
Clematis
Cluster
Crisp
Cul-de-sac
Cusp

Fecund
Fiduciary
Flap
Flesh
Flocculate
Funicular

Growth

Handy

Lapel
Leeches
Lubricate
Luggage

Malignant
Manure
Moist
Moisten
Munch
Mushy

Nostril

Ointment
Onomatopoeia

Panties
Plethora

Raw
Reckon (if spoken with a British accent)
Rock star

Salad
Sassy
Scab
Slacks
Slather
Slit
Sparge
Succulent
Suctioning
Supper
Swab

Trousers
Turgid

Wedlock
Weeping

Ya'll

LEARN MORE ABOUT WORDS PEOPLE HATE:

• Why Do We Hate Certain Words?
The phenomenon of word aversion — seemingly pedestrian, inoffensive words driving some people up the wall — has garnered increasing attention over the past decade or so. In a recent post on Language Log, University of Pennsylvania linguistics professor Mark Liberman defined the concept as "a feeling of intense, irrational distaste for the sound or sight of a particular word or phrase, not because its use is regarded as etymologically or logically or grammatically wrong, nor because it's felt to be over-used or redundant or trendy or non-standard, but simply because the word itself somehow feels unpleasant or even disgusting." (Slate.com)