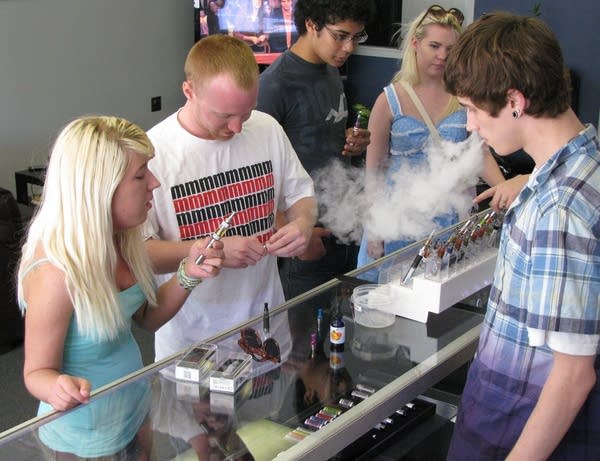 Electronic cigarette use has more than doubled among U.S. teens, rising from 4.7 percent of high school students in 2011 to 10 percent in 2012, according to a survey published Thursday by the U.S. Centers for Disease Control and Prevention.
Use of the devices also doubled among middle school students, say CDC officials, who called the National Youth Tobacco Survey results "deeply troubling."
The agency warns that children who use e-cigarettes may end up getting hooked on nicotine, possibly making them more likely to switch someday to conventional cigarettes. In response, e-cigarette proponents say that fear is overblown and ignores the fact that e-cigarettes are intended to help smokers quit their dangerous habit.
There is a lot that is still not known about e-cigarettes, including whether they pose health risks and whether they are an effective smoking-cessation tool. But public health officials are clearly wary of the devices, and concerned about their popularity.
Minnesota Department of Health Commissioner Ed Ehlinger said e-cigarettes normalize the act of smoking because they look very similar to cigarettes. He worries that children are getting a message that e-cigarettes are cool and safe.
"They're taking off like crazy," Ehlinger said of e-cigarettes. "This is a marked increase in a very short period of time. We don't have enough good information to say this is a benign thing or that it's really harmful."
E-cigarettes are battery-powered devices that deliver doses of nicotine through an aerosol vapor. They are not currently regulated by the U.S. Food and Drug Administration, so the agency doesn't have good information about the amounts of nicotine and other components that the devices contain.
Many anti-tobacco groups say that an e-cigarette is a gateway to smoking because nicotine is such a highly addictive substance.
Mike Sheldon, a spokesperson for ClearWay Minnesota, said there's another reason that kids might be drawn to e-cigarettes:
"They do come in very kid-friendly flavors, things like bubble gum and chocolate and grape, which are certainly not marketed to an older audience," Sheldon said.
The new device is popular, said e-cigarette retailer Maria Verven, 58, who owns Vaping Vamps, an online store.
Verven, of Minneapolis, opened her store a year ago after she tried the device and convinced her 21-year-old daughter to use them to quit smoking. Verven now markets her product primarily to women she describes as light, social smokers. She said 20 percent of her sales are to customers who request zero nicotine e-cigarettes.
Verven said the CDC youth tobacco report is flawed because the survey didn't ask kids how they obtained their e-cigarettes, or if they were regular users.
"I think they're making a big leap between kids who may have tried it and kids who are actually using it on a chronic basis and who are actually getting addicted to the nicotine," she said. "I don't see any evidence of that."
But Verven is worried about the scrutiny that the survey is generating and what it might mean for her business.
There is no law in Minnesota that regulates e-cigarette use in the state. But that may be in the works. Ehlinger, the state health commissioner, plans to talk to Gov. Mark Dayton about how the state may want to regulate the devices in the future. Ehlinger wouldn't specify a timeline, but he suggested the issue is urgent.
"I think we need to move on it fairly quickly because as you can see from this data, the uptake of e-cigarettes is increasing dramatically," he said.
The Food and Drug Administration has also announced that it intends to expand its jurisdiction over e-cigarettes. The FDA could announce proposed regulations as early as this fall.