Duluth council member: E-cig law could be model for state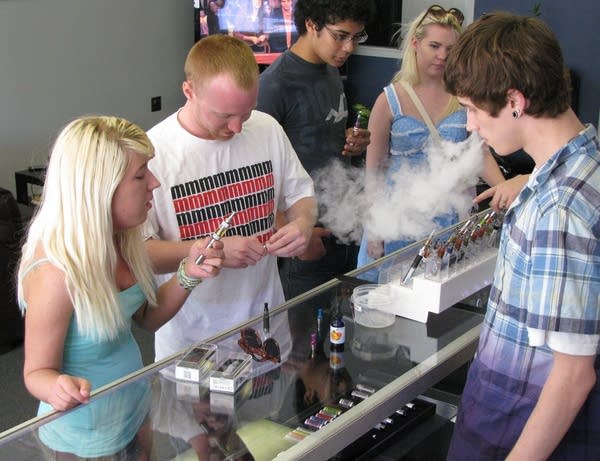 Duluth's new ordinance banning the use of electronic cigarettes in places where conventional cigarette smoking is banned could be a model for the rest of the state, one of the City Council members who supported it said Tuesday.
Council member Linda Krug told MPR's The Daily Circuit that e-cigarettes have made it more complicated to enforce the statewide smoking ban.
"From a distance, I would argue you can't tell the difference. So how can you go to this one person and say 'oh, that's tobacco, you're out of here' and 'oh wait, that's not, that's an e-cigarette so you can stay?'" she asked. "Once you start picking and choosing what's allowed, that's a slippery slope you go down."
Krug said the ordinance helps protect young people. The U.S. Centers for Disease Control and Prevention warned last week that the use of e-cigarettes has more than doubled among U.S. teens. E-cigarettes are battery powered, and users inhale a vapor created from a liquid that often contains nicotine. Public health officials are wary of the devices, but there isn't yet a lot of data proving whether e-cigarette use is harmful or not.
Greg Conley, legislative director for the Consumer Advocates for Smoke-Free Alternatives Association, said there are enough studies showing the levels of chemicals and toxins in the vapor produced by e-cigarettes are low enough to ensure there's no risk to bystanders.
Conley said only three states have moved to ban e-cigarette use where conventional cigarette use is banned — Utah, New Jersey and North Dakota — and he said the enforcement issue Krug cited is not a reason to prohibit e-cigarette use.
Your support makes a difference.
MPR News is made by Members. Gifts from individuals fuel the programs that you and your neighbors rely on. Donate today to power news, analysis, and community conversations for all.
"There is no record whatsoever of any extreme confusion being caused by electronic cigarettes," Conley said.
The U.S. Food and Drug Administration is considering whether to issue more formal guidance on the use of e-cigarettes and whether people hoping to quit smoking should use them.
Krug said until more information is known about e-cigarettes, policy makers should take precautions on behalf of citizens.
"Let the FDA review and do all of its studies on this. If it's found that e-cigarettes really should be regulated as a non-smoking quit device, then that's a new page and we'll look at that," she said.
Gallery
1 of 1