Guideline or law? Confusion over frac sand mining standards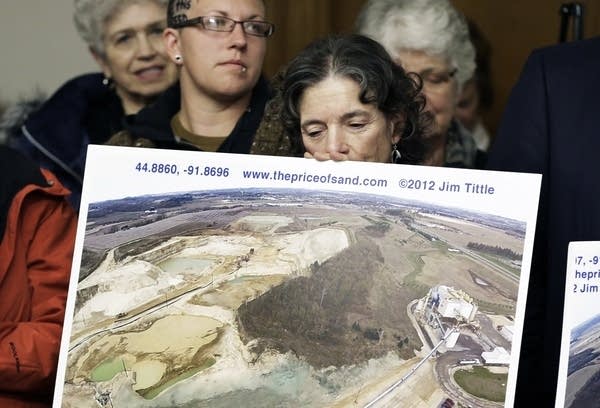 Minnesota officials are set to approve a new set of standards that local governments can use to regulate frac sand mining.
Wednesday the state Environmental Quality Board, a broad oversight agency, will consider draft standards outlined by the agency's staff. They recommend setbacks from homes, water quality protections, rules on noise, blasting, and dust control.
Over the next few months, state officials will ask for public input to refine the voluntary guidelines, which can be adapted by cities, counties, and townships. But critics of the industry have not given up hope for an outright ban on frac sand mining.
State legislators declined to approve a moratorium on frac sand mining, but ordered state agencies to come up with new standards on mines and the transportation of sand. The standards would help local governments pass their own ordinances to regulate the frac sand industry.
Grow the Future of Public Media
MPR News is supported by Members. Gifts from individuals power everything you find here. Make a gift of any amount today to become a Member!
There already is some confusion about effect the standards will have.
"It's not a guideline, it's an actual document, legislation... If it was a guideline, you get too wishy-washy on it.
D'Arcy Duquette, president of Superior Sand Systems, a Canadian company that built a rail spur in Wabasha, Minn., hopes the model standards will educate local officials and prompt them to relax local rules. Duquette plans to haul sand from a mine in Wisconsin by truck across the Mississippi River to Wabasha and there load it onto 84 car trains.
"It's not a guideline, it's an actual document, legislation," Duquette said. "If it was a guideline, you get too wishy-washy on it. In my view of it, I have no problems with it whatsoever."
But anti-sand-mining activists say these new standards are just guidelines, and do not carry the force of law.
Keith Fossen, a supervisor in Goodhue County's Hay Creek Township, said the suggested state standards are much weaker than Hay Creek's ordinance, which has bigger setback requirements and includes a ban on a controversial cleaning agent. It also limits the number of truck trips and allows blasting only twice a year.
As a result, he said, the state standards could undermine the credibility of local rules.
Fossen, who is involved in the anti-frac-mining group Save the Bluffs Goodhue County, wants the state to outline a range of possibilities, starting with an outright ban. "If a community wanted to ban frac sand mining, how would they do it, what are the standards around that, and really kind of play to a toolkit for communities to protect their environment," he said.
He would also like more attention to road wear and property values.
Several cities and counties enacted moratoriums against frac sand mining while they studied its effect on the environment and wrote ordinances to set limits on industrial-sized silica sand mines.
Winona, for example, requires bigger setbacks for mines than the draft state rules would require.
Assistant city planner, Carlos Espinosa said city officials there appreciate the flexibility incorporated into the state standards.
On the other hand, Espinosa said, Winona needs more state help on some technical aspects of permitting -- especially for monitoring air quality.
"We're looking for input on where monitors should be placed, what size fraction should be measured for, basically some of the main things we need to know in order to potentially go forward with any kind of air monitoring program in the city," he said.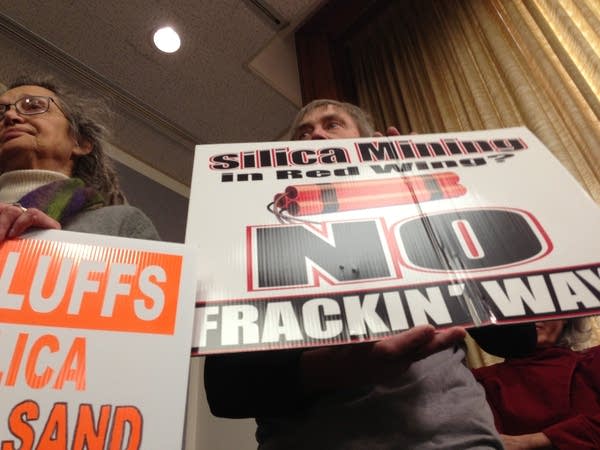 Espinosa said Winona will rely on a technical support group currently being set up at the state level for help on those questions.
Geologist and mining consultant Jeff Broberg downplays the differences between local rules and the draft state rules.
Broberg said the market and Minnesota's go-slow approach will discourage a frac sand boom similar to that experienced in neighboring Wisconsin. He says demand for silica sand is down, and Wisconsin has the needed rail lines.
"You know what the glaring difference is here -- it's between what Minnesota is doing and has already done in these local ordinances, and Wisconsin, that has none of this," Broberg said. "So Wisconsin and that rail capacity is where the industry is, but they don't have a similar set of standards and criteria."
The Environmental Quality Board plans to seek input from public and industry groups on the draft standards; public hearings are likely.
Gov. Mark Dayton has suggested the fragile, interconnected groundwater systems in southeastern Minnesota should be off-limits to frac sand mines. And activists like Keith Fossen say they'll return to the Legislature early next year seeking a ban.
Gallery
1 of 1