A U of M regent's reaction to a last-minute report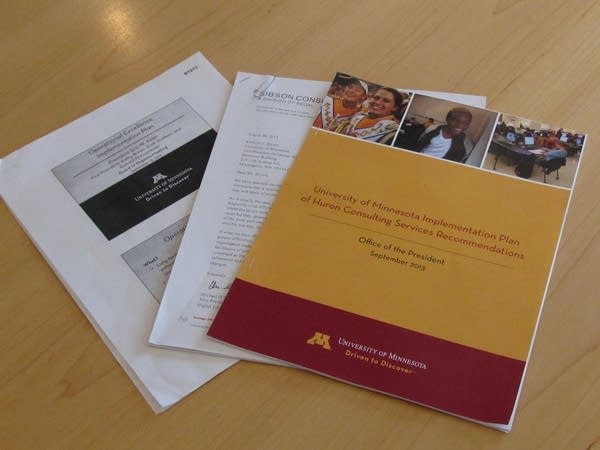 In my coverage of University of Minnesota board meetings, I've at times been frustrated with the U's inability to provide me with a big report before it's presented at the monthly Board of Regents meeting.
I tend to ask for advance copies so that I can better understand the morning's presentation. With the basic details already in my head, I can grasp more of the discussion, develop context, think more critically and be more accurate in my reporting. A rush job serves no one well.
But I often get the reply: Sorry, we don't have it yet. It's not finished.
So at the most recent board meeting, my ears perked up when regent John Frobenius said the following after U officials presented the long-awaited Operational Excellence report -- the one that's supposed to help make the U a more efficient and effective institution:
"I'm not sure (what) in this packet of stuff that was just thrown on my desk I'm being asked to approve. I'm aware of the content of some of it through the activities of my committee. But I'm just making a little subtle suggestion that I can't resist doing as we're talking about efficiency.

This idea of just throwing bunches of paper at the board at the last minute and saying, 'Approve it' is something that needs to be thought through just a little bit. We can and should do better than that.

And that's not really being critical of the president. That's more of being critical of ourselves."
Before you keep reading ...
MPR News is made by Members. Gifts from individuals fuel the programs that you and your neighbors rely on. Donate today to power news, analysis, and community conversations for all.
So I guess I wasn't the only one with concerns -- at least that day.
I asked U spokesman Chuck Tombarge for a comment. He sent this statement:
As analyses and policy recommendations are developed, the administration regularly seeks input from Board leadership and staff, and often meets individually with Regents.

The management reports delivered to the Board in September ... were developed on an aggressive timeline to meet a deadline imposed by the Legislature. To ensure the Board was familiar with and supportive of the recommendations and implementation plan before it is submitted legislators, the reports were shared even though there was limited time for advanced review.

The administration remains committed to delivering the right level of information prior to Board meetings to ensure that Regents can exercise their fiduciary and governance responsibilities.
(I've asked for a clarification.)
Update: Tombarge emailed me this:
We heard Regent Frobenius' concern and will work diligently to meet his expectations.
I also spoke with board Chairman Richard Beeson. He acknowledged the situation, but said it generally hasn't been a problem.
Regents, he said, rarely vote on something the same day they get information. This past board meeting was an exception because of the legislative deadline for the report.
That said, when it comes to getting regents more lead time on the reports, he said: "We're working on it."