Hollywood turns to Minneapolis for 'Captain Phillips' casting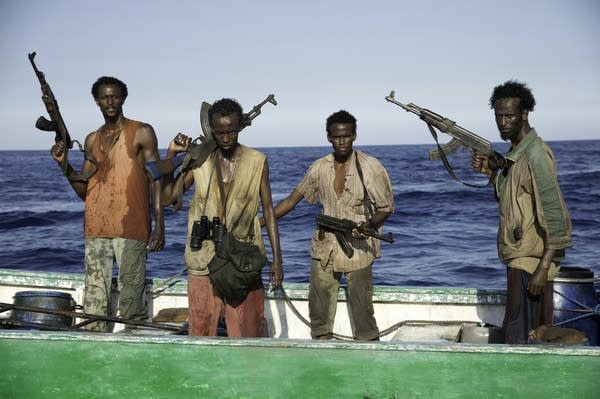 When the new Tom Hanks film "Captain Phillips" opens this weekend, four Minneapolis men will bathe in the Hollywood spotlight.
The quartet of first-time film actors plays a Somali gang of pirates who board a U.S. container ship, and take its skipper hostage.
Barkhad Abdi, who plays the pirates' leader, has even been mentioned as a possible contender for best supporting actor at this year's Academy Awards.
• Cube Critics video: 'Captain Phillips' is a thrill ride
Acclaimed action director Paul Greengrass ramps up the tension early in "Captain Phillips" as crew members of the huge container ship Maersk Alabama notice they have unwelcome company sailing down the coast of Somalia.
As the title character, Hanks calls the Maritime Authorities on the ship-to-shore radio to relate what is happening.
"I am relaying your transmission now," replies the responding officer, "But the chances are, it's just fishermen."
"They are not here to fish," Phillips said, as he forcefully puts down the phone.
The freighter manages to evade one attack, but the pirates come back, this time with a faster boat, and a willingness to use their AK47's. In a hair-raising scene, four Somalis risk their lives to swing a boarding ladder over the side of the massive ship. They run up to the wheel house and shoot the lock off the door.
And that's when Captain Phillips meets Muse, the pirate captain.
"Look at me," Muse demands.
"Sure!" says Phillips.
"Look at me," Muse repeats. "I am the captain now."
It's a chilling scene which hinges on the cold intensity blazing out of Muse's eyes -- one Abdi nearly missed a chance to audition for.
In November, 2011, he was one of more than 700 people at an open audition the Brian Coyle Center in Minneapolis. Abdi said he soon realized it was unlikely the number he'd received from the talent scouts would ever come up.
He was about to leave when he saw a guy chatting to one of the talent scouts.
"I was talking to them," he said, "and when she told him to go in, she looked at me and said 'Go in too.'"
Abdi captured the role of Muse, and three other young men he knew -- Mahat Ali, Faysal Ahmed, and Barkhad Abdirahman -- also won parts in the film. They were thrilled to be working with Hanks, but when Abdi discovered more about the work of director Paul Greengrass, he grew more excited.
Greengrass makes action thrillers, among them the film United 93, which told the story of passengers who battled one group of hijackers involved in the Sept. 11, 2001 terrorist attacks. He also directed two of the Bourne films and is known for using an almost documentary style, which adds an intense reality to action sequences.
The technique works very well in "Captain Phillips," the harrowing story of what the real life Capt. Richard Philips endured, Abdi said.
"To me it's the new acting," he said. "It's as real as it gets; [that's] how I see it. And you know it's really powerful and I like it."
A small downside of the style was that the Minneapolis actors did not get to meet Tom Hanks until months later when they were shooting the intense confrontation in the wheel house. Greengrass wanted to maintain the distance and tension between the combatants.
Abdi said he was nervous going in, but Greengrass calmed him down.
"Paul came to me and said, 'you have to own the scene you have to take control,' " Abdi recalled. "So I just became the character, as much as I can, and that's when the line came out -- 'I'm the Captain now.'"
Abdi ad-libbed the line.
The life and death struggle for control rumbles under the whole of "Captain Phillips." As the story progresses, the pirates realize they will have to deal with the might of the U.S. Navy. It's at that point that Abdi allowed more of the human side of Muse to come through, showing the desperation which causes a man in an impoverished, lawless country to become a pirate.
"He's almost given up, but he can't," Abdi said. "Everything is against him, but he just don't wanna let go. He don't want to show that he gives up because he can't."
Abdi said there is great excitement over the film in the Somali community in Minneapolis, but he admits to a certain amount of wariness. The community has dealt with a lot of bad news in recent years, and he doesn't want to add to the discomfort with the story of the Somali pirates.
"Everybody knows the story of what happened," he said. "They understand how desperate these guys are, and what they are doing is wrong."
But Abdi said he and his friends know a lot of people in Minneapolis, and they hope they will appreciate the film.
The critics certainly do. Variety magazine named Abdi as an Oscar front-runner, and his performance has attracted effusive praise from many other quarters. Abdi shrugs it off.
"You know it was important for me to do the best that I can," he said. "But Oscar never came to my mind, honestly."
Gallery
1 of 1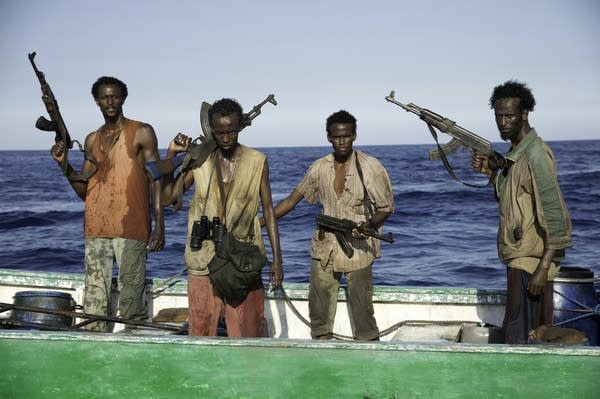 Your support matters.
You make MPR News possible. Individual donations are behind the clarity in coverage from our reporters across the state, stories that connect us, and conversations that provide perspectives. Help ensure MPR remains a resource that brings Minnesotans together.