Landon Steele has survived two tours in Iraq, but since his return to the United States he has seen his comrades continue to fall.
All too often, they succumb to suicide.
"We are a population coming back from the longest war in history and we only represent 0.45 percent of the U.S. population," said Steele, a former combat medic. "And at 23 suicides a day, that's not a problem, that's an epidemic."
To draw attention to the plight of troubled soldiers, Steele and fellow medic Jim Blumenschein planned to walk from the Veterans of Foreign Wars post in Richfield to the state Capitol in St. Paul and then to a VFW in Minneapolis. But after news of their walk spread, they were joined by dozens of others who also felt compelled to raise awareness about the growing number of suicides by members of the armed forces.
• More: See a photo gallery of the march.
With some marchers dressed in camouflage fatigues and carrying ruck sacks, the band of military veterans, active service members and their supporters walked 23 miles to acknowledge the more than 20 veterans who die from suicide every day across the United States.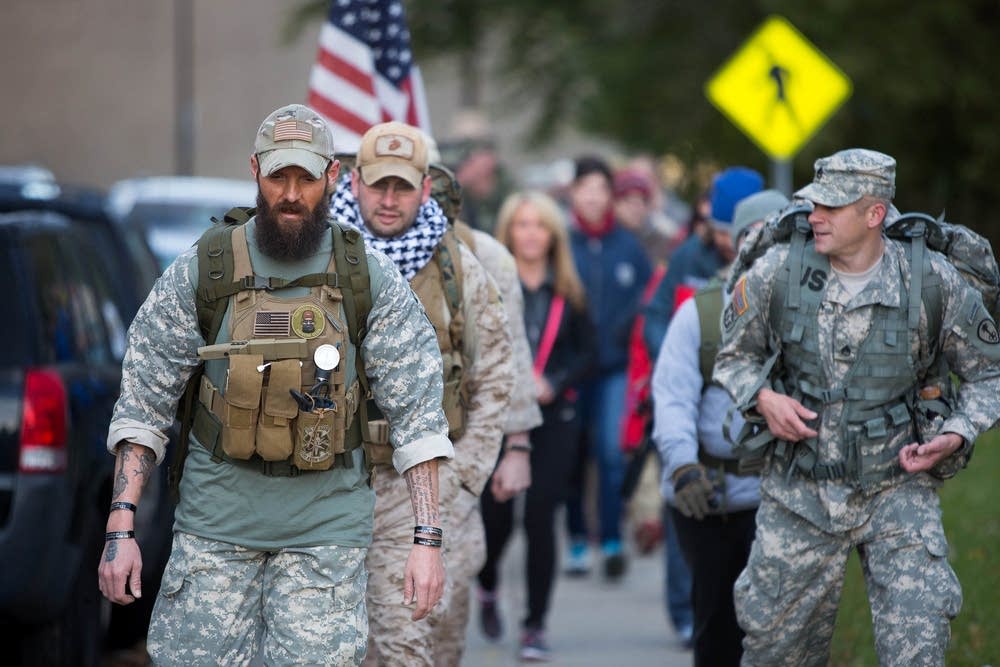 According to data from the U.S. Department of Veterans Affairs, between 18 and 22 veterans across the country die from suicide every day. The study is based on numbers from fewer than half of U.S. states. Researchers say the government's treatment programs have led to improvements, but that the agency needs to do more to prevent military suicides.
Steele said it's hard to find anyone in the military who has not been affected by suicide. Five members of his former unit have died from suicide — and one killed herself a few days after he organized the march.
March co-organizer Jim Blumenschein said he doesn't know exactly why so many veterans take their own lives. He suspects the number of deployments is a factor. Some members of the military have been on multiple tours of war zone duty in recent years.
"I'm sure that doesn't help at all," Blumenschein said. "It's very taxing. There were times when people did one tour and then they were done. If you made it through your 12 months you were done and you went home and stayed home."
Some people showed up at the parking lot of the Richfield VFW to show support, not to march. Among them was Jim Gifford, who served in the U.S. Marines in the late 1980s. He didn't go to war, but is very familiar with the problem of military suicides.
Gifford said about a dozen colleagues have taken their own lives. He says the VA needs the resources to reach more troubled vets.
But veterans also need to know help is available and that it's OK to ask.
"You know, tough guys, guys, just don't talk about weakness," Gifford said. "Or everything's OK. Ask any of these guys — or anyone — 'how are you doing?' [They'll say] 'Oh, I'm OK,' or 'things are fine,' no matter what."
Organizers hope future marches will gain participants, and raise money for suicide prevention programs and research.
Meg McConnell hopes to raise money for research on post traumatic stress disorder or PTSD. She said her brother, Marine Sgt. Ian Williams McConnell, shot himself to death while experiencing a PTSD nightmare two years ago. In the wake of his death, her family created a foundation that donates money for research at the University of Minnesota.
"They found there actually is a part of the brain that is causing this," McConnell said. "It's actually like a disease — and it's caused by trauma."