PolyMet copper-nickel mine: Economic opportunity or too environmentally risky?
Deep below the Superior National Forest floor, traces of copper locked into the rock are stirring up both dreams and dread.
PolyMet Mining is working to persuade state officials that it can unlock those deposits safely, without causing significant harm to a corner of Minnesota known for its water and wilderness. If it does, 11 other companies waiting in the wings could follow suit, bringing a new kind of mining to the state's Iron Range.
For years, PolyMet has tried to demonstrate its plan would avoid scenarios that infuriate environmentalists. The latest study on how an open pit copper-nickel mine could change the landscape just north of the town of Hoyt Lakes will be released Friday in a 1,800-page environmental impact statement.
MORE COVERAGE:
Grow the Future of Public Media
MPR News is supported by Members. Gifts from individuals power everything you find here. Make a gift of any amount today to become a Member!
• FAQ: Copper-nickel mining in NE Minn.
• Map: Sites of proposed copper-nickel mines
• Photos: Ramping up to mine copper
• Timeline: PolyMet's history in Minn.
It will be a major step for PolyMet, and kick off a public discussion that could help decide if the mine is built and if so, what it looks like. Mining supporters hope the journey will end with hundreds of jobs for a needy region and a spot for Minnesota on a global stage where copper is an essential part of economic progress. It's used in the electrical wiring for new cities in China, wind turbines dotting the Great Plains and new smartphones.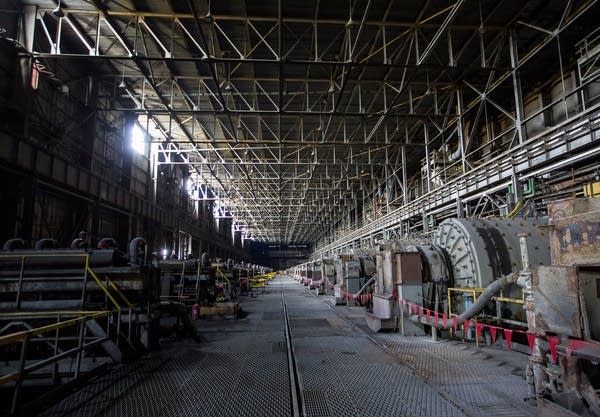 The latest study comes after the U.S. Environmental Protection Agency found an earlier one to be inadequate. Drafts of the environmental impact statement have been circulating for months. The document makes clear that the proposal carries long-term environmental risks different from those posed by iron mining, which has left its mark on northern Minnesota for more than a century. Those risks have given many Minnesotans pause.
The leftover rock has generated most of those concerns. The metals are embedded in rock containing sulfides, which can produce sulfuric acid when exposed to air and water. Because the desirable metals are just specks, the piles of unwanted, potentially toxic rock will quickly multiply.
To avoid leaching acid and heavy metals into water that eventually reaches Lake Superior, all the snow and rain that falls onto those piles and into the open mining pits must be contained and treated, along with any water that leaks from the tailings basin where leftover waste is deposited. It would require a herculean feat of engineering that has never been successfully done before on this scale.
Despite the inherent risks, PolyMet CEO Jon Cherry said the mine is a once-in-a-lifetime opportunity for both his company and the state of Minnesota.
"Part of what makes this exciting for me and for PolyMet is to have the opportunity to be the first one in the state of Minnesota, and to do it in a way that sets the standard, the bar, for a lot of the other ones that will be developed," Cherry said.
'CENTURIES' OF WATER TREATMENT
The DNR, the U.S. Army Corps of Engineers and the U.S. Forest Service are putting together the environmental impact statement with input from the EPA and three Ojibwe bands.
Mining activity would take place for 20 years on a 4.7-square-mile chunk of land in the Superior National Forest. Drilling and blasting would create three open holes in the earth that would reach hundreds of feet deep and eventually cover an area the size of 400 football fields.
Copper, nickel and precious metals would be processed seven miles away at an old iron ore facility outside Hoyt Lakes — LTV Steel — which closed its mill in 2001 and laid off more than 1,000 workers.
"It was built for a 100-year mine life, and it only has half of its life used up," Cherry said. "So it's an incredible facility that's really just sitting here ready to get put back to work."
PolyMet would sell the copper and nickel concentrate. The rest of the rock would stay here — the metals make up less than 1 percent of the rock content. To keep the toxic parts of that rock from leaving the site, the company is engineering a complex system of controls that includes dikes, ditches, ponds and liners to contain any runoff, a task that could prove challenging in a water-rich environment. Water at the mine site would be pumped into a water treatment plant.
At the processing site, the company would build a "cut-off wall" along part of its tailings basin, all the way down to the bedrock, to capture water and pump it to a second water treatment plant. Polymet's engineers devised the plan after the company's original plan was sharply criticized when the project's initial draft environmental impact statement was released in 2009. Both water treatment plants would purify water using a process called "reverse osmosis" in an effort to meet the state's sulfate standard for wild rice.
Even with all of the engineering controls, environmentalists say they have limitations. For example, they say, fractured bedrock could allow contaminated water to seep through and reemerge outside the mine site. They also question the long-term maintenance those controls would need.
Water flowing through the mining site would need to be treated for at least 200 years, and treatment would last at least 500 years at the processing plant site, according to an earlier draft of the environmental impact statement being released this week.
"What's being asked of us is to commit to hundreds of years — centuries — of treating polluted water from this mine that might only last 20 years," said Betsy Daub, policy director for Friends of the Boundary Waters Wilderness, one of many groups raising questions about the proposal.
Daub said PolyMet's plan goes against the spirit of a Minnesota law that states a closed mine should be "maintenance-free." PolyMet and the DNR contend state law allows long-term treatment if the company meets all state water quality standards.
Many citizens and interest groups have already voiced support or opposition to the mine, but others want to evaluate the study first. Daub said the possibility of opening the state to long-term environmental risk represents "an unprecedented situation."
"It really is a moment of really wrestling with what our vision is for Minnesota," she said.
OPPORTUNITY KNOCKS
On the Iron Range, questions about harming the environment are often brushed aside. Why would we pollute the area, some local residents ask, when we live here?
The discussions quickly turn to the economy. The region's unemployment rate is two percentage points higher than the state's rate of about 4.8 percent. Communities are looking for ways to become less reliant on the taconite industry, especially after the recession.
"We have an opportunity to not only lead this state, this country, but this world," said Dave Lislegard, a third-generation miner who sits on the City Council in nearby Aurora. Lislegard was laid off from LTV Steel 12 years ago but hopes the family's mining tradition will continue with his daughter, who is away at school learning to be a heavy equipment operator.
"It's non-traditional for a young lady, but that's our background and we're proud of it, she's proud of it," he said. "I really want my daughter to come back here and have the opportunity to raise her family."
Lislegard attended Aurora's Pumpkinfest earlier this fall, where children decorated jack-o-lanterns in front of a giant banner proclaiming "We Support Mining." The message is found everywhere in this area — in front yards, storefront windows and roadside banners welcoming visitors to town.
PolyMet officials say building the mine and processing site will take as many hours of labor as it took to build Target Field. The initial 1,000 construction jobs would be followed by about 360 permanent jobs over the mine's 20-year life, they said.
The arguments to embrace PolyMet's mine reach beyond the potential immediate impact on the Iron Range. Supporters often cite a 2012 study by the University of Minnesota-Duluth's business school that estimates the impacts of both iron and copper-nickel mining.
"This is crucial to economic development in northern Minnesota but also statewide," said Tony Kwilas, environmental policy director for the Minnesota Chamber of Commerce.
Accountants, lawyers, construction and trucking companies, engineers and foundries located in the Twin Cities and elsewhere in the state could all see a boost from new mining activity on the Iron Range, he said. The income taxes and sales taxes those jobs generate will help the state, in addition to a likely production tax on the material mined and royalties that will go into the state's permanent school trust fund, Kwilas said.
Kwilas, who has observed environmental issues at the Legislature since the 1980s, said he would put Minnesota's environmental regulations up against any other state or nation. If PolyMet can meet those standards, state officials should let it go forward, he said.
LIABILITY FEARS
The economic arguments go the other way, too. One concern is whether copper-nickel mining could harm the tourism industry.
Mining supporters argue northern Minnesota tourism has coexisted with iron mining and the timber industry for years and that copper-nickel mining would be no different. But many worry about the cumulative impact of multiple mines. PolyMet's mine wouldn't be located in the same watershed as the Boundary Waters Canoe Area Wilderness, but others could be. Could copper-nickel mining give the area a black eye?
"They're not coming to visit an industrial landscape, and that's the prospect we face," said Paul Schurke, who owns a dogsled lodge in Ely and opposes copper-nickel mining in the region. "The natural environment and the watershed on a global basis are far more important and significant than the minerals they'll extract."
The other concern is how to ensure that if a mine does pollute, someone other than taxpayers will pay to clean it up. Environmentalists point to examples of other mines in the United States that polluted water after companies closed up the mine and left.
Minnesota requires companies to offer financial assurance — cash or bonds up front to pay for potential environmental problems down the road. Financial assurance was a sticking point in PolyMet's 2009 environmental study, and the EPA has urged that detailed estimates be included in the latest environmental impact statement.
According to an early draft of the document, monitoring and maintaining the site after the mine closes could cost $3.5 million to $6 million per year. But it doesn't specify how PolyMet would cover the expenses.
Cherry, PolyMet's CEO, said the final cost estimate for treating water could be lower, but he said the company is committed to covering the costs.
"We know that we'll have obligations," he said. "We plan to take care of those, both financially and from an engineering standpoint," he said. "And that's part of the plan. That's what we're putting out there for everyone to see."
If water treatment is needed for hundreds of years, the state has to figure out how much that would cost. It's a difficult calculation to make, said Kathryn Hoffman, an attorney with the Minnesota Center for Environmental Advocacy.
"Even minor mistakes in those calculations can result in insufficient financial assurance," she said.
Hoffman said taxpayers have poured over $30 million into cleaning up the Zortman-Landusky gold mine in Montana after the company went bankrupt in 1998. State officials underestimated how much financial assurance would be needed, she said.
DECISIONS TO COME
Hoffman said she hopes the final environmental impact statement will demonstrate Minnesota's leverage in deciding PolyMet's fate.
"These minerals are in our ground. They belong to the state of Minnesota," she said. "The mining companies can't just say,' well, state of Minnesota, your demands are too stringent, we're going to go mine in South Dakota.' It doesn't work like that. We own these deposits, and we have control over how they're extracted."
The complicated task of setting the financial assurance requirements falls to the Department of Natural Resources. But details likely won't surface until later.
First, the DNR will hold a public comment period for at least 45 days on the draft environmental impact statement. Then, the agency and its federal partners will incorporate changes into a final environmental impact statement. If that document is deemed adequate, the project would move to a permitting stage, where DNR officials would judge the proposal's technical merits and decide whether to allow the mine.
Lawsuits could emerge at various steps in the process, including after a final EIS or permit are issued, so mining copper could still be years away. In the meantime, the proposal deserves a robust public discussion, said Jess Richards, director of the DNR's Lands and Minerals Division.
"We really encourage people through this draft EIS stage to comment on long-term treatment, to comment on financial assurance, to comment on those topics that are important to the state," he said. "No decisions have been made."
Gov. Mark Dayton, whose administration has the final say on whether to allow the mine, said he will remain undecided on the proposal until he has reviewed all of the scientific analyses and public reaction.
Environmentalists and mining advocates agree PolyMet's environmental review will be a model for any future mining of this type in the state.
Cherry said he takes that role seriously. "You need to be able to do it right or you won't be able to do the next one," he said.
Gallery
1 of 1