PolyMet's copper-nickel mine rekindles decades-old environmental debate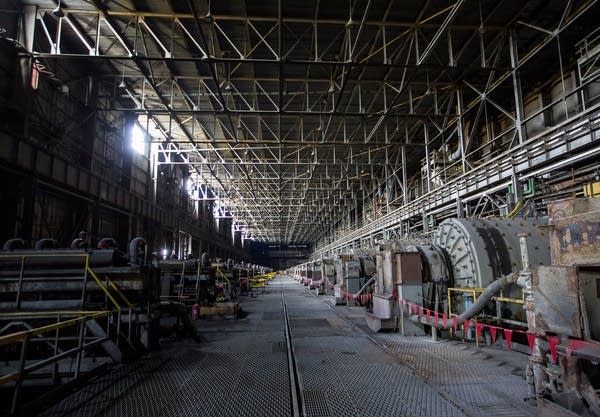 A few weeks ago, Dean Peterson took a stroll down a dirt road lined with cabins along the South Kawishiwi River southeast of Ely, to where copper was first discovered in Minnesota.
It didn't take Peterson long to see signs of copper mineralization on broken shards of rock lying right on the surface. The rusty color, he said, was "all over the place."
As a geologist for Duluth Metals, one of a dozen companies exploring for copper, nickel and precious metals in northeast Minnesota, Peterson knows the area well.
"This rock here clearly has copper, nickel, platinum, palladium, gold, cobalt, everything else," he said, as he used a big hammer to break open a rock.
More on PolyMet:
• A look at PolyMet's biggest investors
• Economic opportunity or environmentally risky?
• FAQ: Copper-nickel mining in NE Minn.
• Map: Sites of proposed copper-nickel mines
• Photos: Ramping up to mine copper
• Timeline: PolyMet's history in Minn.
Those rocks are near the spot where 40 years ago, Minnesotans became locked in a fierce environmental debate. In many ways, the divide was similar to the one unfolding today over plans by PolyMet Mining to build an open pit mine between Babbitt and Hoyt Lakes. It would bring copper-nickel mining to a corner of the state treasured for its water and wilderness.
A CHANCE FIND FUELS CONTROVERSY
The battle over copper-nickel mining has its roots in a 1948 discovery by Fred Childers, of Ely, who likely found the same kind of rocks while blasting rock to build a Forest Service road. Three years later, he recruited a Duluth entrepreneur Roger Whiteside to drill the first exploratory copper bore hole in the state.
Soon the Minnesota Geological Survey and U.S. Bureau of Mines completed more extensive mapping of the mineral deposit, known as the Duluth Complex. That attracted the interest of mining companies like the International Nickel Company, which sunk a test shaft near Childers' discovery.
They continued to explore the region through the 1960s, and when metal prices improved in the early 1970s, International Nickel proposed a 1,000-feet-deep open pit copper-nickel mine in an area called the Spruce Road Deposit, just south of the Boundary Waters Canoe Area Wilderness. The American Metals Climax Company soon followed.
The two companies proposed digging mines very near where PolyMet plans its mine.
Then, as now, the battle lines were drawn.
On one side, many residents of northeast Minnesota welcomed the proposal — and the jobs it could bring.
"Copper-nickel has to be our salvation," exclaimed Ely Mayor J.P. Grahek at a symposium on copper-nickel mining recorded by MPR News in 1972.
"We are determined to have copper-nickel mining," he continued. "And we're talking about an area outside of the BWCA. Again I repeat, we are in full accord to protect the BWCA. But we have to have jobs, people must live."
At the time, Ely suffered from double-digit unemployment. The town's last iron ore mine had closed five years earlier and leaders spoke of a dying community.
But on the other side, a fledgling environmental movement was just starting to flex its muscles — much to the dismay of local officials.
"We in the area are perturbed with all this preservation movement which is going on," Grahek said. "And I kid you not, we don't intend to stand by idly any longer."
This 1970s marked an environmental awakening across much of the nation. The Cuyahoga River in Cleveland had caught fire in 1969, sparking community outrage about water pollution. The first Earth Day was celebrated a year later. In Minnesota, several new environmental groups sprang up, raising concerns that would help to block copper-nickel mining.
"Copper-nickel will be a 20-year boom," Rodney Loper, president of Clean Air, Clean Water warned in 1974. "But the state and the citizens are faced with perpetual treatment of the waste from these mines."
That's nearly verbatim the principal concern voiced by mining critics today, including Betsy Daub with Friends of the Boundary Waters Wilderness, who recently told MPR News, "never before has Minnesota been presented with this kind of proposition — a project, maybe 20 years, for centuries of water treatment."
NOT THE SAME FIGHT
But there are also important differences between the debate then and now. Much of the concern today is over potential water pollution. In the 1970s air pollution was a major issue, because International Nickel proposed building a smelter to process the nickel and copper it would mine.
The company's smelter at its huge mine in Sudbury, Ontario, was notorious for emitting massive amounts of sulfur dioxide, causing acid rain that polluted more than 7,000 lakes.
"We're talking about a smelter just outside the BWCA," Loper said four decades ago. "These things kill trees. They kill fish. They kill a beautiful environment that most Minnesotans approve of and want to maintain."
As they do today, the mining companies tried to distance themselves from earlier industry practices. In 1974, International Nickel spokesman Dean Ramstad pledged that his company would not repeat the errors of the past.
"I daresay, if all of us were to be charged with the sins of our forebears, as the mining industry seems to be, we might be more careful about the stones we throw," Ramstad said then.
Ramstad also promised a new mine would be different.
"I can assure you that despite what you have heard or read, our proposed activities will not pollute the waters of the BWCA," Ramstad said. "They will not destroy the forest, they will not turn northeast Minnesota into what's been called another Sudbury. They will not do these things because we will comply with the federal and state laws and regulations."
A year earlier, in 1973, the Minnesota Legislature passed the state Environmental Policy Act, which established a formal environmental review process for large projects like mines. That same year a task force established by Gov. Wendell Anderson encouraged developing the state's mineral deposits. But a citizens' advisory group called for more study and recommended a moratorium on copper-nickel mining.
State leaders also were split on the issue. Anderson opposed building a smelter near the Boundary Waters, but he supported mining. In a July 1974 letter to International Nickel and environmental groups, he wrote, "I have maintained in the past and continue to maintain, that our copper nickel resources can be developed, consistent with Minnesota's tough and comprehensive environmental laws and regulations."
However, Grant Merritt, then-head of the Minnesota Pollution Control Agency, vehemently opposed it. "I am only forced to conclude that at the present state of technology, we cannot have development of copper nickel industry in this state in the near future," Merritt said at a 1972 mining conference,
"I think the burden of proof ought to be on the industry," he continued, "that there will not be this kind of environmental impact."
A WIN FOR ENVIRONMENTALISTS
The issue came to a head in 1974 when International Nickel and American Metals informed state officials that they were preparing environmental assessments for their mining projects.
But later that year, the Minnesota Environmental Quality Council voted unanimously to require a regional environmental study on copper-nickel mining before any specific environmental impact statement would be accepted. It was a key victory for environmentalists who had contended the industry should be evaluated on a broad scale, not in terms of several individual scattered mines.
The decision effectively put a moratorium on copper-nickel mining until the study was done. By the time the state wrapped up its five-volume, $4.3 million analysis in 1979, metal prices had tanked, and both companies abandoned their projects.
Still, in 1981 American Metals manager Jack Malcolm in Babbitt said he remained enthusiastic about copper-nickel mining's future in Minnesota.
"We found a huge resource. Unfortunately it's marginal at today's prices," he said. "But it's everybody's feeling within the industry that those prices are going to go up considerably just a few years down the road."
Eventually prices did rise, but it took a few decades, not years.
The insatiable demand for copper in China and other developing economies is expected to keep long-term prospects for the metal strong this time around. But Minnesotans still face many of the same environmental questions that dogged mining proposals in the 1970s.
Opponents of the project hope to pull a page from the history books by raising concerns about the potential long-term environmental risks associated with what would be a new kind of mining for Minnesota, very different from those posed by mining for iron ore.
PolyMet Mining, however, is banking on a different fate than that of its predecessors. A long-awaited updated study detailing how the company plans to operate the proposed mine while meeting all state and federal environmental guidelines will be released to the public tomorrow. If it passes muster with regulators, PolyMet plans to begin construction in 2015.
Your support matters.
You make MPR News possible. Individual donations are behind the clarity in coverage from our reporters across the state, stories that connect us, and conversations that provide perspectives. Help ensure MPR remains a resource that brings Minnesotans together.