Broken axle found at scene of ND derailment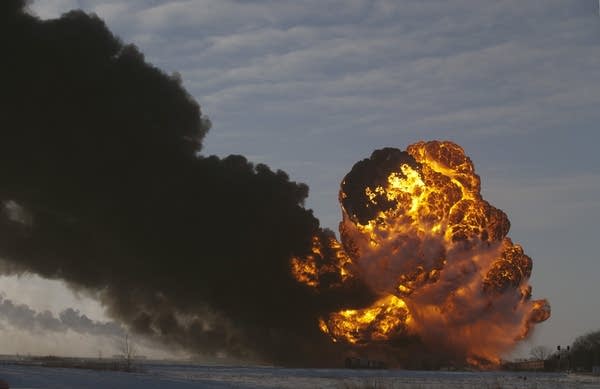 Federal investigators have recovered a broken axle at the scene of an oil train derailment and fire in southeastern North Dakota but don't know whether it caused the wreck.
National Transportation Safety Board member Robert Sumwalt says investigators will be determining whether the axle caused Monday's derailment or whether it broke during the crash.
Sumwalt says investigators have found nothing wrong with the railroad track or signals along the tracks.
The NTSB said earlier that a westbound BNSF Railway train carrying grain derailed first, and a portion of it fell onto an adjacent track carrying the eastbound BNSF oil train. No one was hurt, but most residents in nearby Casselton temporarily evacuated.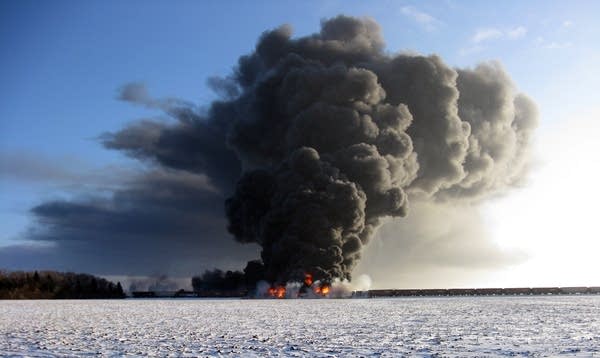 Sumwalt says the investigation into the cause is still in the early stages.
BNSF Railway reopened the two lines at Casselton at 3 a.m. Monday. Traffic was rerouted on other lines while cleanup and repair work was done, but BNSF says some shipments moving through the corridor might be delayed up to 36 hours.
In the meantime, residents of Casselton say life is getting back to normal after the derailment.
Mayor Ed McConnell was back at his trucking business on New Year's Day, catching up on things he says he typically would have done the day before.
McConnell says the incident cost the 2,400 residents of the town a day and a half of their normal lives, but he thinks the community will recover quickly.
MPR News is Reader Funded
Before you keep reading, take a moment to donate to MPR News. Your financial support ensures that factual and trusted news and context remain accessible to all.