Nine reported dead, airports hammered by heavy East Coast snow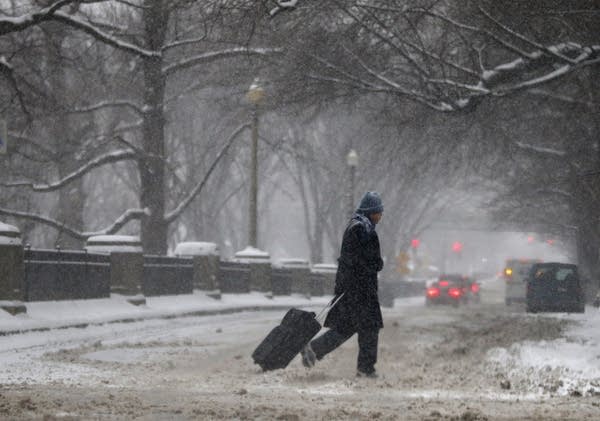 A blustering winter storm that dropped nearly 2 feet of snow just north of Boston, shut down major highways in New York and Pennsylvania and forced U.S. airlines to cancel thousands of flights nationwide menaced the Northeast on Friday with howling winds and frigid temperatures.
The nor'easter -- which brought plummeting temperatures that reached 8 degrees below zero in Burlington, Vt., early Friday with a wind chill of 29 below zero -- dumped 23 inches of snow in Boxford, Mass., by early Friday and 18 inches in parts of western New York near Rochester. Thirteen inches of snow fell in Boston, while Lakewood, N.J., got 10 inches and New York City got up to 7.
The snowfall, frigid temps and stiff winds extended the holiday break for some students for a second day while posing the first test for New York City's new mayor and perhaps the last challenge for Boston's outgoing one.
U.S. airlines canceled more than 2,300 flights Thursday because of the snowfall and low visibility. By Friday morning, about 1,600 flights were canceled nationwide, according to the aviation tracking website FlightAware.com.
Grow the Future of Public Media
MPR News is supported by Members. Gifts from individuals power everything you find here. Make a gift of any amount today to become a Member!
TWIN CITIES FLIGHT DELAYS
About two dozen flights at Minneapolis-St. Paul International Airport have been canceled today because of the East Coast snowstorm, though airport officials say the overall impact is relatively small.
"If you're one of those who's trying to get to New York or to Boston, it is a big deal for today. It's going to be slow going," airport spokesman Patrick Hogan said. Snow in Chicago and Ohio also led to some cancellations, but the situation should improve throughout the day, Hogan said.
Flyers should check with their airlines before heading to the airport if they are flying to the East Coast Friday, he added.
• More: Check Minneapolis-St. Paul International Airport departures
Workers at a convenience store in Mount Laurel, N.J., said they were busy all night as they fueled plow drivers with coffee and other necessities.
Among those stopping in as the snow continued to fall before dawn was David Neff, a newspaper deliveryman. "It sucks out here," Neff said. "They're just starting to plow stuff. We definitely got what they said and maybe a little more."
Snow began falling overnight Wednesday in parts of New England and New York state, but the brunt of the storm began late Thursday. The National Weather Service issued a blizzard warning for Cape Cod, coastal areas north and south of Boston and part of Maine as well as New York's Long Island.
Forecasters warned that gusts of up to 30 miles per hour could bring wind chills to minus 25 degrees, cold enough to cause frostbite in about 30 minutes or less. The weather service said people should dress warmly to avoid hypothermia and cover all exposed skin.
Governors in New York and New Jersey declared states of emergency Thursday, urging residents to stay home. State and county government offices in Delaware were closed Friday. Massachusetts Gov. Deval Patrick said state offices that closed early Thursday would remain closed Friday. He said Friday morning he was concerned about coastal flooding at the mid-day high tide and "extreme" low temperatures expected to continue into Friday night.
New York Gov. Andrew Cuomo ordered three major highways in his state, stretching from Long Island to Albany, closed overnight. The Thruway between Albany and the Bronx, the Long Island Expressway and Interstate 84 between the Pennsylvania and Connecticut borders all reopened Friday morning. Southbound Interstate 95 closed in Philadelphia for several hours because of a jackknifed tractor-trailer.
Outreach teams looked to get homeless people off the frigid streets of New York City and Boston.
Staff members at the Pine Street Inn were keeping the Boston shelter open 24 hours and said they would turn no one away, even if it meant setting up extra cots in lobbies and other common areas.
The heavy weather began rolling in just a day after New York Mayor Bill de Blasio was sworn in to lead the nation's largest city and a few days before Boston Mayor Thomas Menino ends 20 years in office on Monday.
De Blasio, who as public advocate in 2010 criticized his predecessor Mayor Michael Bloomberg for his handling of a large snowstorm, dispatched hundreds of plows and salt spreaders on the streets as soon as the snow started falling Thursday night. Forecasters said that while only 5 inches of snow had fallen in Central Park by early Friday, up to 8 inches were still expected in the city.
On Friday morning, de Blasio was shoveling the sidewalk outside his Brooklyn home. Wearing a black jacket and gloves, he joked with reporters and demonstrated proper shoveling techniques. He later brought out salt to spread on the walk.
Across the region, state and local police were busy responding to accidents and reports of stranded vehicles.
Amtrak planned to run trains on all of its Northeast lines on Friday but operate on a modified schedule, spokeswoman Christina Leeds said. Commuter trains Metro-North Railroad, which runs trains between New York City and suburban Connecticut, Long Island and New York's Hudson Valley, the Long Island Rail Road and New Jersey Transit were operating on weekend schedules. Chains were placed on New York City buses so they would not get stuck in drifts.
Slick roads were blamed for traffic deaths in Michigan, Kentucky, Indiana and Illinois. Authorities said a woman suffering from Alzheimer's disease froze to death after she wandered away from her rural western New York home.
As the storm approached, a worker at a suburban Philadelphia salt storage facility was killed when a 100-foot-tall pile of road salt fell and crushed him. Falls Township police said the man was trapped while operating a backhoe. There was no word on what may have caused the accident.
Douglass Bibule shopped for rock salt and other supplies at a home improvement store in Watertown, Mass.
"Well, there will be some shoveling that I will have to do and some sanding," he said. "I've got to go home and do some stretching exercises to make sure I don't hurt myself while doing that, and do a little shopping to make sure that we have all the supplies that we need. We need food because we have three older children at home."
The snowstorm worked its way east from the Midwest, where it dropped up to a foot of snow on Michigan and more than a foot in parts of Illinois, prompting the cancellation Thursday of hundreds of flights at both Chicago airports. It merged with low pressure moving northeast off the mid-Atlantic coast, forming a nor'easter.
Nearly 17 inches of snow fell in some of Chicago's northern suburbs, and more than 12 inches of snow was recorded at Midway International Airport. About 10 Southwest Airlines planes were stuck on the tarmac at Midway for up to four hours amid flight backlogs.
---
MPR reporter Elizabeth Dunbar contribued to this story.
---
Associated Press writers Geoff Mulvihill in Mount Laurel, N.J.; John Christoffersen in New Haven, Conn., Wilson Ring in Montpelier, Vt., Holly Ramer in Concord, N.H., Jim Fitzgerald and Jonathan Lemire in New York City, David Sharp in Portland, Maine, and Jackie Quinn in Washington, D.C., contributed to this report.