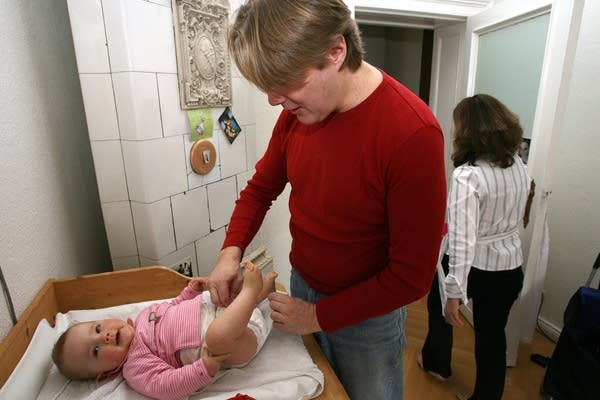 Conversations about work-life balance often center on mothers.
In her recent piece in The Atlantic, Liza Mundy details the benefits of paternity leave.
While paid paternity leave may feel like an unexpected gift, the biggest beneficiaries aren't men, or even babies. In the long run, the true beneficiaries of paternity leave are women, and the companies and nations that benefit when women advance. In October, the World Economic Forum released its latest global gender-gap report, showing that countries with the strongest economies are those that have found ways to further women's careers, close the gender pay gap, and keep women--who in most nations are now better educated than men--tethered to the workforce after they become mothers...

The genius of paternity leave is that it shapes domestic and parenting habits as they are forming. While most mothers in the United States now work, many women still see their careers suffer after they became parents, in part because they end up shouldering the bulk of the domestic load...
Mundy joins The Daily Circuit to talk about her latest reporting on paternity leave.
RELATED: LIZA MUNDY ON THE DAILY CIRCUIT
• Oct. 10, 2012: Mundy on her book The Richer Sex
The fact that men are doing more housework and women are breadwinners isn't such an unbelievable notion anymore. Women are expected to become the main breadwinners in America by 2030.

Liza Mundy sheds light on how this flip is affecting our culture from the bedroom to the family room and to the boardroom.
• Aug. 13, 2013: If same-sex marriage changes marriage, we're about to find out how
Heterosexual couples are waiting longer to get married, while same-sex couples, finally free to do so (at least in Minnesota), are lining up to say their vows.

For years, opponents of same-sex marriage have argued that it would undermine all marriage -- and in fact, the federal law banning recognition of such marriages was titled the Defense of Marriage Act, or DOMA.

But now the U.S. Supreme Court has found DOMA unconstitutional in states that allow same-sex marriage, and at midnight last night, Minnesota became one of those states. So if same-sex marriage indeed affects all marriage, we may be about to find out how.