Victims' attorney sues church and says Choi is protecting church, abusive priests
Updated: 7:25 p.m. | Posted: 6:49 a.m.
Victims' attorney Jeff Anderson sued the Archdiocese of St. Paul and Minneapolis Thursday then immediately slammed Ramsey County Attorney John Choi for what he called a "defective and deficient" response to allegations that top archdiocese leaders covered up clergy sex abuse.
Anderson, who was the first to expose the archdiocese's failure to report sex crimes nearly three decades ago, said Choi's handling of the abuse scandal is putting children at risk.
Betrayed by Silence | An MPR News investigation
Anderson's remarks came at a news conference held at his St. Paul office to announce the filing of a lawsuit on behalf of a victim of the Rev. Curtis Wehmeyer. The lawsuit accuses the Archdiocese of St. Paul and Minneapolis of deceiving the public by saying it has made every effort to protect children and for failing to protect the young boy from Wehmeyer.
Anderson sharply criticized Choi's decision Wednesday not to charge anyone at the archdiocese for failure to promptly report sexual abuse by the Rev. Curtis Wehmeyer in 2012.
MPR News is Reader Funded
Before you keep reading, take a moment to donate to MPR News. Your financial support ensures that factual and trusted news and context remain accessible to all.
"If I have to publicly shame John Choi for making the decision, that's what I'll do," he said.
Choi said Anderson's criticism is inaccurate.
"For him to suggest that nothing has happened or is being considered or contemplated is totally unfair," Choi said. "He doesn't know and he shouldn't know because he's a private attorney representing clients who are suing the archdiocese."
• Wednesday: Church officials 'did not fail to comply with the law' in reporting Wehmeyer abuse, says the Ramsey County attorney
Over the past three decades, Anderson has filed suit on behalf of thousands of victims of clergy sexual abuse around the country. He has also sued the Vatican. He said today was the first time in his career that he directly criticized law enforcement. He said he hopes his remarks will encourage police to demand search warrants to seize the files of abusive priests held at church headquarters and to force Archbishop John Nienstedt and other top officials to talk to police.
He pointed to the archdiocese's recently released list of 34 "credibly accused" priests and said law enforcement should seize all of the church's files on those priests immediately. Top church officials have shown a pattern of failing to report crimes to police, he said.
• The list: Archdiocese names priests credibly accused of sexual abuse
"They keep secrets, and when you're doing a criminal investigation, you don't rely on the suspect to tell you the truth," he said.
St. Paul Police Chief Thomas Smith said Wednesday that he lacks probable cause to get a court order to seize all of the archdiocese's files. Choi, the Ramsey County prosecutor, said that he can prosecute only crimes for which he has evidence beyond a reasonable doubt.
• Video: St. Paul police chief says victims come first in clergy abuse investigation
Smith declined to comment Thursday. Choi said his office and St. Paul Police plan to release a joint statement responding to the criticism of their investigation.
The Archdiocese of St. Paul and Minneapolis issued a response Thursday evening: "Mr. Jeffrey Anderson's assertions regarding the archdiocese are false, inflammatory and misleading. We take particular exception to his unfounded assumptions regarding the intent and actions of Archbishop Nienstedt, who has been resolute in his commitment to strictly adhering to both canon and civil laws." [Read the full statement]
• Wednesday: Document shows church leaders knew of abuse, but waited to report

THE LAWSUIT
The victim Anderson is representing is one of the boys Wehmeyer pleaded guilty to abusing, he said. Wehmeyer is serving a five-year prison sentence for sexually abusing two boys, ages 12 and 14, and possessing child pornography. Some of the abuse took place in a camper that the priest parked outside his church.
The lawsuit is significant because it could allow Anderson to take the depositions of Nienstedt and other top church officials. It could also lead to the release of documents on how the archdiocese handles clergy abuse claims.
• MPR News investigation: Archdiocese knew of priest's sexual misbehavior, yet kept him in ministry
The lawsuit comes one day after Choi declined to file charges against anyone at the archdiocese for failure to promptly report child sexual abuse. The law requires a priest to report suspected child abuse within 24 hours unless his suspicions arise as result of a confession.
(Ramsey County Attorney John Choi at a press conference, Jan. 29, 2014)
Soon after Choi announced his decision not to file charges, MPR News reported that Nienstedt signed a church document in June 2012 that said the archdiocese knew of the sexual abuse claims two days before contacting police.
As a result, a police spokesman said the St. Paul Police Department will consider reopening the investigation.
Betrayed by Silence | An MPR News investigation
Anderson said Wednesday that Choi should consider charging top church officials with obstruction of justice for their handling of the Wehmeyer case.
Rick Dusterhoft, who directs the criminal division at the Ramsey County Attorney's Office, said Wednesday that Minnesota law does not allow for broad obstruction of justice charges. Choi said that other clergy sexual abuse investigations continue, but he declined to be more specific.
• Related: Grand jury not a likely option in archdiocese investigation, says Choi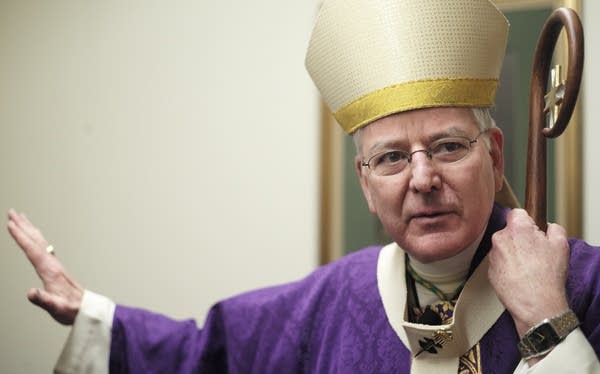 THE WEHMEYER CASE
An earlier MPR News investigation, published in late September, found that Nienstedt, Vicar General Peter Laird, former Vicar General Kevin McDonough and Auxiliary Bishop Lee Piche decided not to warn parishioners of Wehmeyer's sexual addiction and sexual interest in young men.
• Timeline: The Wehmeyer case unfolds
The St. Paul priest, who served as pastor of Blessed Sacrament Catholic Church, had approached young men for sex in a Barnes & Noble and frequented a park known as a pickup spot for anonymous sexual encounters, according to documents obtained by MPR News and interviews with former chancellor for canonical affairs Jennifer Haselberger, who resigned in protest in April over the archdiocese's handling of clergy sexual abuse.
Betrayed by Silence | An MPR News investigation
In a 2011 memo to the head of the archdiocese's program for monitoring priests who posed a risk, McDonough, the former vicar general, explained why he thought parish employees didn't need to know about Wehmeyer's actions.
"I think that you share with me the opinion that he really was not all that interested in an actual sexual encounter, but rather was obtaining some stimulation by 'playing with fire,' " McDonough wrote. "This sort of behavior would not show up in the workplace."
McDonough also asked Wehmeyer for his opinion on whether to tell parish employees. Wehmeyer, who by that time had already sexually abused the children of a parish employee, advised against it.
McDonough wrote, "I agree with Father Curtis that disclosure there would only serve to out his sexual identity questions (which, by the way, would be unlikely to surprise any observant person in the parish!)"
He concluded, "My recommendation is that we would encourage (or even require) Father Wehmeyer to disclose his pattern of self-destructive behavior to a small circle of trusted friends."

The mother of the two victims worked at Wehmeyer's parish. She learned of the abuse in June 2012 and confided in a priest, the Rev. John Paul Erickson, who decided not to call police to report the abuse claims. The mother later said the conversations with Erickson were part of confession, which would mean the priest wouldn't be required to report them.

On June 20, 2012, Deacon John Vomastek, the clergy services director and a former St. Paul police officer, emailed a St. Paul police commander in reference to the case. "The person we talked about will be relieved of duties tomorrow," Vomastek wrote.
Before police arrived at the parish, McDonough and Vomastek confronted Wehmeyer at the Blessed Sacrament rectory, according to police. McDonough took the priest's handgun and one of his computers and told Wehmeyer he needed to move out.
Police Sgt. William Gillet arrived to interview Wehmeyer later that day.
Wehmeyer refused to answer questions. Gillet tracked Wehmeyer's camper to a storage facility in Oakdale the next day. Gillet said he suspects Wehmeyer destroyed evidence because it was mostly empty. Police retrieved the computer and the gun from the archdiocese but didn't get much cooperation from McDonough, who never returned the investigator's calls, said Gillet.
McDonough said he doesn't remember getting any phone calls from Gillet. "I have many, many people tell me they're calling me and they can't reach me," he said, because people forget to leave a message.

THE COMPLAINT Read the full document


Betrayed by Silence | An MPR News investigation
Gallery
1 of 1