Lawmakers to deal with budget surplus, minimum wage hike as session begins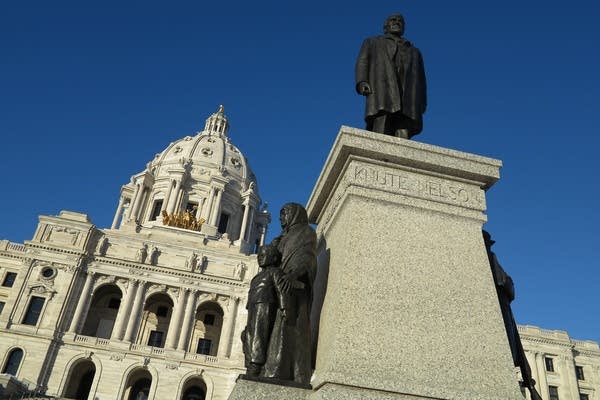 Minnesota lawmakers return to the Capitol Tuesday for the start of an election-year legislative session, and much of their early attention will be on a minimum wage increase and taxes.
A minimum wage increase was expected to pass last year under the DFL-controlled Legislature, but House and Senate negotiators ran out of time before they could reach a compromise. The House had passed a bill to increase the hourly rate to $9.50, while the Senate passed a $7.75 measure.
Gov. Mark Dayton, a Democrat who is running for a second term in November, said an increase to $9.50 would help workers and businesses.
"Economic experts tell us that low to middle income people, when they have an income increase, spend that money almost immediately on basic necessities, goods and services they hadn't been able to afford up until now," Dayton said. "So those dollars go right back into local and state and national economies."
Grow the Future of Public Media
MPR News is supported by Members. Gifts from individuals power everything you find here. Make a gift of any amount today to become a Member!
House Speaker Paul Thissen, DFL- Minneapolis, thinks the issue can be resolved within the first couple of weeks of session.
"I think that there's a way that we can move this legislation quickly and get done what I think a significant majority of Minnesotans want to see us do, which is to make sure that if someone is working a full-time job, they ought to be able to live off that job," said Thissen, who aims to make sure his party retains the majority this fall.
Senate Majority Leader Tom Bakk, who is not up for re-election, said he thinks some additional public hearings are needed first.
"I'm concerned about the idea of $9.50 for small businesses on the main streets of small towns," said Bakk, DFL-Cook. "As these big box retailers move into smaller and smaller markets, it's getting more and more difficult for small mom and pop businesses on main streets to survive."
There is also a difference of opinion on taxes. Dayton wants part of a projected budget surplus used to repeal three business sales taxes passed last year. Thissen agrees, and the House Tax Committee will spend much of the first day considering several repeal bills.
But Bakk is urging caution about tax cuts.
"After more than a decade of deficit management, we now finally have one budget forecast where we have our head above water," Bakk said. "What I don't want to do is make decisions that put us back into deficit management in the next biennium or beyond."
Bakk said he's waiting to see the next economic forecast, which is scheduled for release Friday, to see if the projected surplus is bigger or smaller. He wants to use some surplus money to build up the state budget reserve.
Republicans leaders in the Legislature want the surplus to be returned to Minnesotans through tax cuts.
"That money belongs to the taxpayers," said House Minority Leader Kurt Daudt, R-Crown. "What it means is we've overtaxed Minnesotans. For us to do some celebratory dance that we've got extra money in the state's budget right now, when Minnesota families haven't seen that money in their pocketbooks or their family budgets, I think is the ultimate arrogance."
Lawmakers will again take up legislation to fund a long list of public construction projects.
Dayton has already outlined a $986 million proposal for projects to be financed by bond sales. That's too much for many Republicans, whose help is needed to reach the 60 percent supermajority vote required to pass bonding measures.
Senate Minority Leader David Hann, R-Eden Prairie, said it shouldn't be more than $840 million.
"On our side, we would prefer that the projects be infrastructure of statewide, regional importance, whether it's transportation or some of the things with the higher education institutions," Hann said. "We want to see these things broadly supported."
Dayton will not be at the Capitol for the start of the session as he is still on the mend from recent hip surgery. Dayton wants legislators to spend some of their time this year streamlining state government and eliminating old, unnecessary laws.
Next month, the governor plans to unveil his "un-session" proposal. Dayton said he'll also have a few more ideas for spending some of the surplus money, including school lunches and low-income heating assistance.