Isle Royale wolf's death a blow to repopulation hopes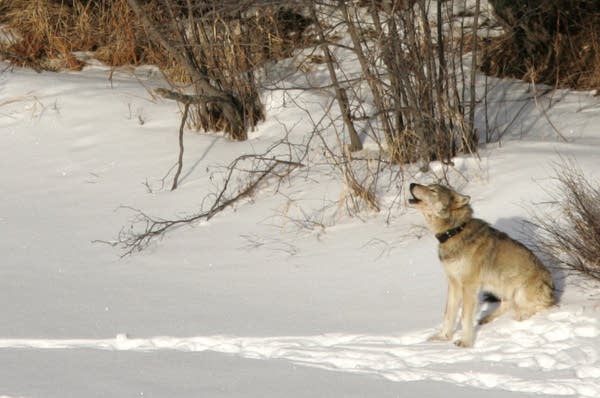 A wolf from Isle Royale National Park was found dead in Minnesota earlier this month, after crossing a bridge of ice over Lake Superior, a researcher said Tuesday.
The death of the five-year old female nicknamed "Isabelle" is a blow to those who hoped the frigid winter could allow a wolf to migrate over the frozen lake to the island and rejuvenate the park's struggling wolf population.
Isabelle, who wore a research collar, crossed an ice bridge that formed in late January for three days, said Michigan Tech University biologist Rolf Peterson, who has studied the interaction between wolves and moose at Isle Royale since the 1970s.
Peterson said the wolf had been trying to find a mate for the past two years.
"In this case it's not at all surprising that this wolf left Isle Royale, because she's looking for greener pastures someplace," he said.
There were no outward signs on the wolf indicating how she may have died, Isle Royale National Park Superintendent Phyllis Green said.
MPR News is Reader Funded
Before you keep reading, take a moment to donate to MPR News. Your financial support ensures that factual and trusted news and context remain accessible to all.
Biologists from the Grand Portage Band of Lake Superior Chippewa found the animal along the shoreline just off the reservation. Green said the Park Service plans to send the wolf off for a full autopsy.
Wolves first arrived in Isle Royale, an island about 15 miles off the shore of the northeastern corner of Minnesota, by crossing an ice bridge in the 1940s. Since then their numbers have fluctuated dramatically.
In 1997, a male wolf nicknamed "Old Gray Guy" crossed the ice from the mainland, fathered several pups, and rejuvenated the island's packs. Green said researchers didn't know a newcomer had arrived until a few years later.
This winter, researchers did not see Isabelle's tracks leaving the island, so it's possible they also missed the tracks of an incoming wolf in January or across a second ice bridge that formed for ten days earlier this month.
"So basically if some wolf or wolves came over on an ice bridge this year, we may not know until we evaluate scat collections that we do in both the winter and summer," Green said.
She said researchers haven't seen obvious signs of a new pack on the island.
Ice bridges connecting the island to Minnesota and Ontario were commonplace earlier this century. But Peterson said their frequency has declined by about 80 percent since the 1960s. Despite very cold weather, he said high winds have prevented a new ice bridge from forming this year since mid-February.
With Isabelle's death, Green said only 10 wolves remain on Isle Royale, including three pups born last year.
Rolf Peterson and fellow Michigan Tech University biologist John Vucetich want the Park Service to introduce new wolves to the island to bolster the island's population. He said without such a "genetic rescue," the animals are at a very high risk of extinction.
Green is weighing the proposal.
The Park Service also is considering waiting until the population is extinct before introducing new wolves to the island, or simply letting nature take its course.
Green, who has received more than 1,000 comments from the public, said there's no timeline to make her decision.
"Nature seems to keep giving us an opportunity to make sure we've very thoughtful about this," she said. "I don't think any of us would have predicted the ice bridges this winter. No one predicted the three wolf pups that have appeared. So we have time to be thoughtful."