Ramsey County will not file charges against Archbishop Nienstedt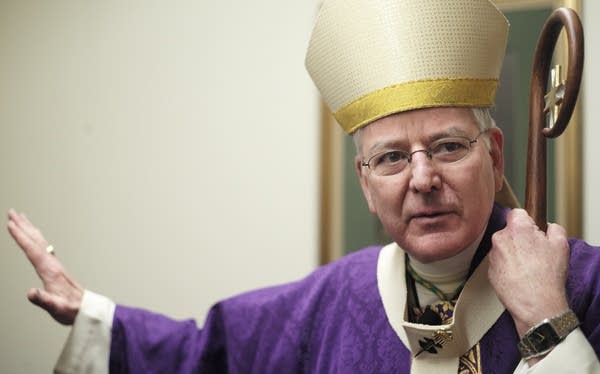 Ramsey County Attorney John Choi has declined to file charges against Archbishop John Nienstedt, who in December was accused of groping a boy several years ago at a public event.
Choi's office cited "insufficient evidence" of a crime, according to a news release Tuesday.
• News release: From the Ramsey Co. Attorney's Office
Nienstedt, leader of the Archdiocese of St. Paul and Minneapolis since 2008, said he would voluntarily step aside from public ministry while police investigated the allegation that he touched a boy on the buttocks during a group confirmation photo session in 2009. However, Nienstedt continued to serve as archbishop throughout the investigation. He met last week at the Cathedral with a group of adults planning to convert to Catholicism. Church officials told the group not to ask Nienstedt about the clergy abuse crisis.
MPR News is Member Supported
What does that mean? The news, analysis and community conversation found here is funded by donations from individuals. Make a gift of any amount today to support this resource for everyone.
Explore the full investigation Clergy abuse, cover-up and crisis in the Twin Cities Catholic church
The St. Paul Police Department launched its investigation into the allegation on Dec. 16, according to a March 11 memo to Choi from Richard Dusterhoft, criminal division director for the Ramsey County Attorney's Office.
The priest told authorities that he learned of the allegation while having lunch with the boy's mother a while ago, Dusterhoft wrote.
The alleged victim told police in interviews on Dec. 18 and 19 that Nienstedt moved his hand down his back to his buttocks while lining up for the group confirmation photo on May 5, 2009. He said he thought the incident was "creepy" but didn't feel violated, Dusterhoft wrote.
Police interviewed Nienstedt on Christmas Eve. He denied the allegation and wondered if someone else might have touched the boy as a joke, Dusterhoft wrote.
• Document: Dusterhoft's memo
Dusterhoft added that police identified and talked to every person in the photograph. No one reported seeing anyone being touched. Based on the evidence, Dusterhoft wrote, there were no witnesses to the incident as described — and the boy did not discuss it with anyone else who was confirmed that day.
"The state cannot prove beyond a reasonable doubt that the touching, if it occurred, was intentional and done with sexual or aggressive intent," Dusterhoft wrote.
• News release: Statement from the Archdiocese of St. Paul and Minneapolis
Nienstedt has denied doing anything wrong and said he has never engaged in inappropriate conduct with a minor. He has also said he did not know the name of his accuser.
In a statement released by the archdiocese on Tuesday, the archbishop said he was thankful to Saint Paul police for a thorough investigation and that he looked foward to resuming all of his duties.
"While I look forward to my returning to public ministry, I remain committed to the ongoing work needed to provide safe environments for all children and youth," Nienstedt said. "I continue to offer my prayers for all victims, their families and their communities, as well as to all who have been harmed by clergy sexual abuse. I once again offer my apology to all who have been affected by these terrible offenses."
The allegation came during a difficult period for the archdiocese, just after Nienstedt released a list of priests the archdiocese considered "credibly accused" of having sexually abused children. Nienstedt also ordered a review of clergy personnel files to ensure no other abusers are in ministry.
Nienstedt also served as bishop of the Diocese of New Ulm, from 2001 until 2007. Dan Rossini, a spokesman for the diocese, said in December that no allegations of sexual misconduct were made against him there.