The winter of 2014, it appears, refuses to depart without a fuss.
Minnesotans across the state woke up to snow in some places (Duluth), sleet in others (St. Paul) and the promise of a winter prolonged across the upper Midwest.
• The weather page: Full forecast and conditions for your location
• Sign up for weather text alerts: Text 'weather' to 677677
Winter storm watches and warnings are cropping up all over the state for the early part of the week, extending from late Monday night through Tuesday and into Wednesday evening in some places.
• National Weather Service: Winter storm watches and warnings
From Paul Huttner on the Updraft blog:
March has been unusually quiet so far in Minnesota. That's about to change in a big way.

Our dry quiet start to March features a scant .02 inch of precipitation through this morning at Minneapolis-St. Paul International Airport. A string of days in the 40s and 50s produced widespread snow melt the past 10 days.

Now, the March weather lion is about to roar. The only remaining question appears to be exactly who will get the heaviest snowfall?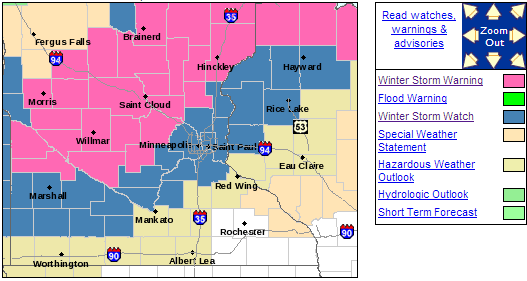 Driving conditions
As dropping temperatures and airborne slush come together, MnDOT is shifting the conditions of some major roads across the state from "good" to "fair" and "difficult."
• From MnDOT: Statewide road conditions
• Mobile road conditions: Statewide road status, from MnDOT
The agency is tracking several incidents across the state -- the Minnesota Department of Public Safety says that more than 1,450 motorists have been arrested for DWI on St. Patrick's Day over the past five years. The department announced that police around the state will increase DWI checkpoints throughout the weekend in an effort to prevent alcohol-related crashes.