Tight regulations on walleye fishing will continue at Lake Mille Lacs this year, as state officials seek to address the long-term decline of the walleye population.
To protect the fish, the Minnesota Department of Natural Resources has decided to ban night fishing on the lake for half of the year and keep in place a daily limit of two walleye.
DNR officials have called Mille Lacs the crown jewel of the state's large-lake walleye fishery. But walleye numbers are at a 40-year low.
Researchers have not determined a cause, but they are looking at possible factors, including climate change, invasive species and natural predators. DNR officials say they don't think the walleye population decline is related to netting by the tribes.
"The cause likely is complex," DNR Fisheries Chief Don Pereira said.
"When we finally put all this together, biologists were really struck by the magnitude of changes in this system," he said. "And it's going to be pretty challenging to kind of clarify that picture to determine which of these mechanisms are potential causal factors for this elevated mortality. There could be a number of factors that are contributing to this."
Pereira said surveys have shown plenty of young fish hatching, but for some reason they are not surviving well through the year.
"The good news is we saw a great hatch of walleyes in 2013, the fish were abundant going into the fall, they were a good size and we're really hoping that they make it," he said.
A panel of independent experts is studying how the fishery has been managed over the years and will weigh in on the problem.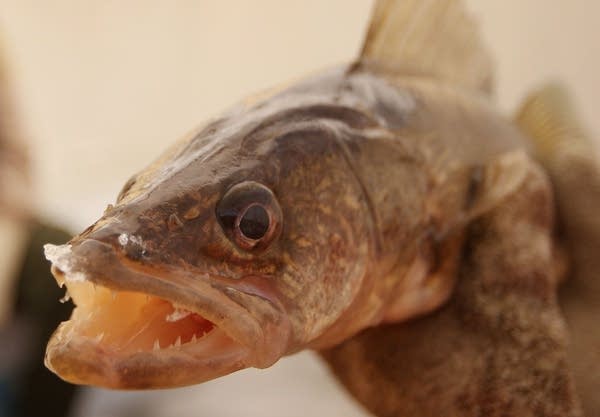 But for now, walleye restrictions on Mille Lacs will remain tight. Anglers can take two walleye in a day, but only one of them can be longer than 28 inches, and both must in a narrow slot of 18 to 20 inches.
Although Mille Lacs has had a night ban for several weeks during the early season, DNR officials say extending that ban from May 12 to Dec. 1 will protect young walleye.
But some Mille Lacs resort owners disagree. They point to the DNR's own data showing the number of daytime angling hours far outweighs nighttime angling hours.
On the western side of the lake, a handful of outfitters offer night launches, including Twin Pines Resort, where owner Linda Eno said the night fishing trip is their most popular.
"People enjoy going out from 8 to midnight," she said. "When you have to be at the dock by 10 p.m., it very much restricts what areas of the lake you can fish and how many times you can move to find the fish."
Eno said the DNR decision to extend the night fishing ban will be a major inconvenience for Twin Cities anglers. She said in the past, those customers have been able to make the less than two-hour drive up to Mille Lacs on a weekday.
"You can do a full day of work, hop in your car, come up here, call me and say, 'hey, I need a bacon cheeseburger to go,' and hop on that launch at 8 p.m.," she said.
Eno and other business owners already have seen profits plummet in the past couple of years, both because of poor weather conditions and the walleye declines. Some are considering legal action over fisheries management at the lake.
But many are also trying to make the best of the situation. The new walleye regulations also came with relaxed limits for two other species of game fish — northern pike and smallmouth bass.
"We had just a knockout northern bite and we started pushing that a little bit more," said Bill Lundeen, who owns a bait shop in Onamia. "We're going to explore that northern market a little more and smallmouth and hopefully keep our traffic levels where they need to be so that our Mille Lacs community can stay healthy or can get healthy."
Lundeen said even though there's nothing wrong with bass and northern pike, he and many others would rather have a good walleye fishery.
"If you like beef and you're particularly fond of a T-bone steak and all of a sudden there's a great big movement to start eating chicken and pork chops, some people are going to do it," he said. "And some people are going to hold out for that T-bone."