Protest at Gasthof restaurant over Nazi-themed party
A small group of people staged a silent protest Wednesday for the victims of the Holocaust outside Gasthof Zur Gemutlichkeit, a German restaurant in northeast Minneapolis that recently hosted a Nazi-themed party.
Some of the protesters carried sacks. Some carried suitcases. All wore a triangle or yellow Star of David, symbols that Germans forced Jews and other targeted groups to wear in occupied countries.
"I just really want to represent the people who cannot speak," organizer Margie Newman said. "My father was a Holocaust survivor, he lost his whole family -- I just feel obligated to be present."
The City Pages first reported about the private gathering in January that organizers characterized as a World War II re-enactment event. A former Gasthof employee took photos of the gathering, which included flags adorned with swastikas and guests wearing Nazi uniforms.
Grow the Future of Public Media
MPR News is supported by Members. Gifts from individuals power everything you find here. Make a gift of any amount today to become a Member!
Wednesday night the protesters clustered on the far corner of the Gasthof parking lot then slowly walked towards the restaurant. They didn't speak. Instead, they handed out a slip of paper reading: "This is a reenactment of a deportation. In response to WWII Nazi re-enactment dinner party, we are silently speaking on behalf of those who no longer have a voice."
Gastof owner Mario Pierzchalski has been unrepentant since the story of the Nazi dinner party came out. He said Wednesday that the dinner party was only made up of actors and historians.
Pierzchalski said he'd brought in extra security Wednesday because he was "worried about some people doing crazy stuff" during the protest.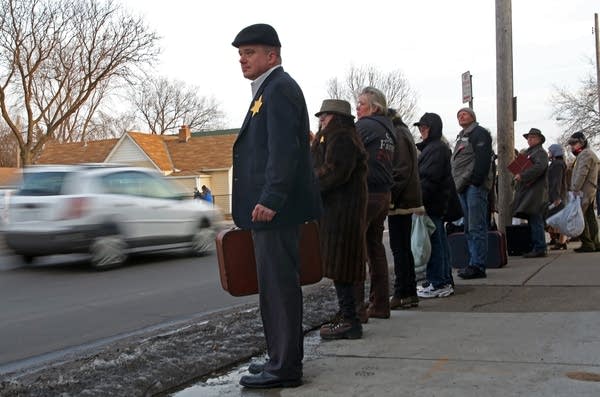 "Everybody has a right to protest, but I have the right to have a private party," Pierzchalski said. "I didn't do anything wrong."
He said the dinner party was only made up of actors and historians.
John Schraufnagel, a self-identified socialist, was wearing a red triangle to symbolize political opponents murdered by Nazis. He questioned why the restaurant's management still didn't see anything wrong with hosting the event.
"You dress up in uniforms of an army that slaughters millions of people, then you glorify that?" Schraufnagel said. "I'm all for free speech, but we're here to point out how idiotic it is."
One of the organizers of the dinner party was Scott Steben, who could not be reached for comment. Although the national WWII Historical Re-Enactment Society has distanced itself from the dinner party on social media, the organization's website says Steben's "unit," the "SS-Panzer Division 'Hitler Jugend,'" was formed in 1994.
The front page of Steben's unit website features the following disclaimer: "We have no affiliation with nor do we support any: racist, fascist, national socialist, white power, neo nazi, religious or political organizations. We are not associated with nor do we condone the actions of the Third Reich or the real 12th SS."
Deana Hansen lives in the neighborhood and came out to support the silent protesters. She doesn't buy that those who attended the dinner party were just historical re-enactors, partly because they were having a festive party rather than acting out battles in a field.
"There's also right and wrong, and clearly there's a line drawn with this particular event in the world," Hansen said. "To say it was right to have a reenactment of a Nazi party is blatantly wrong."
Even though she's of German descent, Hansen said she'll never come to Gasthof again.
After an hour, protesters began to disperse. Another group of activists are planning a protest at the restaurant on Saturday evening.