Interim MNsure CEO answers last-minute health insurance questions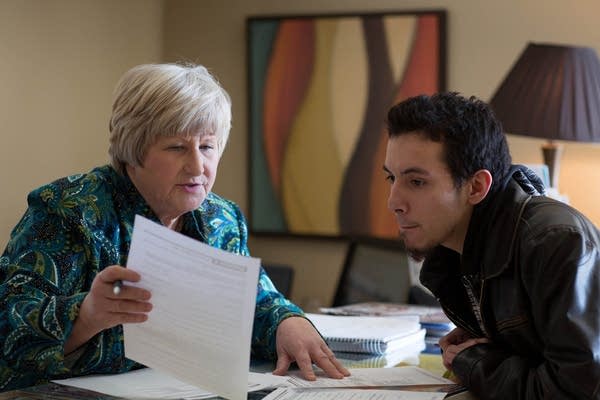 Monday is the last day for individuals to sign up for health insurance under the health care exchanges, including MNsure and the federal exchange.
But if you made a good-faith effort to enroll and encountered road blocks, you're protected from facing penalties set to hit those without health insurance coverage.
More from MPR News' report last week:
With less than a week left in the open enrollment period, only about 26 percent of people securing coverage through MNsure have signed up for commercial health plans. That's well below the goal of 58 percent.

"That's largely a function of the fact that we simply didn't have a lot of information upon which to estimate what the mix would really look like," MNsure Interim CEO Scott Leitz said. "So we're going to be working really hard between now and end of open enrollment to make sure we get as many folks enrolled in whatever programs they're eligible for and we're certainly hopeful that people who are eligible for commercial coverage will come in."

Those who fail to obtain health coverage could face a potential penalty of $95 or 1 percent of their income, whichever is greater. Moreover, those who buy health insurance on the individual market won't be able to enroll again in coverage until mid-November unless they fall under an exception -- a qualifying "life event" such as a birth of a child; a marriage or divorce; or job loss.
Scott Leitz, MNsure interim CEO, and Kaiser Health News reporter Mary Agnes Carey join The Daily Circuit to take your last-minute health insurance questions.
LEARN MORE ABOUT ACA, MNSURE:
• FAQ: What Are The Penalties For Not Getting Insurance? (Kaiser Health News)
• Most Uninsured Don't Know Health Coverage Deadline Looms
[Monday] is the last chance for most people without insurance to sign up for individual health coverage for the remainder of 2014. Yet according to the latest monthly tracking poll from the Kaiser Family Foundation, more than 60 percent of those without coverage still don't know that. (NPR)
• Final Call For Questions On Health Insurance As Deadline Looms (NPR)
Your support matters.
You make MPR News possible. Individual donations are behind the clarity in coverage from our reporters across the state, stories that connect us, and conversations that provide perspectives. Help ensure MPR remains a resource that brings Minnesotans together.