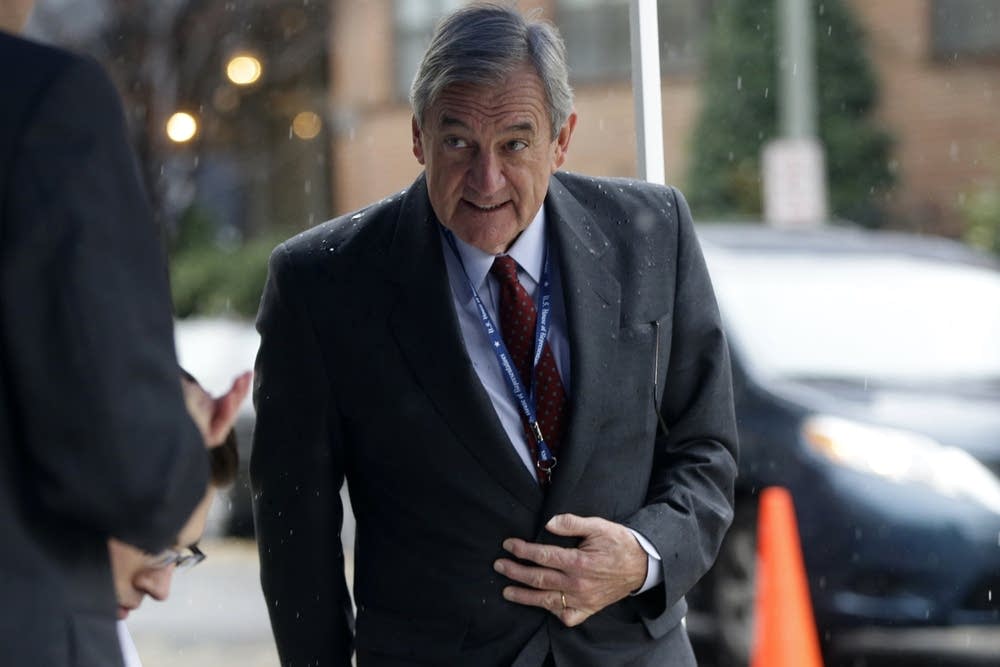 Conservative groups have already spent more than $300,000 attacking some of Minnesota's congressional Democrats over the Affordable Care Act — more than seven months out from Election Day.
Some of those lawmakers worry the Democratic Party doesn't have a good response to counter the attacks. They're looking for help from President Obama's team, deep-pocketed Democratic super PACs and outside groups. So far, not much has come.
"Democrats in Congress have been taking bullets for the White House and the Administration on this, so we feel it's incumbent on the office of the presidency and their political organization to step up and help us defend this thing," said Minnesota 8th District Rep. Rick Nolan, a Democrat who's facing a potentially tough re-election this fall.
Nolan was the target of a $225,000 TV ad campaign from Americans for Prosperity, a libertarian group. The ad blamed Nolan for the cancellation of health insurance policies that didn't meet the Affordable Care Act's standards.
The American Action Network, which is headed by former Minnesota GOP Sen. Norm Coleman, also took aim at Nolan, spending $50,000 on ads highlighting President Obama's promise, "if you like your health plan, you can keep it." The National Republican Congressional Committee has spent another $50,000 on Obamacare-themed ads against 7th District Rep. Collin Peterson.
So far, Democrats and their allies haven't responded in Minnesota. Nolan says he would love to start running ads to push back against the GOP's message but doesn't have the money yet. He fears that by not aggressively defending the ACA, Democrats are losing the rhetorical war.
The ads are a taste of what's to come in an election season Republicans vow will be dominated by debate over the 2010 health care law.
"It's pretty hard to compete with those millions and millions of dollars of ads. We're in a state where we haven't seen a lot of them run yet but they will," said 1st District Democratic Rep. Tim Walz.
Nolan and other Democrats are looking for backing from Organizing for Action, the remnants of President Obama's re-election campaign that's been turned into a well-funded nonprofit intended to advance Obama's agenda. No one from OFA responded to an interview request.
The rollout problems with the health care law make it hard for Democrats to embrace it, even four years after passage, said 2nd District Republican Rep. John Kline.
"It's pretty indefensible right, and I'm not too surprised that the supporters of the Affordable Care Act are having a hard time addressing it," he said.
Despite the worries, few Democrats are running from the law and some may make their support for it a major part of the fall campaign.
DFL Sen. Al Franken has a section on his website with stories from constituents about how the Affordable Care Act has helped them.
The law is easy to defend, said 5th District Democratic Rep. Keith Ellison. "Literally millions, millions of people have health care access that they never had before and millions of millions more have better insurance than they've ever had before," he said.
He acknowledged, however, that there's no organized effort to defend the law or its Democratic backers in Congress — and there needs to be.
Most of the Republican ads on the law are funded by outside groups that can take unlimited donations and often disclose little about their donors.
Democrats have similar groups on their side, including the House Majority PAC, which spent heavily to help elect Nolan in 2012.
While liberals are concerned they'll be outspent by the right, they will have some backup, said Matt Thornton, House Majority PAC's communications director.
The group is already spending money in West Virginia and making health care part of its message.
"We believe we can make effective ad buys where it makes sense for us to help some of these incumbents survive the onslaught on the Affordable Care Act," Thornton said.
Walz, who's also in charge of defending the House Democrats' most vulnerable members, said he believes the Obama-backed OFA and other groups are holding fire for now because voters aren't paying much attention yet to the election.
"My hope is that they've got folks talking to them saying, 'Hey, in August when the kids are back in school and people are paying attention, now we're going to bomb them and now we've got the resources to put out a good amount of information to people.' That's the hope."
While Republicans believe the ACA will give them the upper hand this fall, it's an open question whether focusing on the law for a third consecutive election will help.
A Kaiser Family Foundation poll last week found that more than half of Americans were weary of the debate over health care.
"When you get out there and talk to people and explain what it is," said Walz, "it almost becomes that thing, 'I don't like Obamacare but this ACA stuff sounds pretty good.'"