Fond du Lac Band to spear walleye in 13 lakes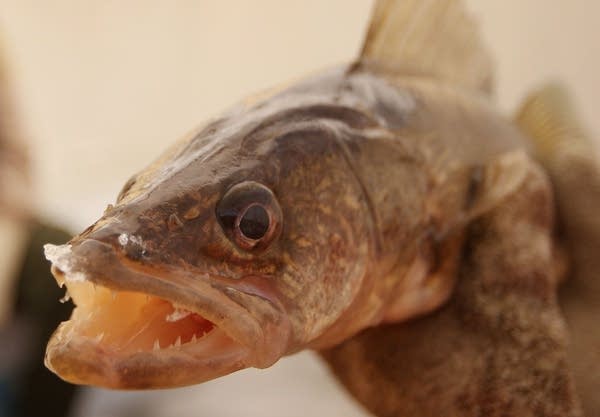 The Fond du Lac Band of Lake Superior Chippewa has announced plans to spear walleye on 13 lakes in northeastern Minnesota this spring.
• Related: Scroll down for tribal document
In what will be the first time that tribal members spear outside reservation boundaries in the Arrowhead region since a federal court affirmed their treaty rights were affirmed in the 1996, about 60 band members are expected to fish. Most will do so along the North Shore in Lake and Cook counties.
Many of the band's 4,200 members still depend on food they hunt and gather, said Jack Bassett, chair of the Fond du Lac band's ceded territory committee.
Grow the Future of Public Media
MPR News is supported by Members. Gifts from individuals power everything you find here. Make a gift of any amount today to become a Member!
"We have many families that rely on this every year," he said. "They get their poundage of fish, it's in the freezer, and they have a lot of meals out of it."
For band members, returning to the lakes validates rights that they were long denied.
In 1854, four years before Minnesota became a state, the Fond du Lac band, along with the Bois Forte and Grand Portage Chippewa bands, signed a treaty with the U.S. government. The band agreed to give up most of their territory across the Arrowhead region. In exchange, they retained the right to hunt, fish and gather on that land.
But those rights weren't legally recognized until the band reached an agreement with the state in 1988. Until then, band members could be arrested for hunting and fishing on ceded territory.
"I remember my dad back in the 1960s, he went and shot a deer," recalled Ferdinand Martineau, the Fond du Lac band's secretary/treasurer. "We were having dinner, and the game warden knocked on the door and came in and arrested my dad, and took our dinner, and took the meat out of the refrigerator."
It's been a tough few years for those who rely on subsistence foods. The band canceled its moose hunt last year, and the deer harvest has been down. The band also did not spear walleye last year on Mille Lacs, which is in a separate treaty area, because of a late ice out and declining fish numbers there.
After studying walleye populations in the 1854 treaty area for nearly two decades, Ferdinand Martineau said this was the year to start a limited spearing season.
"If we're going to give our band members the opportunity to do some subsistence fishing, we've got to start doing it now," he said.
Spearing will be allowed on only two lakes per night, and the band has set harvest limits at most lakes of 20 fish per 100 acres.
All together the band intends to harvest just under 2,000 walleye. DNR Fisheries Chief Don Pereira said he doesn't anticipate any negative effects on walleye population.
"The fact that their harvests are quite low indicates that the odds of a problem arising are pretty small," he said.
Spearing has been contentious in Wisconsin and on Lake Mille Lacs. When Ojibwe band members in Wisconsin first began spearing in the late 1980s, they were met by hundreds of protestors in clashes that turned violent.
Both the band and the Minnesota Department of Natural Resources say this time will be different.
Pereira isn't expecting a similar response in Minnesota. Still, the DNR and Fond du Lac band plan to have law enforcement officers on hand at the lakes when spearing begins after ice-out.
But even if there are no protests, non-Indian anglers are nevertheless concerned about the harvest, said Scott VanValkenburg who owns Fisherman's Corner in Pike Lake just north of Duluth.
"It's kind of a heated debate at times," Van Valkenburg said. "Everybody's worried about big females getting speared."
Band members target spawning areas, using bright lights to illuminate the shallow waters where walleye gather at night. VanValkenburg worries that the loss of big females -- some over 20 years old -- could decimate the walleye population.
"If they concentrate up in the spawning grounds and they harvest the big fish, then that's a big problem," he said. "It takes a long time to recover."
But Pereira said removing some spawning females won't affect the overall population.
"It's something that's just so counter-intuitive to the public," Pereira said. "We've known forever in fisheries management it's not how the fish are taken, or even when, but it's how many."
When the band reaches its harvest limit, he said, its members will stop fishing.
To enforce the overall limit, the band plans to have conservation officers at every boat landing. The DNR isn't that precise with its harvest management. It limits the number of fish each angler can keep, but not the total number of anglers.
The band plans to begin as soon as ice is out on the lakes, but officials say they will not spear over the weekend of the state fishing opener on May 10.
If the ice doesn't clear until after the scheduled opener, it may be too late for the band to speak, Fond du Lac fisheries biologist Brian Borkholder said.
By then, he said, there's a good chance walleye will have already spawned under the ice.
"To go much after the fishing opener is probably just a waste of time and gasoline money," Borkholder said.
Here's the band's official notice: