E-cig industry awaits looming federal regulation: a primer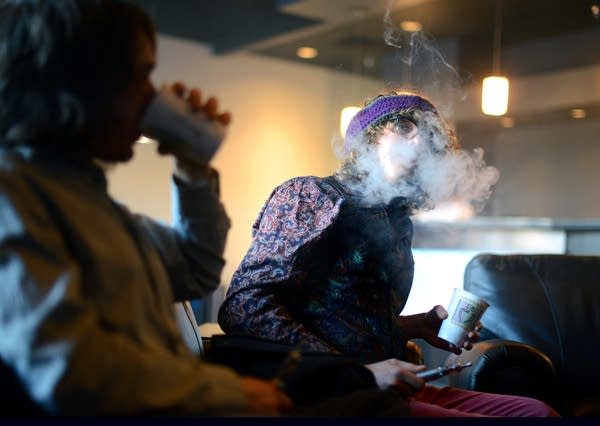 Smokers are increasingly turning to battery-powered electronic cigarettes to get their nicotine fix. They're about to find out what federal regulators have to say about the popular devices.
The Food and Drug Administration will propose rules for e-cigarettes as early as this month. The rules will have big implications for a fast-growing, largely unregulated industry and its legions of customers.
Regulators aim to answer the burning question posed by Kenneth Warner, a professor at the University of Michigan School of Public Health: "Is this going to be the disruptive technology that finally takes us in the direction of getting rid of cigarettes?"
The FDA faces a balancing act. If the regulations are too strict, they could kill an industry that offers a hope of being safer than cigarettes and potentially helping smokers quit them. But the agency also has to be sure e-cigarettes really are safer and aren't hooking children on an addictive drug.
Grow the Future of Public Media
MPR News is supported by Members. Gifts from individuals power everything you find here. Make a gift of any amount today to become a Member!
Members of Congress and several public health groups have raised safety concerns over e-cigarettes, questioned their marketing tactics and called on regulators to address those worries quickly.
Here's a primer on e-cigarettes and their future:
WHAT ARE E-CIGARETTES?
E-cigarettes are plastic or metal tubes, usually the size of a cigarette, that heat a liquid nicotine solution instead of burning tobacco. That creates vapor that users inhale.
Smokers like e-cigarettes because the nicotine-infused vapor looks like smoke but doesn't contain the thousands of chemicals, tar or odor of regular cigarettes. Some smokers use e-cigarettes as a way to quit smoking tobacco, or to cut down.
The industry started on the Internet and at shopping-mall kiosks and has rocketed from thousands of users in 2006 to several million worldwide who can choose from more than 200 brands. Sales are estimated to have reached nearly $2 billion in 2013.
Tobacco company executives have noted that they are eating into traditional cigarette sales. Their companies have jumped into the business.
There's not much scientific evidence showing e-cigarettes help smokers quit or smoke less, and it's unclear how safe they are.
WHAT IS THE FDA LIKELY TO DO?
The FDA is likely to propose restrictions that mirror those on regular cigarettes.
The most likely of the FDA's actions will be to ban the sale of e-cigarettes to people under 18. Many companies already restrict sales to minors, and more than two dozen states already have banned selling them to young people.
Federal regulators also are expected to set product standards and require companies to disclose their ingredients and place health warning labels on packages and other advertising.
Where the real questions remain is how the agency will treat the thousands of flavors available for e-cigarettes. While some companies are limiting offerings to tobacco and menthol flavors, others are selling candy-like flavors like cherry and strawberry.
Flavors other than menthol are banned for regular cigarettes over concerns that flavored tobacco targets children.
Regulators also must determine if they'll treat various designs for electronic cigarettes differently.
Some, known as "cig-a-likes," look like traditional cigarettes and use sealed cartridges that hold liquid nicotine. Others have empty compartments or tanks that users can fill their own liquid. The latter has raised safety concerns because ingesting the liquid or absorbing it through the skin could lead to nicotine poisoning. To prevent that, the FDA could mandate child-resistant packaging.
The FDA also will decide the grandfather date that would allow electronic cigarette products to remain on the market without getting prior approval from regulators _ a ruling that could force some, if not all, e-cigarettes to be pulled from store shelves while they are evaluated by the agency.
The regulations will be a step in a long process that many believe will ultimately end up being challenged in court.
WHAT ABOUT MARKETING?
There are a few limitations on marketing. Companies can't tout e-cigarettes as stop-smoking aids, unless they want to be regulated by the FDA under stricter rules for drug-delivery devices. But many are sold as "cigarette alternatives."
The FDA's proposals could curb advertising on TV, radio and billboards, ban sponsorship of concerts and sporting events, and prohibit branded items such as shirts and hats. The agency also could limit sales over the Internet and require retailers to move e-cigarettes behind the counter.
WHAT DOES THE INDUSTRY THINK?
The industry expects regulations, but hopes they won't force products off shelves and will keep the business viable.
E-cigarette makers especially want the FDA to allow them to continue marketing and catering to adult smokers _ some of whom want flavors other than tobacco. They believe e-cigarettes present an opportunity to offer smokers an alternative and, as NJOY Inc. CEO Craig Weiss says, make cigarettes obsolete.
"FDA can't just say no to electronic cigarettes anymore. I think they also understand it's the lesser of the two evils," said James Xu, owner of several Avail Vapor shops, whose wooden shelves are lined with vials of liquid nicotine flavor, such as Gold Rush, Cowboy Cut and Forbidden Fruit.
WHAT DO PUBLIC HEALTH OFFICIALS THINK?
Some believe lightly regulating electronic cigarettes might actually be better for public health overall, if smokers switch and e-cigarettes really are safer. Others are raising alarms about the hazards of the products and a litany of questions about whether e-cigarettes will keep smokers addicted or encourage others to start using e-cigarettes, and even eventually tobacco products.
"This is a very complicated issue and we must be quite careful how we proceed," said David Abrams, executive director of the Schroeder Institute for Tobacco Research and Policy Studies at the American Legacy Foundation, in a recent panel discussion. "I call this sort of the Goldilocks approach. The regulation must be just right. The porridge can't be too hot, and it can't be too cold."