Lack of city pools called a civil rights issue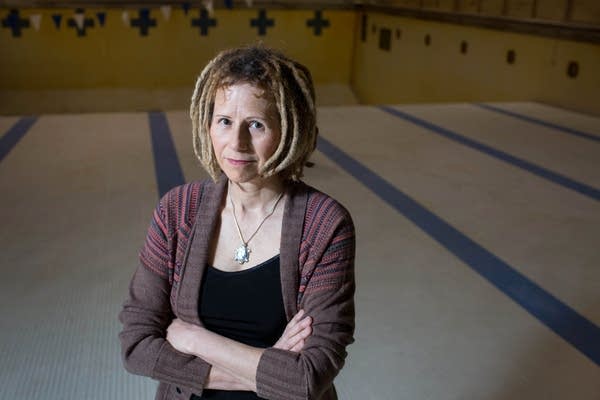 A broad coalition is trying to revive a long-shuttered swimming pool in south Minneapolis, calling it nothing less than a civil rights struggle.
Owned by the Minneapolis Park and Recreation Board, the pool in the Phillips Community Center has been closed since 2008.
Minneapolis has just three public indoor pools, all located in schools in more affluent corners of the city.
Hannah Lieder wants to change that. For four years, she has been working to re-open the Phillips pool.
Lieder, who is white and lives blocks from the pool, said increasing the access to water in the city's core would help children of color learn to swim. She helped found the group Minneapolis Swims after taking neighborhood kids to the local YWCA to teach them some basic strokes.
"There was more and more demand, the kids coming to my door all the time, asking for swimming," she said. "So I kept saying, 'We need to start a swim program! We need to start a swim program!'"
In a city where water is often a part of life, advocates say there's a dearth of indoor swimming pools. They say many children who live in the city of lakes, especially in diverse and lower-income patches of the city, aren't learning to swim. And that's one reason why in Minnesota, like the rest of the nation, blacks are more likely to drown than whites, Lieder said.
•School drowning highlights need for lifeguards, swimming lessons
•Family of boy who drowned in school pool seeks answers
Inside the Phillips building, the door to the old swimming pool is locked, and the lights are off. But when Lieder presses her face against the glass, she can faintly see the concrete pit, still striped with lanes.
"It's a dark pool with no water in it," she said. "It's such a sad little pool, isn't it?"
But there are big ambitions for that that little pool. Minneapolis Swims is prepared to start a swim program -- and operate the Phillips pool -- if it can raise the money to renovate it and keep it going year after year.
The group's efforts have gotten a boatload of supporters, from outstate Republican legislators to freshman city leaders. Today, Mayor Betsy Hodges joins Council Members Abdi Warsame and Alondra Cano and other government officials to bring attention to the project.
Re-opening the pool would align with the city's goals of reducing racial disparities, among the worst in the nation, said Minneapolis School Board Member Carla Bates.
Recent drownings of black children, she said, make the project even more urgent.
•Investigation into student drowning finds rough play, expired lifeguard certification
"We have equity issues in Minneapolis," Bates said. "We as a city know that. Our mayor has talked about it. Our previous mayor has talked about it. The school board talks about it, and this is part of us coming to grips with wanting all parts of our city to be strong."
Bates said she expects the school board to agree to cover some of the operating costs, along with the park board. But whether the pool advocates can find the dollars to redevelop the pool remains to be seen.
Lieder said her initial hopes of simply refurbishing the small pool have morphed into something much more grand.
"The biggest problem we have with just a six-lane pool, with not even the small teaching pool, is that it would not financially sustain itself," she said.
To draw in more revenue, Minneapolis Swims wants to expand the pool to eight lanes. That would allow it to host conference meets and lease space to the swim teams at Augsburg College and a joint team comprising students from three Minneapolis public high schools. A separate, shallow pool would have warm water -- an ideal spot for swim lessons.
Minneapolis Swims has raised $2.2 million of the $5 million needed to build that vision. It hopes to raise additional dollars for a diving well. Most of the money committed to the project, or $1.75 million, came two years ago from state bonding money. Hennepin County committed an additional $350,000.
State Sen. Jeff Hayden, a Minneapolis native who helped secure the bonding money, said there is no question his community needs the pool. Hayden said he owes much of his swimming ability to the lessons he received in middle school before the district began to close pools out of financial constraints.
"What we now have found is that a lot of kids who would typically learn how to swim from the fifth to the eighth grade aren't learning unless parents are giving them private lessons or they're in some program," said Hayden, DFL-Minneapolis. "That has resulted, we think, in an increased amount of drownings, especially in communities of color."
But Hayden said it makes sense to start small with the Phillips pool renovation, rather than waiting for millions of additional dollars.
"From my perspective and the state's perspective, we're really anxious to get this pool up and going and functional," he said. "I support Minneapolis Swims and others that want to grow the footprint of the pool. But in my estimation, we should do it in stages."
Even if Minneapolis Swims succeeds in finding the money to re-open the pool, that alone won't solve the bigger problem of African-American drownings, said Samuel Myers, director and Roy Wilkins professor of human relations and social Justice at the University of Minnesota.
Myers' research has found that black drowning rates are highest where there are the lowest participations of blacks participating in competitive swimming.
His analysis of recent figures from the Centers for Disease Control and Prevention show that Minnesota ranks second in the nation in the gap between black-to-white drownings, just behind Iowa.
"I believe that you need minority swim teams and minority life-guards and minority coaches and minority swimming role models in order to solve this problem," said Myers, a former board member of Minneapolis Swims. "Providing the pool is only a first step."
Gallery
3 of 3
1 of 3
2 of 3
Your support matters.
You make MPR News possible. Individual donations are behind the clarity in coverage from our reporters across the state, stories that connect us, and conversations that provide perspectives. Help ensure MPR remains a resource that brings Minnesotans together.