Your Minnesota Weekend: A little friendly competition
Step away from the phone (won't somebody please think of the children?) — or at least put it away while you're driving. There's a weekend here that needs your attention.
Speaking of driving...
In the east metro:
This weekend westbound Interstate 94 is closed between Highway 61 and Interstate 35E, and eastbound I-94 is closed from I-35E to Mounds Boulevard.
The Lafayette Bridge is open, but there is no access from northbound Highway 52 to westbound I-94, and no access to southbound Highway 52 from 7th Street. Southbound Highway 52 is only accessible from I-35E.
And in the west:
Highway 62 will be closed in both directions this weekend from Highway 100 to Interstate 35W as crews install new decking on the Xerxes Avenue bridge.
From the Minnesota Department of Transportation: Statewide traffic status
And if you'd rather bike than drive, now's your chance to be heard by the state's bike route planners.
24/7 trains
If trains are more your speed, you'll be happy to hear that the new Green Line light rail trains will be running 24/7. The line is scheduled to start running June 14.
Or perhaps this weekend sounds good for a walk? How about one from Taylors Falls to the state Capitol? Tom Warth, 79, will be embarking on a weekend fundraising walk for the organization he founded, Books for Africa.
A sporting chance
The Wild are now tied 2-2 in their best-of-seven playoff series with the Colorado Avalanche. They won Thursday night in front of a record crowd in St. Paul. Saturday's game will be played in Denver. (Update: The Wild lost 4-3 in overtime.)
The Twins are currently second place in the American League Central division, but they could be in first after this weekend's series against the first place Detroit Tigers. They'll be playing at Target Field. (Will it be a nice weekend for outdoor baseball? Find out here.)
Robots gone wild
For a different kind of spectator sport, you can head to the Mall of America for the Midwest Robotics League: Combat Robotics Competition, to see student-designed robots duke it out. Sixteen Minnesota teams also made it to the national robotics competition this week.
Feeling inspired by Minnesotans competing in this week's Boston Marathon? But maybe you don't want to run so far? Or at all? University St. Thomas is holding an Emily Dickinson poetry marathon Friday.
Or maybe you're a winter-lover who's missing the cold? Lutsen Mountains Ski Resort will be open for two more weekends, closing May 4. This will be the latest closing date ever thanks to the 13 feet of snow that fell on the North Shore of Lake Superior this winter.
Enjoy the golden age of television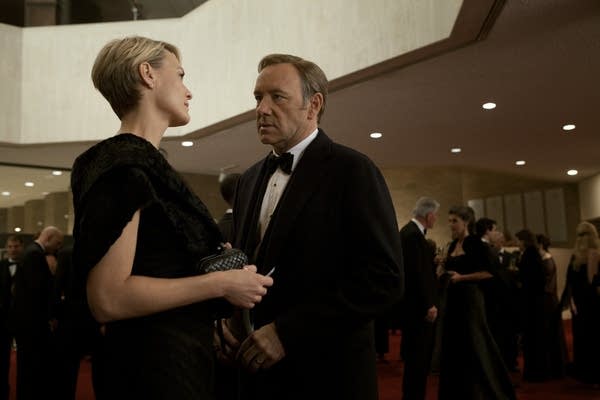 You might see this weekend as an opportunity to binge watch your new (or new-to-you) favorite shows. The Daily Circuit roundtable this week dissected how our television watching has changed as technology and distribution has evolved. And that technology? Be ready to pay more for Netflix if you're not already a subscriber.
If FX's "Fargo" is on your list of shows to catch up on, this show recap can serve as your virtual watercooler after you watch.
Or for television-inspired culture, the University of Minnesota is taking a look at medicine during the Downton Abbey era.
The state of music
The Replacements and Paul McCartney both announced shows in Minnesota this week and jazz lion Miguel Zenon will be playing with the JazzMN Orchestra Saturday. Check out the Current for more local gigs, including this weekend's Mid West Music Fest in Winona.
Thrifty thrills
Minnesota Monthly's Rachel Hutton spoke with MPR News' Tom Crann about the best cheap eats in the Twin Cities. Minnesotans' thirst for thrift has helped Goodwill thrive:
While many big merchants are struggling to sustain their sales, one of the fastest growing retailers in Minnesota is a non-profit. Sales at the thrift stores of Goodwill-Easter Seals Minnesota have been soaring thanks to a surge in the opening of new stores beyond the urban core.
Make time to remember
Sunday is Holocaust Remembrance Day. MPR News' Tim Nelson spoke with one survivor about his escape from Nazi Germany:
Benno Black saw his mother last out a train window in the city of Breslau one day in July, 1939. She'd put him on a train to escape the Nazis, as World War II and the Holocaust loomed.

"My father and his brother, my uncle, took me to the station," Black recalled recently, from his home in St. Louis Park. "My mother told me it would be too hard for me to say goodbye at the station. She, is going to, together with my grandmother and my aunt...stand below on the street, just below the first viaduct, and as the train would pass over just having left the station at a slow speed, they would wave to me."

They waved.

Within months, two of the women died in Theriesenstadt a concentration camp in Czechoslovakia. Black doesn't know for sure about his mother but thinks she died on another German train, on the way to a Majdanek, a death camp in Poland, probably in 1942.
'Tis the season...
For gardening, syrup harvesting, and remembering why we like living here. Minneapolis Mayor Betsy Hodges says maybe we should drop the modesty and tell people about the good stuff going on here.