Former U.S. Rep. Jim Oberstar was eulogized today as a rare public servant who was as comfortable at a Minnesota parade in khakis and tennis shoes as he was in the halls of Congress or at the French Embassy.
"It sounds simple but I think we know that too many people in Washington look at scoring political points, and it's gotten worse," U.S. Sen Amy Klobuchar said. "But that was never Jim."
Oberstar, who died suddenly Saturday morning at age 79, represented northeastern Minnesota's 8th District for 36 years. He was buried today in suburban Maryland, outside of the nation's capitol.
• Iron Range residents say Oberstar never forgot his roots
• A maritime send-off for Oberstar
• Photos: James Oberstar, 1934-2014
A funeral Mass was held in Our Lady of Mercy Catholic Church, where Oberstar attended Mass every Sunday morning. Hundreds of mourners, including family, former staffers and dozens of current and former members of Congress, filled the pews. They celebrated his many accomplishments and said he leaves a lasting legacy as a lawmaker, Minnesotan and father.
While politics was an enormous part of Oberstar's life, his daughter Monica Weber said it wasn't the only part.
"He will be revered as the quintessential public servant but to my brother, my sisters and I, we will always remember him for his patience and tenderheartedness," she said.
Another daughter, Noelle Tower, recalled Oberstar's passion for learning languages, which included a mastery of French and Creole.
"He explained that really learning a language, understanding its nuances, was opening a window to another culture," Tower said.
Francois Delattre, France's Ambassador to the United States, said Oberstar truly loved France and French culture.
"By the way, he spoke French better than I do, which for a French ambassador is really a problem," Delattre said.
Oberstar was known around Washington as Mr. Transportation because of his mastery of the complex policy issues surrounding the topic. He helped encourage the growth of bike lanes nationwide -- in part, Monica Weber said, because of his own passion for cycling.
"On family reunions we would enjoy activities such as short little 30 mile bike rides," she said.
Oberstar began his nearly 50-year career in public service as a congressional staffer working on transportation issues. His many years on the House Transportation Committee left a legacy few lawmakers can match, Klobuchar said.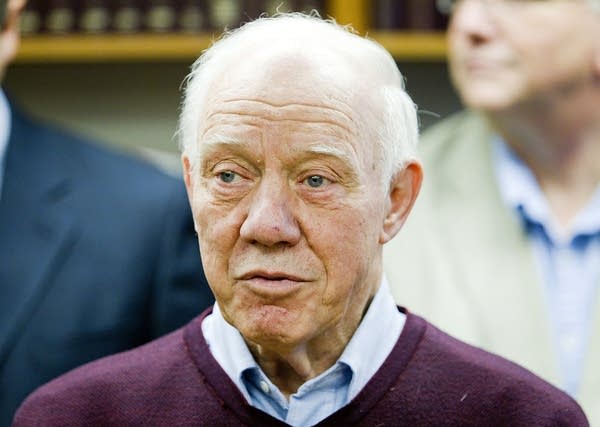 "During that time, he literally changed the landscape of our country," she said.
Family and friends alike joked fondly about Oberstar's loquacious speaking style.
U.S. Sen. Al Franken said Oberstar would likely start a speech about transportation policy by beginning with the construction of the Erie Canal in the early 19th century.
"But it was because he believed that everyone was as curious about the world as he was -- and he was almost always wrong about that," Franken said.
Oberstar lost his seat in the tea party wave election of 2010. His son, Ted Link-Oberstar, said that while he believed the country has suffered as a result of that election, Oberstar's family benefitted from it.
"Perhaps one of the few blessings was that we had more time with Dad," Link-Oberstar said.
Oberstar was a mentor to many young staffers, policy experts and politicians.
Klobuchar described a lawmaker who resisted the cynicism Americans feel about political life.
"He didn't think politics had a bad name. He thought that it meant something and he wanted other young people to go into this profession," she said.
In lieu of flowers, Oberstar's family asked that friends contribute to the Safe Routes to School National Partnership, one of the many programs Oberstar created in his long career.