When improvisational comedy is good, people in the audience may get the impression that it's by design.
But the actors on stage would tell you their work is anything but scripted.
"Basically improv, to me, is acting without a script," Twin Cities improv artist Taj Ruler said. "You don't know what's going to happen next."
That's a lesson Ruler tries to teach students in the improv class she leads at the Brave New Workshop in Minneapolis. On Monday the basement classroom was full of rich and short-lived characters: a disgruntled Beanie Baby collector, a water-aerobics addict, and Mary Lou, Miss South Carolina 2004.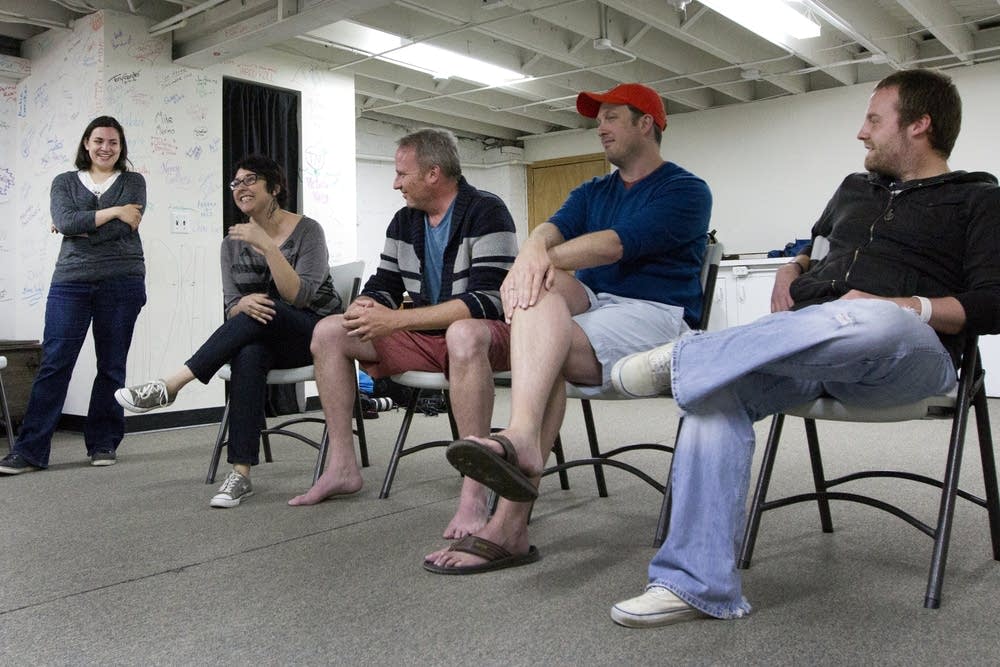 The nature of improvisational acting, Ruler said, is that everything's always in flux.
One minute her students are portraying Walmart security experts. The next, they're extending their chins out as far as they can in an exercise that demonstrates how body positions can help shape a character's personality.
"Really exaggerate this movement," she tells them. "How does that change the way you walk? And most importantly, how does it change the way you feel?"
"There are a lot of times when students will be like, 'I wanna be funny. People tell me I'm funny so I just wanna be funnier,'" Ruler said. "I usually have to tell them, 'I hate to burst your bubble, but every time you try to be funny, it's not funny.'"
The real goal of improv, Ruler says, is to use comedy to authentically reflect life. For her, improv isn't about creating the wackiest scene ever. It's developing details that ring true - while still being funny.
"You are finding the truth in the moment with a character you are presenting," she said. "When you don't come from a place a sincerity, you can tell and it resonates."
From the time she could talk, Ruler was creating characters. The Minneapolis native would line up her stuffed animals and create distinctive voices for each and every one.
"I would just play pretend for days," she recalled. "Sometimes I would have friends come over and I would be like, 'You're interrupting my play time.'"
Ruler, 27, comes from an artistic family. She's the daughter of Mixed Blood Theater founder Jack Reuler, but spells her last name differently. She studied at the London Dramatic Academy, then at two famed comedy companies -- The Groundlings in Los Angeles and Second City in Chicago. With that kind of resume, people expect her to be funny -- all the time. That can be stressful.
"I'm actually quite shy," she said. "I have a really hard time going to a party or hanging out in a large group of people, which a lot of people don't understand and say 'How can you be an introvert and a performer?' It's like this is my job, it's what I love to do and then I need to take some space for myself."
Ruler isn't the type to crack up guests at a large dinner party. But once she takes the stage, she becomes gregarious.
"Bippity boppity boo!" she announced recently during a scene at the Brave New Workshop.
"Who are you?" responded actor Melanie Wehrmacher.
"I'm your fairy godmother. Surprise!"
Ruler, who has performed at theaters throughout the Twin Cities, is part of the Brave New Workshop's main stage cast. She can been seen in the theater's latest offering, "A PedalPub Named Desire."
The satirical sketch show examines the nuances of Minnesota culture. It includes scenes about love, rejection and a fictional dating site called IntrovertsOnly.com. Ruler wrote that one.
"My ideal date is not being on a date," Ruler declares in the skit.
After the sketch comedy show, the performers switch to improv. Scenes are prompted by audience pitches.
"Not to sound really cheesy, but it's kinda magical," Ruler said. "It's a moment that's being created right now. It'll never be seen again. And it's never been seen before."
Just as Ruler sees truth in well-developed characters, she finds moments of truth between the actors. With no script to rely on and no idea where another performer is taking the storyline, improvisers have to connect.
"There's no way you can just check out," she said. "You have to be there and listening actively. I love that you can be there with somebody else. They hopefully will be supporting you and you are supporting them and that's what I love about it."