MPR meteorologists say this weekend feels more like June, or even July than late May. That means plenty of sun, balmy breezes and temps in the upper 70s to low 80s, but also a few scattered showers and thunderstorms roaming the state.
•Summery preview for Memorial Day weekend
That's a good thing since many people have a long weekend for Memorial Day, which is considered the start of summer with cookouts and camping trips.
But Memorial Day weekend is about so much more than commemorating the unofficial start of summer.
MPR News compiled a brief account of the almost 100 military personnel with Minnesota connections who have died in combat in Iraq and Afghanistan since the onset of hostilities that followed the Sept. 11, 2001 terrorist attacks.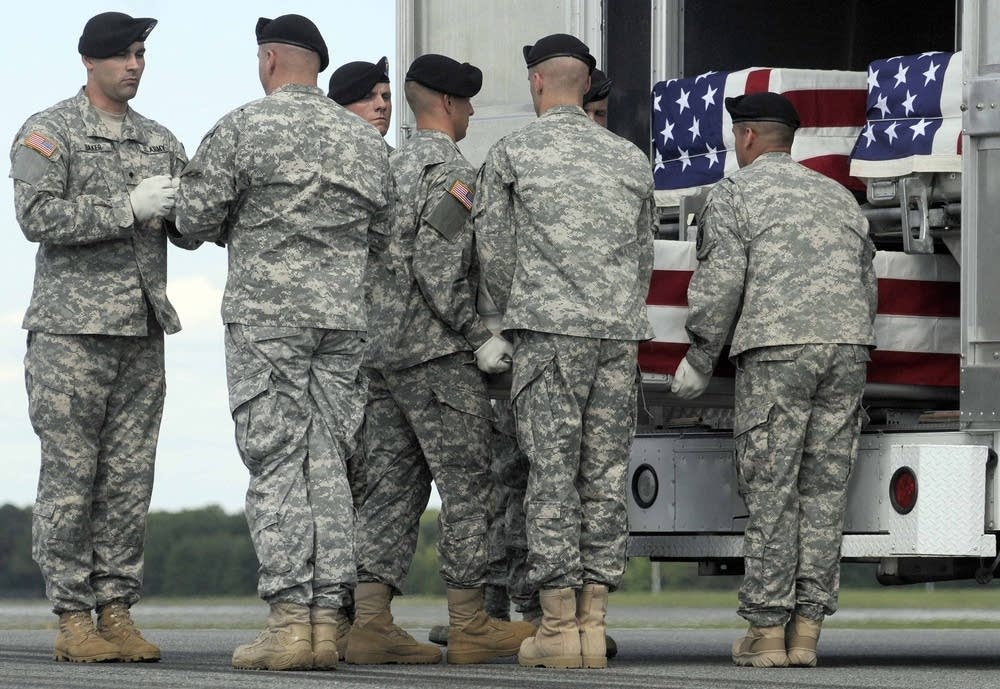 •Remembering Minnesota's fallen troops in Afghanistan, Iraq and beyond
Over the course of this week, 24 Minnesota veterans are taking classes in painting, writing, photography, music, and film.
There's also a dual exhibition at the Red Wing Depot gallery. One half consists of art work by veterans. The other half, called "Pict-Orals," features prints and paintings made by artists in response to conversations they had with veterans about their military experiences, writes Marianne Combs in the State of the Arts blog.
But Memorial Day weekend still marks the start of summer activities like road trips. You're going to need some fuel for your journey -- but don't be tempted by the gas station's rations of Cheetos and Mountain Dew.
Rachel Hutton, editor of Minnesota Monthly magazine, recommends a variety of regional specialties, from smoked fish to pie, that are worthy of a foodie pilgrimage or two. She spoke with MPR News' All Things Considered.
•Appetites: Road trip across Minn. for pie, smoked fish
For your road trip or cookout you might want to listen to Minnesota's Okee Dokee Brothers' new album called "Through the Woods."
The pair, not actually brothers, is fresh off a Grammy win in 2013 for their children's album "Can You Canoe."
They spent a month hiking the Appalachian Trail to draw inspiration for the new album.
If you're planning on going fishing, consider the time of day.
This year, the Minnesota Department of Natural Resources extended the regular four-week early season night fishing ban on Mille Lacs through the full season, requiring fishermen to get off the lake by 10 p.m. The decision sparked some outrage on the lake.
•Walleye limit on Minnesota's 'crown jewel' lake sparks outcry
Maybe you're avoiding the boat-laden roads and staying home this long weekend.
•5 iconic toys born in Minnesota
You might consider throwing around a Nerf Football or playing Twister -- some of the iconic toys that got their start in Minnesota.
Don't feel like playing? Check out the "Toys of the '50s, '60s, and '70s" exhibit at the Minnesota Historical Society.
Or check out a festival like Canoe Heritage Day. It takes place Saturday, May 24, 11 a.m. to 4 p.m. at the museum in downtown Spooner, Wis. The event features live music, food and beer from Duluth's Bent Paddle Brewing -- and canoes, of course.
Elsewhere around the region, Hastings kicks off its first-ever Rhubarb Festival at the LeDuc Historic Estate. And Hibbing will be celebrating Bob Dylan's birthday with Dylan Days.