At Republican state convention, political purity takes a back seat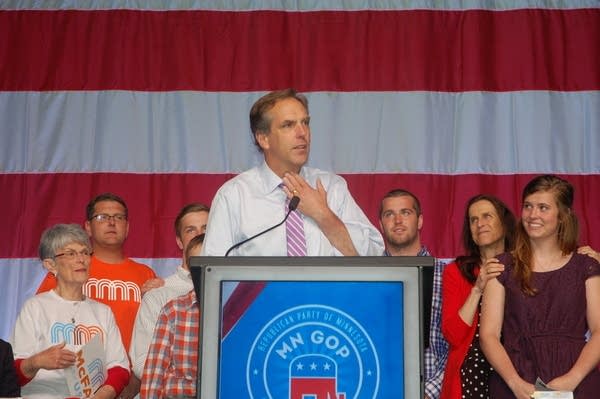 After losing every election for top statewide office since 2006, Minnesota Republicans said they were looking for candidates at Saturday's state party convention who can win.
• With no primaries to worry about, DFL works on turning out the vote in November
The look and feel of the convention was dramatically different from the last two gatherings. In those years, delegates focused on the political purity of the candidates - even if those candidates may not have had the best shot at victory.
There's no greater example of the shift in focus than in the U.S. Senate campaign. Delegates endorsed businessman Mike McFadden over several other more conservative candidates. They backed him even though McFadden told delegates he would stay in the race if they endorsed someone else. It's the first time in recent memory that a candidate won the endorsement without promising to abide by it.
And even though McFadden may be relatively unknown to many delegates and most Minnesotans, he's raised millions of dollars in his quest to challenge DFL Sen. Al Franken.
McFadden now has six months to introduce himself to voters.
Before you keep reading ...
MPR News is made by Members. Gifts from individuals fuel the programs that you and your neighbors rely on. Donate today to power news, analysis, and community conversations for all.
"When we got into this race almost twelve months ago I said my goal is to beat Al Franken," McFadden said. "That's what we focused on every day for the last twelve months, and that's what we're going to focus on every day through November."
In the race for governor, Republican delegates opted to endorse Hennepin County Commissioner Jeff Johnson over three other candidates. Johnson wasn't the most conservative candidate seeking the endorsement. He told delegates that he'd work to build support for Republicans among independents and Democrats.
"Winning for us as Republicans in the state of Minnesota is about picking a candidate who can bring in new voters in every region of the state and who can present a very clear and contrasting vision from that of Mark Dayton's," said Johnson.
But the debate over electability is far from settled in the race for governor. Johnson is facing a primary challenge from Orono businessman Scott Honour, state Rep. Kurt Zellers and former state Rep. Marty Seifert.
Seifert made a play for the endorsement, but left the convention after it became clear Johnson was going to win.
"I'm the only candidate that has 87 counties of identified supporters supporting me," Seifert said. "I have the best name ID, we have resources. We have a fantastic team that can win this thing."
Seifert's move angered many delegates. They became even more upset after he told his supporters to leave the convention before Johnson was endorsed.
Zellers and Honour both decided to stay out of the endorsement contest entirely. Zellers said a primary contest will allow a broader number of Republicans to decide the party's nominee.
"I think by going through the primary it makes you a better candidate," Zellers said. "You're out there talking with not just Republicans but independents and some who want to see the mines open and see jobs return to Minnesota."
Republican leaders have emphasized that they will back their endorsed candidates. But contested primaries are rare in the party and the outlook is unclear.
Johnson told reporters that he's ready for the challenge.
"The endorsement means a lot," Johnson said. "It has always meant a lot. There are so few examples of statewide races where somebody successfully challenged the endorsed candidate on the Republican side."
The primary is on August 12th.
Gallery
4 of 4
1 of 4
2 of 4