As pipeline production soars in Minnesota, critics urge focus on safety
Every day, about 2.3 million barrels of crude oil crosses Minnesota through 10 pipelines, and eight trains carry another 500,000 barrels.
Eight of the pipelines are operated by Enbridge Energy and the other two by the Koch Pipeline Company, which transports 465,000 barrels a day to the Twin Cities through its MinnCan line.
Soon, there will be much more. North Dakota's oil fields hit a major milestone this week, hitting daily production of a million barrels. Although there is not a single oil well in Minnesota, the flow of oil from its neighbor and from Alberta, Canada, is constant and growing.
Enbridge is planning $5 billion in three new projects -- an expansion and a replacement of two pipelines from Canada, and a new pipeline from North Dakota -- that together could funnel an additional one million barrels a day across Minnesota.
Grow the Future of Public Media
MPR News is supported by Members. Gifts from individuals power everything you find here. Make a gift of any amount today to become a Member!
The company's plans have sparked fears of contamination because the proposed pipeline routes all cross the water-rich region of north central Minnesota.
"We need to transport oil across Minnesota, but we need to find a route that's safe and efficient for this oil," said Willis Mattison, a former regional director of the Minnesota Pollution Control Agency.
Mattison is an advisor to Friends of the Headwaters, a group that is critical of the new pipeline development. Its members say Enbridge, and the state, need to take a step back.
"We think those criteria can be met without putting the lakes and streams of northern Minnesota, and the wetlands and groundwater, in jeopardy," Mattison said.
To appreciate the vast quantity of oil piped unseen across Minnesota every day, it helps to visit Enbridge's terminal in Superior, Wis. The company is erecting two giant new tanks, each about a football field across and five stories high, to receive oil it ships across Minnesota through five pipelines. Next to the massive steel cylinders, workers look like tiny figurines.
"You get a feel for the scale as you're standing right next to them here," said Rob Kratsch, manager of engineering construction for Enbridge.
Built to hold about 500,000 barrels of oil each, the tanks will include roofs that float on top of the oil to prevent dangerous vapors from accumulating at the top of the tank.
The facility operates much like an airport, and its passengers are different batches of oil.
"Oil comes in, gets on a different route, and then leaves. Its layover here in Superior terminal is generally days," Enbridge spokeswoman Becky Hasse said. "It comes in, gets sorted on to its new direction, and then leaves."
Enbridge will spend more than $200 million to build five tanks -- all to help manage the increased amount of oil flowing across Minnesota.
That has people like Mattison concerned.
"Right now we're in a reaction mode. They propose a project, agencies and citizens point out the flaws, and we go back and forth," he said. "It becomes a game of whack a mole."
The MPCA recently voiced similar sentiments. In a letter to the state Public Utilities Commission, the agency wrote that the proposed route for the Sandpiper pipeline from North Dakota would cross 28 water bodies where there is no nearby access in case of a possible spill.
Haase, the Enbridge spokeswoman, said the company follows federal and state rules when proposing new projects.
"We're just trying to keep up with our customers' needs and being able to ship more oil to refineries so that North Americans can use it," she said.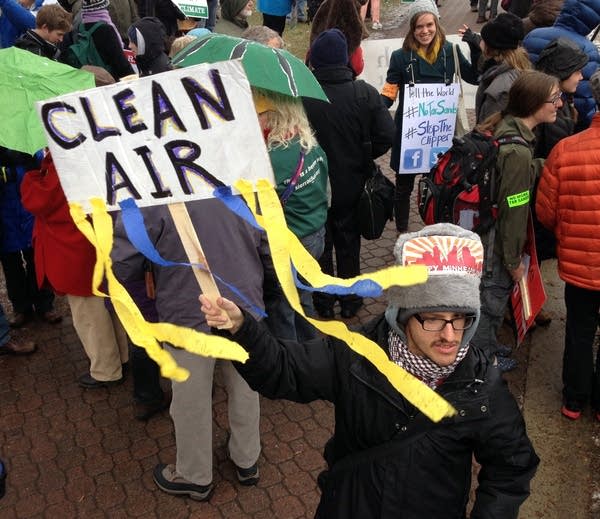 Pipeline companies are reacting to the incredibly fast growth in North American oil production. The North Dakota fields hit the million-barrel-a-day mark in just seven years.
Projects like Enbridge's proposed Sandpiper line are key to the continued growth of the Bakken fields, North Dakota Pipeline Authority Director Justin Kringstad said.
"We are short right now in North Dakota on pipeline capacity, so the sooner we can get these projects put into service I think the better for everyone involved," Kringstad said.
Meanwhile, the Canadian Association of Petroleum Producers predicts oil sands production will more than double to 5.2 million barrels per day in the next fifteen years. And there's a transportation bottleneck leaving the region, said Trisha Curtis, Research Analyst at the Energy Policy Research Foundation in Washington, D.C.
"For Canadian crude, every export pipeline to the U.S. is full right now," she explained. With the controversial Keystone XL project delayed, she said the only other option is to expand existing routes, like Enbridge's system.
The new pipelines are part of a major reworking of the nation's oil transportation network, as companies rush to build pipelines to carry oil in different directions, from different places. Instead of coming into the country through seaports, increasingly the oils is shipped outward from its source in the middle of the continent.
Most of the nation's refineries were built on the Gulf and Atlantic Coasts because historically, that's where the oil arrived.
"Well, now our supplies are coming from the inside of the country, and needs to get out," Hasse said. "So we need to build up that infrastructure, to still use those refineries, but get the supply to the refinery so then it can be brought to market and used."
As geographic fate would have it, Minnesota finds itself at an energy crossroads, in between the new, vast supply of North American oil in Canada and North Dakota, and the markets that crave it.
Gallery
8 of 8
1 of 8
2 of 8