6 laws that take effect this week in Minnesota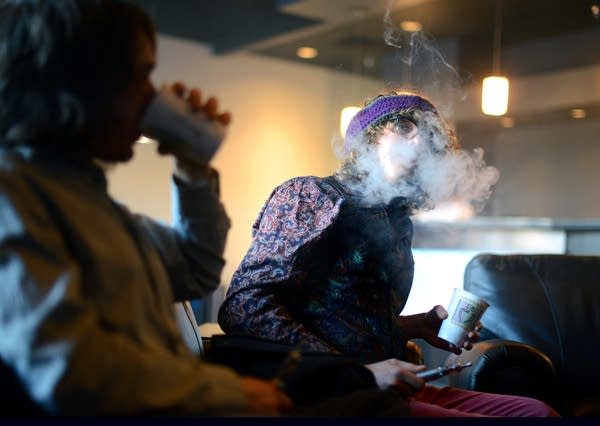 The Minnesota Legislature passed scores of new laws this spring, and many of them take effect Tuesday. Here's a look at some of the more notable.
1. Vaping restrictions start
Starting Tuesday, there's no more vaping in day care centers, hospitals, clinics and other health care facilities. Ditto for buildings owned or operated by governments ranging from townships all the way up to the state, plus the University of Minnesota and Minnesota State Colleges and Universities systems.
• Related: Sweets makers work to keep names off e-cigarettes
Grow the Future of Public Media
MPR News is supported by Members. Gifts from individuals power everything you find here. Make a gift of any amount today to become a Member!
Health organizations didn't get the broad restrictions they pushed for at the Capitol this spring. Restaurants and bars aren't included in the ban, as private businesses are left to decide whether they want to do anything on their own to block use of e-cigarettes on their premises.
Other restrictions will be phased in over the next few months, including a ban on selling e-cigarettes at kiosks and a requirement that the liquid used in e-cigarettes come in child-resistant packaging.
The e-cigarette restrictions were part of a broader health policy law that, also starting Tuesday, blocks people younger than 18 from tanning beds that use ultraviolet light.
2. Steps taken toward adding smartphone kill switches
Minnesota this year became the first state to pass legislation requiring a kill switch for smartphones as a way to make them less attractive to thieves.
The law starts small. On Tuesday, Minnesota dealers in used phones must begin keeping detailed records of every acquisition, including information on the device and the seller, plus a statement signed by the seller that says the phone isn't stolen. Dealers also have to install video equipment to record the faces of people who sell used phones.
The full force of the legislation doesn't kick in until July 2015. That's when all smartphones bought or sold in Minnesota have to have the kill switch technology.
3. People seeking medical help for drug overdoses can't be charged with possession
Lawmakers took several steps aimed at the epidemic in heroin use. Starting Tuesday, people who seek medical help for someone having a drug overdose can't be charged with drug possession if the evidence came from their call for help.
• More: Drug cuts heroin cravings, but is expanding use worth the risk?
The other major part of the law takes effect Aug. 1, when more people -- mainly police and emergency responders -- are allowed to carry a medication that's effective against opiate overdoses.
4. Spending bill brings help for bees
Help is on the way for the honeybees that are so important to food supplies. A big spending bill for environmental projects includes $864,000 for the University of Minnesota to identify food sources for pollinators, plus another $326,000 to research how neonicotinoids -- a class of insecticide -- affect bees.
• More: 'Bee-friendly' plants may not be, advocates say
5. Law enforcement agencies can no longer hire part-time officers
Part-time police officers will become a thing of the past under a law that took effect Monday. Law enforcement agencies can no longer hire part-time officers. Current part-timers -- the state has 175 of them -- can keep their jobs until they retire, but they can't move to new agencies. Supporters of the law said it was necessary to professionalize the state's police officers.
6. New law changes restraint for prisoners during childbirth
A Minnesota law taking effect July 1 sets new requirements for state prisons relating to care of inmates during pregnancy and childbirth.
• More: 6 takeaways from new law covering pregnant inmates
It's the first Minnesota law to relate directly to pregnant women in correctional facilities.
MPR News staff contributed to this report.