Wow: Guy rips open door, pulls driver from burning car
From the never-ceases-to-amaze file: A regular guy rips open the door of a burning car with his bare hands and saves the driver.
The State Patrol today reported this astonishing tale: A Woodbury man driving on Interstate 35W in New Brighton notices a nearby car on fire. He flags down the driver, they both pull over; suddenly the car fills with smoke and the driver's trapped.
Instead of running away, Robert Renning, "with his bare hands bent the locked door in half from the top down. The glass shattered and Renning reached in and pulled (the driver) to safety," the State Patrol said.
Calling it incredible doesn't do it justice. Here's the State Patrol's report:
A Woodbury man saved a motorist's life yesterday when he pried open a car door and pulled the man from a burning vehicle just before 6:40 p.m. on I-35W and County Road D in New Brighton.

Robert Renning was headed southbound when he noticed a nearby vehicle on fire. He flagged down the motorist — Michael Johannes of Minneapolis — and both vehicles pulled over.

Johannes' vehicle immediately became engulfed in smoke and the electronic locks and windows failed. The frantic driver unsuccessfully tried to kick out the windows. Renning ran to the car and — with his bare hands — bent the locked door in half from the top down. The glass shattered and Renning reached in and pulled Johannes to safety.

Renning was unharmed and Johannes suffered minor smoke inhalation and sustained light cuts from being pulled through the shattered window.

Trooper Zachary Hill responded to the scene and took pictures of the car fire's aftermath.

"He did an extraordinary deed, bending a locked car door in half of a burning car to extricate a trapped person," Hill said. "I feel this man deserves any and all commendation for his extraordinary life-saving measure that kept another from burning alive."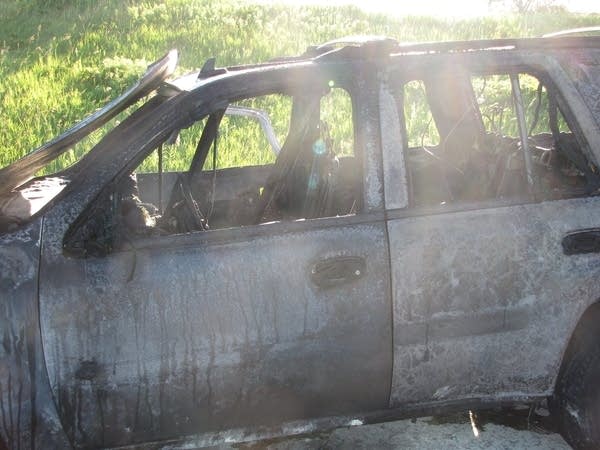 Grow the Future of Public Media
MPR's budget year comes to a close on June 30. Help us close the gap by becoming a Sustainer today. When you make a recurring monthly gift, your gift will be matched by the MPR Member Fund for a whole year!