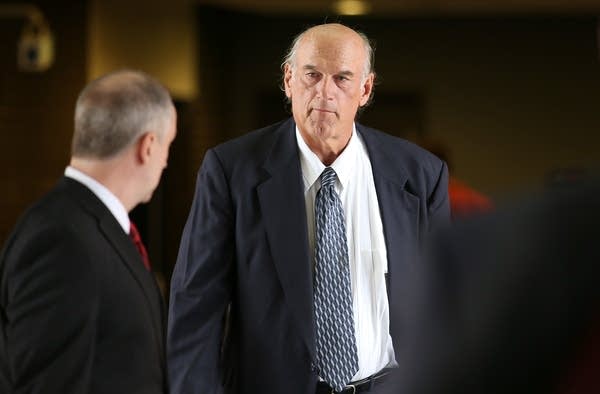 A witness has testified in Jesse Ventura's defamation lawsuit that she saw someone punch the former Minnesota governor at a bar in California in 2006.
Laura deShazo of Salt Lake City testified Monday she was at the pub in Coronado California, the night when slain "American Sniper" author Chris Kyle said he punched a man he called "Scruff Face." Kyle later identified the man as Ventura.
DeShazo said she was in the bar to attend the wake for a friend of Kyle's. While there, she, her sister and her brother's girlfriend poses for a picture with Ventura.
DeShazo says she later saw Ventura get into a scuffle with other people at the bar, and saw a man punch Ventura. She said she doesn't know who threw the punch, but she gave a description that was consistent with Kyle.
Ventura testified that the punch never happened.
Lawyers for the estate of late military sniper Chris Kyle went on the offensive Monday against former Minnesota Gov. Jesse Ventura, arguing in court that he can't prove any harm from a story in Kyle's autobiography that Ventura claims is a lie.
Ventura is suing Kyle's estate for defamation. He says Kyle fabricated a story in the best-seller "American Sniper" about punching out Ventura at a California bar in 2006 after Ventura allegedly made derogatory remarks about Navy SEALs, including a statement that they "deserve to lose a few." Ventura continued to insist during his second day on the witness stand that the incident never happened.
Kyle is regarded as the deadliest military sniper in U.S. history. Ventura testified that he blames the book for a 90 percent drop in his earnings since it came out in January 2012. He said job offers have dried up as a result of the harm to his reputation.
Ventura said he earned close to $11 million from 2002-2012. The defense introduced income tax returns showing his income varied widely but was generally in decline over the period. The former governor enjoyed a high of $3.8 million in 2003, when he was under contract to MSNBC. He made $676,455 in 2011, before the book came out, during the last season of his truTV series "Conspiracy Theory."
Ventura made $190,378 in 2012 and said he thinks truTV canceled the series because of the controversy of Kyle's book. But he acknowledged he can't prove it.
"They never tell you why they cancel anything," he said. But Kyle estate attorney Chuck Webber suggested with a series of sharp questions that the falloff was Ventura's own fault because of his propensity for making outrageous and offensive statements on TV and in his own books. He also produced documents showing that Ventura continues to get offers for various projects and personal appearances.
Besides the financial hit, Ventura said Kyle's story hurt his reputation within the tight-knit Navy SEAL community, an especially bitter blow. He said the allegations were tantamount to accusing him of treason. He said he no longer feels welcome at SEAL reunions and doesn't plan to attend them anymore, though he acknowledged under questioning that no former SEALs have criticized him to his face.
"It's a hole in my heart," he testified.
Ventura and Kyle were in the same bar near a SEAL base in Coronado, California, one night in October 2006. Ventura was in town for a SEAL graduation ceremony and reunion, while Kyle was there for a wake for a friend who had died in battle. Kyle testified in a videotaped deposition before he was slain last year that Ventura was being offensive and that he thought Ventura was about to hit him, so he decked him first.
Webber pointed out that a petition that was circulated to kick Ventura out of a SEAL alumni group says nothing about Kyle's allegations about what happened in the bar. Instead, it cites Ventura's decision to proceed with the lawsuit against Kyle's estate, saying it violates the SEAL ethos to protect each other on and off the battlefield.
"They don't feel clearing my name is important. I don't know why," Ventura replied.