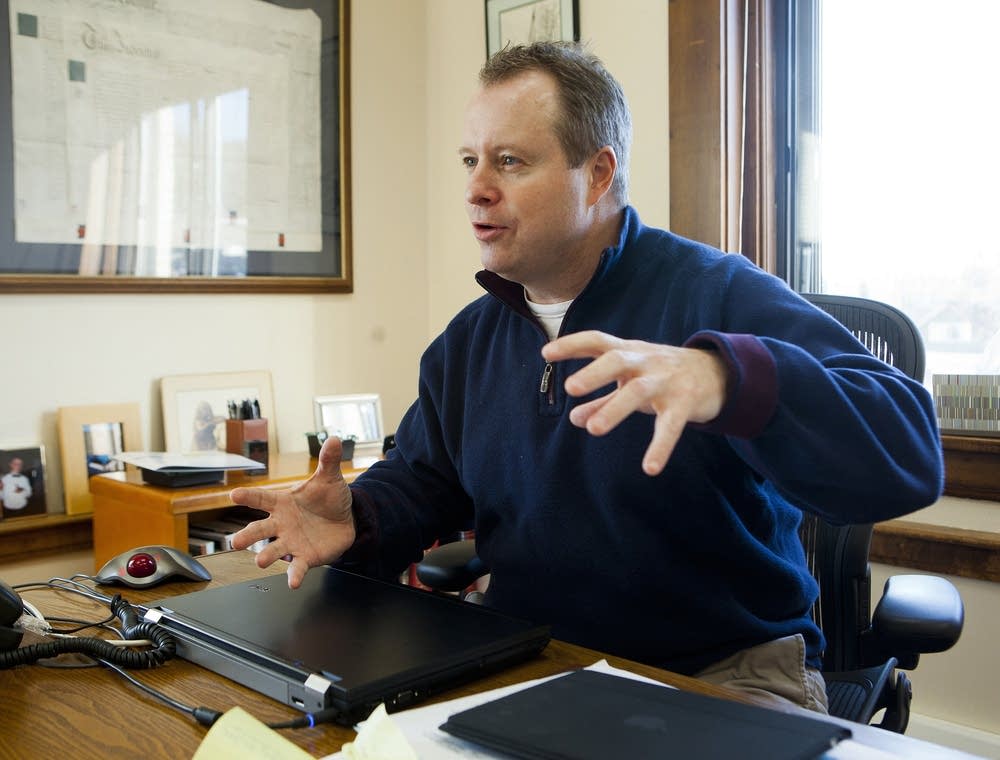 Attorneys made their opening statements Tuesday at the St. Louis County Courthouse in the trial of Cook County Attorney Tim Scannell, who is charged with criminal sexual conduct. Scannell is accused of having inappropriate sexual contact two summers ago with a 17-year-old girl, when he was 46.
The trial has attracted attention in part because Scannell was wounded during a similar trial in December 2011 at the Cook County courthouse. A Grand Marais man Scannell had successfully prosecuted for criminal sexual conduct with a teenage girl shot the prosecutor three times at point-blank range.
MPR News Reporter Dan Kraker discussed case with Tom Crann, host of All Things Considered. Here is there conversation:
Q: What charges does Scannell face?
A: Scannell is charged with two felony counts of criminal sexual conduct in the 4th degree. Prosecutors say that on two occasions in August 2012, he intimately touched the girl with sexual intent. They also say that at the time the girl was between the ages of 16 and 18, and Scannell was at least four years older and in a position of authority over her.
Much of the testimony and the attorneys' opening statements on Monday focused on their relationship and whether Scannell was in a position of authority over the girl.
Q: How is the prosecution trying to make that case?
A: Prosecutor Tom Heffelfinger, a former U.S. Attorney for Minnesota, is trying the case, one that normally is handled by the county attorney. Heffelfinger, an outside prosecutor, spent a lot of time trying to establish the depth of the relationship between Scannell and the girl.
Heffelfinger said Scannell acted as a mentor and "father figure" to the girl and was her tennis and soccer coach. He taught her guitar lessons. He counseled her on social and academic issues. For several months around the time when the alleged sexual conduct occurred he advised her on the college application process.
So the prosecution argues all that demonstrates Scannell was in a position of authority over the girl for years leading up to the alleged acts in 2012, and that she trusted him.
Heffelfinger then laid out how Scannell proceeded to develop an "obsession" with the girl and how they increasingly spent time together and were touch via email text message. That led eventually to what Heffelfinger described as a "campaign" by Scannell "to develop a sexual relationship" with the girl that culminated in the two alleged incidents.
Q: How did Scannell's attorney frame the case?
A: His defense attorney, Joseph Tamburino, presented a very different picture of events. Tamburino said when the girl victim testified before a grand jury last year, she said at the time of the alleged abuse she did not think Scannell was in a position of authority. She also said that Scannell did not have a parental role at the time.
Tamborino also said that when state investigators interviewed the girl she admitted she and Scannell had kissed and hugged, but said they had not engaged in any sexual contact.
The defense does not deny that Scannell had feelings for the girl, that he told her he loved her, that they kissed and hugged. But Tamburino denied that there was sexual conduct, as defined by the law, and argued that Scannell was not in a position of authority over the girl at the time of the events.
Q: she testified on Tuesday?
A: Yes, she was on the stand for nearly three hours. Prosecutors spent a lot of time establishing the role Scannell played in her life as a father figure. Then she very quietly detailed the alleged incidents, how they parked on a dirt road outside town on several different occasions. She said it's had a detrimental effect on her during her first year of college and has torn apart the close family friendships between her family, the Scannells, and two other families. She said she wishes her life could go back to the way it used to be.
She will be cross examined tomorrow.
Q: What kind of impact has this case had on Cook County and Grand Marais?
A: It's been huge. First, the 2011 shooting was enormous news and rocked the small town. Scannell survived, but the shooter, Dan Schlienz, later died in jail.
Moreover, that case brought to the surface what had long been a simmering issue in Grand Marais, how older men would sexually pursue teenage girls, and how for years law enforcement couldn't get anyone to talk about it.
So when Scannell was first accused of having an inappropriate relationship with a teenage girl at the end of 2012, there was more shock in the community. There was a local campaign in Grand Marais to have Scannell step down from office. Since last fall Scannell has been out on medical leave.
Q: How has Scannell responded to the charges?
A: He hasn't spoken publicly. But his family has stood by him. In fact his wife, two sons, his in-laws were with him in court. They say he's suffered from depression and post-traumatic stress disorder since the shooting. Scannell plans to take the stand during the trial and speak in his defense later this week. The trial is expected to last about a week.