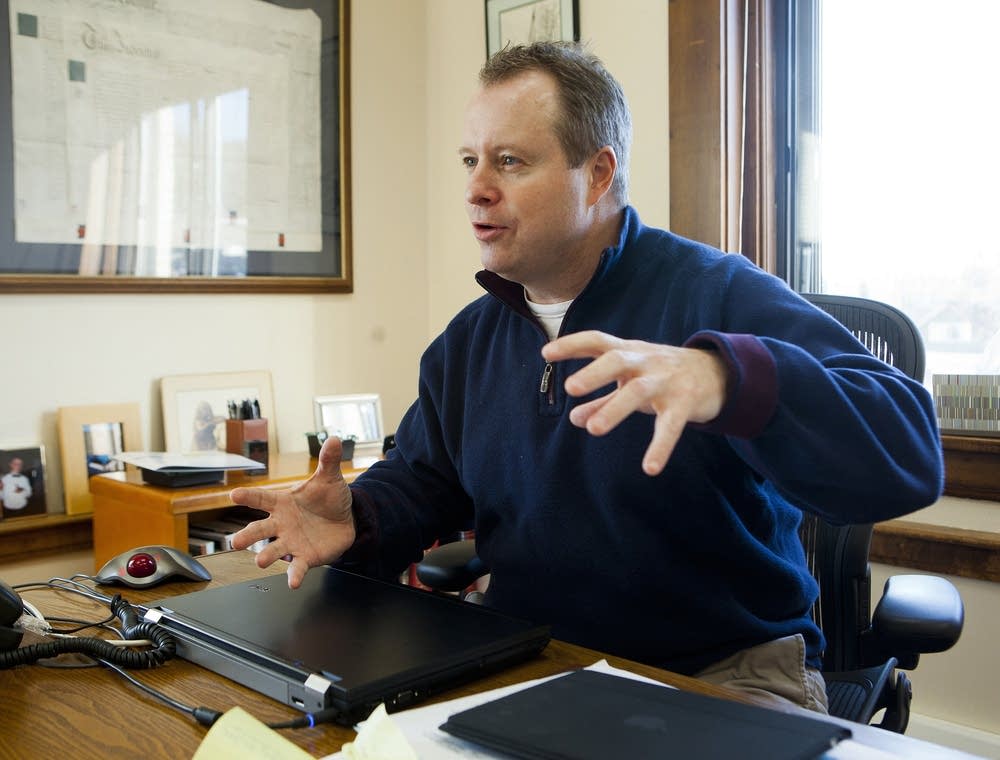 A jury Friday found Cook County Attorney Tim Scannell guilty on two felony counts of fourth-degree criminal sexual conduct.
The verdict came after the young woman at the center of the case testified that Scannell touched her inappropriately and tried to convince her to have sex with him when she was 17.
Scannell was a "mentor" and "father figure," the woman, now 19, told jurors Tuesday. They saw each other often during the summer of 2012, but on two dates that August, she told jurors Scannell inappropriately touched her breasts, stomach and legs. She said she told him, "No, that can't happen."
He suggested later they have sex, she said, but she declined.
Scannell, now 48, was charged in October with the two felony counts. His indictment came months after a judge ordered Scannell to stay away from the then-17-year-old after her parents sought a harassment restraining order.
• Related: In Grand Marais, pattern emerges of older men pursuing teen girls
A key question for jurors: Did Scannell hold a "position of authority" over the woman when she was 17. That finding was necessary to prove the charges, since the alleged victim was older than 16.
The jury of nine men and three women deliberated for about eight hours before announcing their decision Friday afternoon.
The maximum sentence for one count of fourth-degree criminal sexual conduct is 10 years. But because Scannell doesn't have a criminal history, his attorney said after the verdict was announced that Scannell would likely not serve jail time, but rather probation.
He said he didn't know if Scannell would remain in office.
During the week-long trial the victim testified she and Scannell met several times on a rural dirt road east of Grand Marais, Minnesota.
There in Scannell's family van, she said, they kissed, and on two occasions he touched her stomach, buttocks and breasts, once over her clothes, the second time underneath.
Scannell was a longtime family friend of the victim's family and has known her since she was in third grade.
Over the years, he had served as her coach, guitar teacher and mentor, and has counseled her on social and academic issues.
The prosecution argued Scannell continued to hold that position of authority over her at the time of the acts.
Special prosecutor Tom Heffelfinger argued it wasn't something that could be turned on and off "like a light switch."
Defense attorney Joseph Tamburino argued Scannell was not in a position of authority at the time over the then-17-year-old girl and that Scannell repeatedly denied touching her breasts with sexual intent.
Scannell acknowledged only that he loved her and kissed her on several occasions and denied ever asking her to have sex, Tamburino added.
"What occurred was distasteful, it ruined close relationships, and it was immoral," Tamburino told the jury. "But it wasn't illegal."
Heffelfinger said the victim is still confused by what happened. "She's hurt, she's moving on with her life, but she's carrying this baggage with her."
Scannell was thrust into the public spotlight in December 2011 after he was shot three times in the Cook County Courthouse in Grand Marais by a man he had just successfully prosecuted for criminal sexual conduct for his relationship with a teenage girl.
The prosecutor survived, but the assailant, Daniel Schlienz, later died in jail from a blood disorder. The incident brought to the surface a longstanding culture in Cook County of older men sexually pursuing younger girls, and law enforcement's difficulty in prosecuting it.
Defense attorney Joe Tamburino said Scannell still hasn't recovered.
"This man in December 2011 was shot four times, thought he was going to die, wound up being physically OK, went through a tremendous amount of depression, PTSD, going through treatment centers, and within one year of that he's accused of a sex crime," Tamburino said. "You couldn't write this. it's just very, very tragic."
Scannell was first elected county attorney in 2006, and re-elected in 2010, but is not running this year. He's been on medical leave from his Cook County post since October.
He has not spoken publicly since the allegations emerged, but he has apologized for his actions.
Martin Cole, Director of the Minnesota Lawyers Professional Responsibility Board, said the group would seek to discipline Scannell in the wake of a conviction.
But he said it could take eight or nine months to revoke his license, a step that would be required before the Cook County Board of Supervisors could remove him from office.