Charges: Brian Fitch admitted killing Officer Patrick, hating cops
Wounded after a shootout with police and in the hospital, Brian Fitch Sr. had one thing to say to the officer standing guard over him: "Just to let you know, I hate cops and I'm guilty."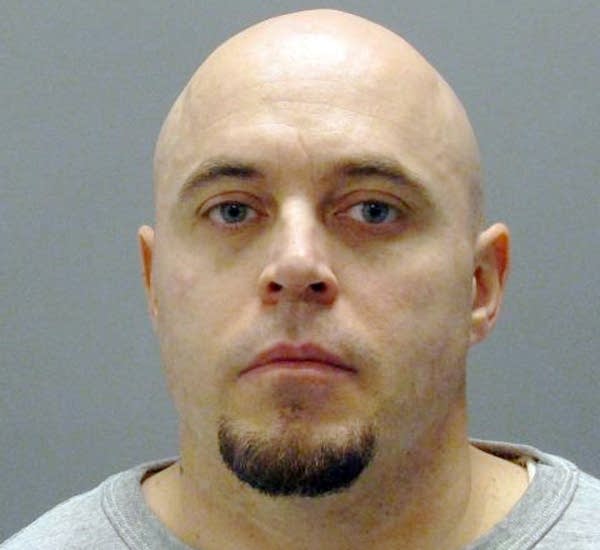 More coverage
• Dakota County charges
• Ramsey County charges
• Fitch in serious condition

That allegation came as part of first-degree murder charges handed down Friday by the Dakota County Attorney's Office against Fitch, the suspect in Wednesday's killing of Mendota Heights Police Officer Scott Patrick.
The charges carry a sentence of mandatory life in prison without parole.
Grow the Future of Public Media
MPR News is supported by Members. Gifts from individuals power everything you find here. Make a gift of any amount today to become a Member!
The Ramsey County Attorney's Office also charged Fitch with three counts of attempted murder and several counts of assault and engaging in a drive-by shooting.
Fitch, 39, was captured Wednesday night in St. Paul's North End after an eight-hour manhunt ended in a gun battle that wounded him near Rice and Sycamore streets.
At a press conference Friday, prosecutors released more detail about what happened Wednesday.
• The car Patrick stopped had been purchased recently by Fitch but wasn't registered in his name, so there was no way Patrick could have known Fitch, with outstanding warrants, was in the car as he approached.
• Patrick was only a few feet in front of his squad car when the driver of the car he'd stopped fired a handgun at him out the window, hitting Patrick in the leg, abdomen and head.
• As the car sped away, passersby rushed to help Patrick. One used Patrick's portable police radio to call "officer down."
• Later in the day, confidential informants tipped police that Fitch was in St. Paul's North End, near Rice and Sycamore Streets. Officers watched Fitch get into an SUV and begin to drive away. Police hit the lights and sirens and after a short pursuit the vehicle stopped. Three people were in the car, including an unidentified male, who complied with police orders to get out of the car and hit the ground.
Fitch, the prosecutors said, opened fire on officers, who returned fire and hit Fitch multiple times.
Ramsey and Dakota County prosecutors said they plan to convene a multi-county grand jury over the charges, an unusual move that combines the work into a single prosecution.
Fitch has a long criminal history, hated police and "was going to do anything, including murder, to evade capture," Ramsey County Attorney John Choi told reporters.
Choi and Dakota County Attorney James Backstrom emphasized the investigation remains ongoing.
A handgun recovered at the scene of the shootout is being tested to see if matches the one that killed Patrick during the traffic stop.
Questions remain about Fitch's long criminal record and some of the breaks he received along the way.
Backstrom released a timeline of Fitch's criminal past, including a judge's decision at one point to place Fitch into a drug rehabilitation program rather than prison.
In that case, Backstrom said prosecutors had pressed for a prison sentence.
"I'm a big believer in drug courts ... but those kinds of programs are not for violent criminals," he said.
The funeral for Patrick, 47, is scheduled for Wednesday. Affinity Plus Federal Credit Union has set up a memorial fund to help Patrick's family, including his wife and two teenage children.
As many as 3,000 law enforcement officers from across the state are expected to travel to the funeral, which will be held at St. Stephen's Lutheran Church in West St. Paul.
"Every officer that will be attending the funeral can look at that and go, I've done that, and that kinship, that thin blue line, all the different adjectives we use, really brings out that need to do this right," said Olmsted County Sheriff's Office Capt. Kevin Torgerson, who is in charge of setting up the memorial procession.
Choi said Patrick's killing was a reminder of how dangerous it is being an officer.
Said Backstrom, "There's no one in law enforcement that wouldn't wish that (Fitch) could have been apprehended on the warrants he had outstanding" before the traffic stop that cost Patrick his life.
• Dakota County charges
• Ramsey County charges