Concerned about a summer spike in crime, the Minneapolis Police Department is stepping up its efforts to patrol city neighborhoods.
Summer in Minneapolis draws people out of their homes in droves to enjoy the relatively short stretch of warm weather. But law enforcement officials say that also creates more situations for people looking to break the law — from violence to property crimes.
That's particularly true this summer, as reports of shootings in Minneapolis have increased by nearly 22 percent over the same period in 2013. On the city's north side, shootings have spiked by 33 percent over this stretch last year.
To address the increase, the department has assigned officers like Brandon Bartholomew to perform foot patrols. In the Folwell neighborhood of north Minneapolis, he greets people sitting in front yards and in parked cars, accompanied by a Hennepin County Sheriff's deputy. The effort is part of the city's Joint Enforcement Team initiative.
Bartholomew, who grew up in north Minneapolis, enjoys walking the streets and talking with people — especially children. He often gives them stickers that look like police badges.
Much of the violence that plagues city communities, he said, is caused by young people involved with gangs who get guns.
"People get hooked up with the wrong crowd," Bartholomew said. "They think it's cool to go out and shoot a gun and unfortunately they shoot other people, because they don't like the clique that they're in."
Police Chief Janeé Harteau recently announced the city would spend up to $300,000 in overtime costs to add more patrols in parts of north Minneapolis and the city's south side. Harteau said eight officers and a supervisor will be added to mainly respond to shots fired calls and knock on doors in the areas where the shots were reportedly fired.
"It's going to allow us to have information and gather intelligence we may normally not get — because they're not going to call us or they're not going to feel comfortable talking to us," she said. "It's also going to allow them to know we're actually policing their neighborhoods. So when they call, because they hear shots fired, they're actually going to get a police response."
Part of the department's manpower problem is due to understaffing. A wave of early retirements this year has left the force about 80 officers short of its target staffing goal of between 850 and 860 cops. However, Harteau said more officers are on the way. She said about 50 will be added to the force this fall.
For north side residents like Karen Crouse, that's not enough.
"In my opinion, there needs to be a lot more police," Crouse said. "A lot more."
Last week, Crouse stood alongside a group of demonstrators on the sidewalk near the corner of 26th and Penn Avenue North. Passing drivers honked their horns in support of the demonstrators, who were there to protest the violence that took the life of the city's latest homicide victim, 38-year-old Andrew Billingsley. Police say Billingsley was fatally wounded after arguing with a teenager on a Metro Transit bus — just a few feet from where protesters stood.
The Hennepin County Attorney's Office filed murder charges against a 16-year-old boy who police say fired the shots.
Billingsley was the city's 18th homicide victim so far this year. There were 21 suspected murders committed over the same period in 2013.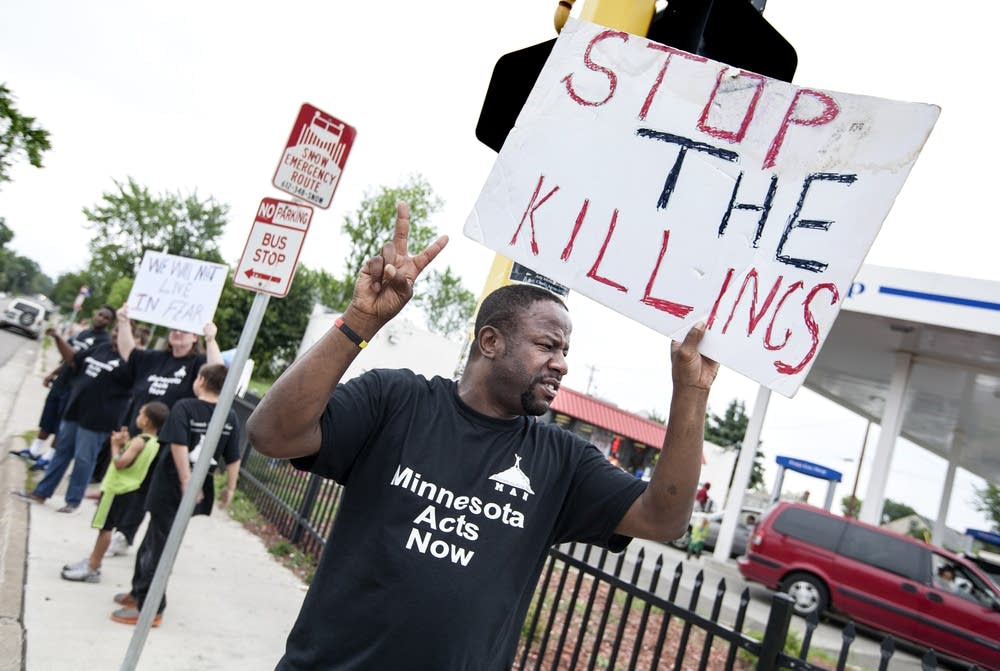 Crouse, who has lived just a few blocks from the corner for nearly 30 years, said gun shots and shootings are too common.
"About a week ago, right on Willow Avenue, there was a young man, he was 20 years old," she said. "He got shot in the head and in the leg."
The Rev. Harding Smith, of Spiritual Church of God in Robbinsdale, led the sidewalk demonstration. He makes frequent appearances in north Minneapolis near the scenes of violent incidents.
"North Minneapolis is a great place to live," Smith said. "It's a great place to raise your children. But then again, we need to work together as a team to look at the root causes — the systemic root causes — that is causing all of these murders in our communities."
Communities like north Minneapolis need more resources to help people get jobs and to counsel young people on how to handle disputes without resorting to violence, said Smith, executive director of Minnesota Acts Now, a non-profit anti-violence advocacy group. He also said it is too easy for people to obtain guns.
Neighborhoods in north Minneapolis are not the only hot spots police are focusing on. Parts of south Minneapolis also have seen spikes in robberies and shootings.
The Third Precinct in south Minneapolis has seen a 28 percent increase in robberies and a nearly 32 percent jump in shootings compared to the same period in 2013.
The extended patrols and other seasonal crime fighting strategies are scheduled to wrap up when summer unofficially ends on Labor Day.