Pharmacists ready, worry over new role: Medical pot dispenser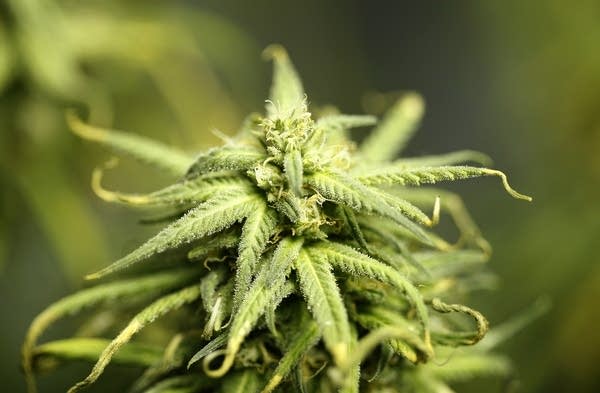 When medical cannabis becomes available next July, a pharmacist — not your doctor — will help you figure out your exact dosage. And that pharmacist will be one employed by the companies selected to manufacture the drug.
Minnesota will be just the second state to use pharmacists to dispense medical cannabis. While some pharmacists say it makes sense to tap their expertise in handling medications, they also see many challenges in dispensing a drug that has a lot of variability and limited research to guide them.
Related: Big dreams, stiff rules: State starts search for medical pot makers
Pharmacists will be at the center of a process that will start with a visit to your health care provider to see if you qualify for the state's program.
Grow the Future of Public Media
MPR News is Member supported public media. Show your support today, donate, and ensure access to local news and in-depth conversations for everyone.
Only Minnesota-licensed medical doctors, physician assistants and advance practice registered nurses can certify patients. The medical conditions that qualify include glaucoma, HIV/AIDS, Tourette syndrome, ALS, seizures, Crohn's disease and severe and persistent muscle spasms. People with cancer or a life expectancy under one year also qualify if they suffer from severe or chronic pain, nausea or vomiting, or severe wasting. But you should know that health care providers are not required to participate in the certification process. They also won't play any role in determining how much medical cannabis you should take.
"They can't actually prescribe any medication for fear of repercussions from the federal government," said Manny Munson-Regala is an assistant commissioner with the Minnesota Department of Health.
Prescribing marijuana is illegal under federal law; so is distributing it. Practitioners who defy the law could jeopardize the prescribing authority issued to them by the federal government, Munson-Regala said. A pharmacy could also lose its right to distribute legal controlled substances if it sold medical marijuana.
Attorney General Eric Holder has said the U.S. Justice Department won't challenge state marijuana laws as long as cannabis sales don't conflict with federal drug enforcement priorities.
Minnesota lawmakers will try to navigate the rules by enlisting the help of pharmacists who would work directly for Minnesota's medical cannabis manufacturers. Pharmacists understand and work with controlled substances, but they aren't regulated by the federal government.
Under Minnesota's law, a pharmacist will work with a patient to determine an appropriate cannabis dose depending on the patient's disease. Lawmakers designed the program to be a patient-driven process, so patients will have a say in choosing the strain of cannabis they want and the dosage, Munson-Regala said.
"I think one of the things we have to think through is what happens if the pharmacist is alarmed by the patient's choices," he said.
Connecticut was the first state to use pharmacists to dispense medical cannabis. Minnesota's the second, so there's little experience to tap. No matter how the pharmacist-patient relationship is structured, it's an unusual arrangement.
Pharmacists are not typically asked to decide how much medication a patient should receive. A doctor usually does that.
And in the case of medical marijuana, there currently aren't any formal guidelines to help pharmacists and patients figure out the best way to dose different medical conditions. The state health department plans to compile the research published to-date to give pharmacists some general guidance on dosing.
But those guidelines won't be based on rigorous clinical studies, said Jean Moon, assistant professor in the University of Minnesota's College of Pharmacy.
"There's just so many unknowns at this point that I'm not sure if I would feel comfortable making a recommendation (about medical marijuana)," said Moon. "That's why I wouldn't necessarily be jumping up and down to be that pharmacist."
Many pharmacists share Moon's concerns about the state of marijuana research and the potential risk involved in violating federal drug laws, said Cody Wiberg, executive director of the Minnesota Board of Pharmacy.
"I would suspect that most pharmacists aren't going to want to do this," Wiberg said. "This is a startup business. Maybe it will work very, very well. Maybe it won't."
Wiberg said he has heard from a few people who have told him that they might be interested in working for the medical marijuana program because they believe it will help patients.
Ultimately only a couple of pharmacists will be needed. The two manufacturers that will be selected by the state are only required to hire one pharmacist each. With 5,000 pharmacists currently practicing in the state, Wiberg said he has no doubt Minnesota will find pharmacists to do the work.