Potential fall of farmland prices sparks fears of a bust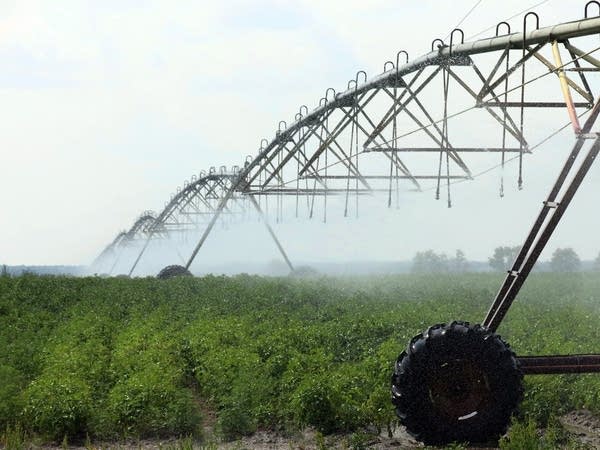 The boom in farmland prices of recent years could be cooling, setting up a potential economic blow to Minnesota farmers.
Minnesota's farmland is worth about $100 billion, and given that land often accounts for 80 percent of a farm's assets, that value has served as an economic engine. It provides farmers the collateral they need to buy equipment and grow crops.
But the most recent quarterly survey of agricultural bankers by the Federal Reserve Bank of Minneapolis, which tracks the important asset, shows Minnesota farmland prices have started to decline. Prices per acre have fallen about four and a half percent from what they were a year ago, said Joe Mahon, a regional economist for the Fed.
That would reflect a decline of about $4 billion in farm wealth across the state, reversing a steady upward trend for much of the last decade, when land prices more than doubled in value.
At the end of last year, farm land sold for an average of about $4,800 an acre — and the best land more than twice that. At $10,000 an acre, a hundred acres could cost $1 million or more.
Mahon said land prices began falling in the state late last year after the selling price of corn — the state's most valuable crop — tumbled to unprofitable levels. He said the prices of other commodities also fell.
"So we're seeing this environment where the crop prices for corn, soybeans and wheat have all come down over the last year or two," Mahon said. "And that's reflected in lower farm incomes."
With incomes down, fewer farmers can afford land, and with a smaller number of farmers bidding for the available acres, land prices are slipping. Grain prices are not expected to recover any time soon, given record supplies of corn and soybeans predicted for the nation's fall harvest.
"Farm incomes have come down," Mahon said. "And they're probably going to stay down for a little while."
But not everyone agrees that the trend necessarily means land prices will take a big drop. Some farm analysts believe farmland prices are stable.
Despite low crop prices, other factors are helping to keep the land market steady, said Randy Dickhut, vice president of real estate operations for Omaha-based Farmers National Company, which sells farmland across the Midwest.
Low-interest rates are available to finance deals and many farmers still have plenty of cash on hand to invest in land, Dickhut said, "profits that farmers and landowners have realized over the last few years."
Corn prices soared in the past five years to their highest level ever. Much of the boom was driven by increasing demand from the ethanol industry, which now uses more than a third of the nation's corn crop each year to make fuel.
The high prices gave many crop farmers their most profitable years ever. In Minnesota an analysis of profits of some 1,300 crop farmers showed they made an average profit in 2012 of about $250,000.
However, if the current high prices for farmland amount to an economic bubble, much like the housing market went through in the recent recession, that would bode poorly for the state' economy.
But it's unclear yet whether farmland prices are too high since so far declines have been relatively minor.
Still, some farmers, bankers and others in the agricultural industry are concerned about a possible price collapse.
One way to measure whether a bubble is about to burst is to watch the pace of the land price decline, said Sterling Liddell, senior vice president for food and agribusiness research for Rabobank.
Little said the danger comes if prices drop only a little and then hold steady or even climb again. That would increase the chances that the high cost of land is a bubble, with land priced too high for what it generates in revenue.
Prices need to drop slowly, he said, to match the reduced income lower priced crops are generating.
"Land has to follow these fundamental drivers or we will start to be concerned that there's a bubble building in this sector," Little said.
Your support matters.
You make MPR News possible. Individual donations are behind the clarity in coverage from our reporters across the state, stories that connect us, and conversations that provide perspectives. Help ensure MPR remains a resource that brings Minnesotans together.