In the Minnesota governor's race, Dayton and Johnson tell voters little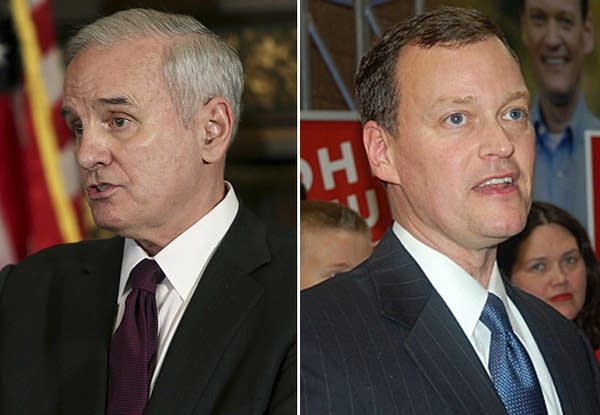 When Democratic Gov. Mark Dayton and Republican candidate Jeff Johnson meet for their second debate Wednesday in Moorhead, they are not likely to offer voters many specific proposals.
For months, the campaign for governor has largely been about nothing, with neither major candidate offering a specific direction or broad vision for the state. Both have been reluctant to outline specifics about their plans for the next four years.
More: Election 2014 | All politics | Policast podcast | Capitol View blog
The race stands in marked contrast to the contest four years ago, when two bold candidates for governor — Dayton and Republican nominee Tom Emmer — offered vastly different choices for Minnesota voters.
In 2010, Dayton he had a clear list of specific things he would do if elected. At the top of the list was raising income taxes on the state's wealthiest residents. He also promised state help to build a new Minnesota Vikings stadium, and said he would increase funding for schools and local governments.
But this year, Dayton isn't making a lot of hard promises.
"I haven't given much thought to specific pieces of legislation because it's presumptuous on my part to presume that I'm going to be around next year," the governor said. "I tell audiences that next year I'll either be in Biwabik or Bolivia, and I'm not going to presume on either one of those outcomes until the people of Minnesota decide."
When pressed by a reporter on Friday, Dayton said he would push to increase annual school spending if he's reelected.
Dayton also is sidestepping questions on taxes. He said he doesn't see a need to raise taxes to deal with the state budget. But he's unwilling to say whether he wants a higher gas tax to pay for transportation projects, even as he acknowledges more money will be needed for roads and bridges.
"The people of Minnesota are really going to have to decide through their elected representatives are they satisfied with the way things are? Are they willing to pay additional from source or another in order to be able to make that break even? Do we want to improve things? If that's the case we'll have to invest more," Dayton said. "Or are we willing to let things continue to deteriorate, which will happen unless the investments overall are increased."
More broadly, Dayton said his top priorities are jobs and the economy. But when it comes to specifics on what he would do in a second term he will only say that if elected will hold a series of regional job summits around the state, beginning in December, and ask business owners, "What do you need?"
Johnson, also has been unwilling to lay out specifics. That's a far cry from what Emmer did four years ago, when he unveiled a budget plan that aggressively cut spending and taxes.
Johnson isn't going there. He has said he supports tax changes that would make the system "low, broad and simple." During a debate in July, he said he would consider expanding the sales tax but did not say exactly what he has in mind.
"What we need is an overhaul of the whole tax code," Johnson said. "And I have said I would be open to looking at a lot of different options including possibly broadening the sales tax base but only if we lowered the rate enough that it's revenue neutral if not better."
In 2012, Dayton proposed expanding the sales tax to a range of business and consumer services. But faced with a loud backlash from business interests, he withdrew the plan.
Johnson has called for making changes to MNsure, the state's online health insurance exchange. But Johnson's solution -- asking the federal government to allow the state to opt out of the Affordable Care Act - is unlikely to happen. He also would aim to reduce state mandates on HMOs and doctors. But at a recent press conference, Johnson repeated declined to identify exactly which requirements he'd wipe away.
"We have a lot of mandates in the state right now probably more than any other state and that's been an issue in Minnesota for many years," Johnson said.
Johnson has also said he wants to cut state spending. But it isn't clear what he would cut. Instead of citing examples, Johnson said he wants to hire an outside auditor to analyze state spending.
"I think if you go by program by program by program, which is something that I'm trying to push on the [Hennepin] County Board, there is an opportunity for great savings there, because you can eliminate the programs that aren't actually helping people," he said.
But Johnson is taking some cuts off the table even before the auditor sharpens his pencil. He isn't interested in cutting spending for schools, including Dayton's initiative to add free all-day kindergarten statewide.
Johnson also said he won't eliminate subsidized health insurance for low income Minnesotans. He won't say how he plans to change the state's formula to deliver aid to cities and counties.