As Minnesota's climate changes, bad air and new disease risks follow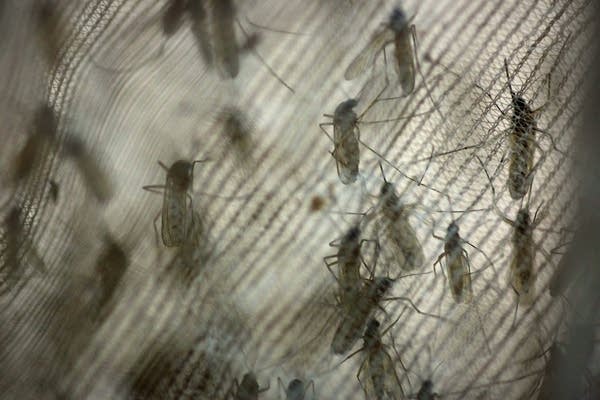 In the last century, Minnesota has generally grown warmer and wetter, changes that have big implications for human health.
Some Minnesota counties are much more vulnerable than others to health problems associated with climate change, concludes the first county-by-county Minnesota Climate Change Vulnerability Assessment.
The Minnesota Department of Health report, released Monday, looks at which counties are most vulnerable to extreme heat, flash flooding and bad air quality.
Since 1895, annual precipitation has increased nearly three inches in Minnesota, said Pete Boulay, an assistant state climatologist for the Department of Natural Resources.
Grow the Future of Public Media
MPR News is supported by Members. Gifts from individuals power everything you find here. Make a gift of any amount today to become a Member!
Temperatures also are rising, especially overnight lows. Overnight minimum temperatures have warmed more than two and a half degrees in the summer and nearly five and a half degrees in the winter.
That can disrupt freeze/thaw cycles, allowing frost to sink deeper in the winter, and making it more difficult to cool off buildings that lack air conditioners in the summer, said Boulay, who compiled some of the historic climate data used in the report.
"Even this year," he said. "We had cooler than normal maximum temperatures this summer, but we had such warm overnight minimum temperatures in the Twin Cities we wound up being above normal," he said.
Minnesota's climate trends increase the risk of extreme weather. High heat and flooding are the obvious dangers, but Minnesota's changing climate has also helped expand habitat for disease-carrying mosquitoes and ticks, and extended the pollen season for some allergy-inducing plants.
The health department's assessment relies on historic climate data and makes no projections about future trends, said Minnesota Climate and Health Program Director Kristin Raab, who is mindful of the lingering debate over climate change.
"I don't think it's really a question of whether you believe in climate change or not," said Raab, who helped draft the report. "It's just these are things that are happening in Minnesota and here's the data. And we'd like you to start thinking about these issues."
Composite risk assessment maps
As part of the Minnesota Climate Change Vulnerability Assessment, the demographic, socioeconomic and health vulnerability index was combined with the extreme heat event risk index and the flash flood risk index to create maps that indicate areas of vulnerability across Minnesota.
County heat risk rating: Low Mild Moderate High
County flood risk rating: Low Mild Moderate High
Source: Minnesota Department of Health
To get a sense of which Minnesotans are most susceptible to the dangers of extreme weather, the report calculated vulnerability scores for each county based on the percentage of residents who fall into vulnerable categories.
The department took into consideration the number of older adults, children under five, people of color and people living at or below poverty.
For extreme heat, they also looked at the number of people who worked outside.
With flash flooding, Raab said county scores also include access to transportation and housing data.
"Mobile homes, for example, are more vulnerable to flooding," she said. "And people that don't have access to a car may get trapped or they may not be able to leave."
The health department's crude scoring method has several limitations, so the agency is urging planners to avoid making comparisons between counties.
The document is largely a tool that will help local health and emergency planners prepare for the state's changing climate.
Health Department officials want to know what they can do to make the climate vulnerability assessment more accurate and more useful for counties. The agency will seek feedback from planners in different regions of the state this fall.
There are many gaps in the data, and it will be up to counties to fill in those gaps, according to the report.
"It's really important to take the data and look at it and not just go with intuition," said Zach Hansen, environmental health director for Saint Paul-Ramsey County Public Health.
Hansen's department already has begun more detailed population mapping for Ramsey County.
At the start of the project, he said, there was a sense among his public health staff that most residents living in poverty were centered in St. Paul's urban core.
"In fact our data showed that they're scattered throughout the county, as were people who had limited English proficiency," Hansen said. "And so it gives an entirely different picture."
The new data show Hansen that he may need to take a broader planning approach to protect the health of county residents during extreme weather.
He said that knowledge has been helpful, but it has made his job more complicated.
"We can do the data. We have to figure out what we're going to do with it," Hansen said. "That's one of the challenges."
Read the full report: Minnesota Climate Change Vulnerability Assessment