As much as they dislike MNsure, Republicans may only tinker with it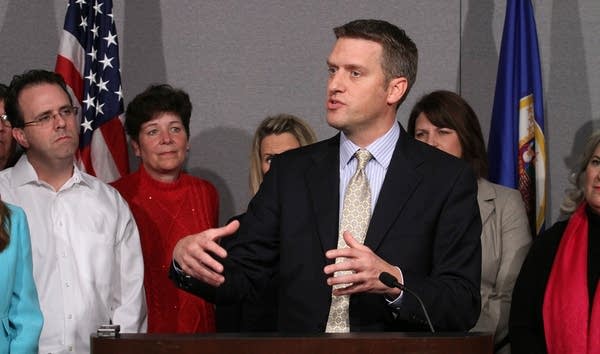 In the months leading up to this year's elections, Republican leaders made a point to target MNsure, the state's online insurance website.
Republican lawmakers slammed MNsure even before the first customers signed up a year ago, criticizing Democratic Gov. Mark Dayton's administration for its stewardship of the website. As House Minority Leader, state Rep. Kurt Daudt, R-Crown, said he would love to repeal MNsure and that Republicans could come up with a better alternative.
They complained about the website problems that slowed initial enrollments and several management decisions made along the way. The criticism got especially loud in October when new rate information was released, and it continued through the fall campaign.
The Legislative panel that oversees Minnesota's online health insurance exchange meets Wednesday for the last time before Republicans take majority control of the Minnesota House.
Grow the Future of Public Media
MPR News is supported by Members. Gifts from individuals power everything you find here. Make a gift of any amount today to become a Member!
But as much as members of the GOP frequently criticize MNsure — and promise much more scrutiny of the exchange during the session that begins in January — with a Democratic governor and Senate still in place, big changes in MNsure remain unlikely.
State Rep. Joe Hoppe, R-Chaska, said he's not a fan of the Affordable Care Act, the federal law that allowed for the creation of MNsure. But Hoppe believes Minnesota is stuck with its state exchange, at least for now. In the meantime, he wants to talk with Senate Democrats about making some reasonable changes.
"We're not saying we should scrap the exchange or anything like that, because that's not realistic," Hoppe said. "But I think we could have some hearings on it and kind of talk about — are there some things that we could do to make it better?"
Hoppe wants to change the makeup of the MNsure board to include more health care professionals.
Now that Republicans have won a majority in the state House, their caucus led by Daudt will propose solutions to MNsure's problems, said state Rep. Tara Mack, R-Apple Valley.
Mack, who said it is too soon to get into specifics, expects several House committees to be involved. But she said given the workload MNsure has handed to counties, a county government representative is needed on the exchange's seven-member governing board.
"None of us pretend that this is an easy issue. None of us pretend that the solutions are going to be easy to come by," she said. "But there is certainly room for a lot of work to be done and some honest conversations about the problems that just haven't been acknowledged over the past year. So, that is something we will be tackling right out of the gate in early January."
State Rep. Joe Atkins, DFL-Inver Grove Heights, thinks Republicans have changed their tone on MNsure.
"I thought they were going to seek to repeal it," said Atkins, a member of the state House commerce committee and a co-chair of the MNsure oversight panel. "They talked about that a couple of years ago. Now they're talking about we need to keep it, we need to fix it, we need to make sure the website works, and things like that, and I fully support that."
Atkins noted that the Office of the Legislative Auditor has already completed two of three planned reports on MNsure. The most comprehensive evaluation is due in February.
Another reality facing GOP critics of MNsure is that a repeal would force Minnesota to rely on the federal exchange, Atkins said.
Dayton made the same point last week after winning re-election to a second term.
The governor invited Republicans who have thrown rocks at MNsure for the past two years to offer constructive ideas for improving the exchange. But he said repealing it is not an option.
"The reality is that we either have MNsure and we continue to improve it, or we dump all the people now covered through Minnesota programs — we dump them on federal programs," Dayton said. "I don't think that's a desirable trade-off."
The next open enrollment period for coverage through MNsure begins Saturday, and runs through mid-February.