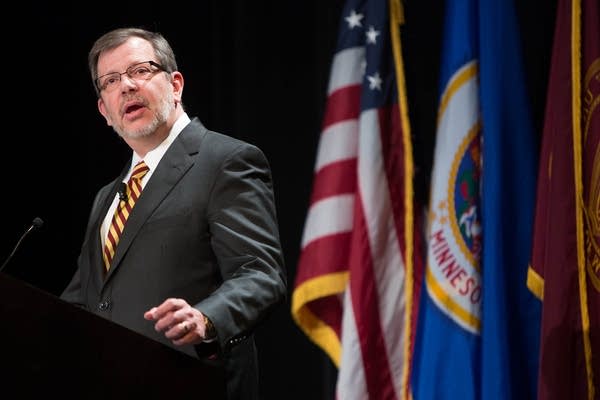 For the past year, the University of Minnesota has been exceeding many lawmakers' expectations.
Campus officials told regents on Thursday the university has surpassed all of the academic and financial performance goals set as part of this year's $600 million state appropriation. They also said the university has made some internal academic goals that indicate the U is enjoying some of its best years when it comes to undergraduates.
In 2013, lawmakers decided to withhold 5 percent of the U's funding for the coming year until it met three of five goals:
• Increase graduation rates for low-income students by one percentage point
• Increase overall graduation rates by one percentage point
• Produce 3 percent more undergraduate degrees in science, technology, engineering and math
• Increase by 3 percent the number of filings it makes for inventions
• Cut administrative costs by $15 million, or about 1.2 percent
Lawmakers set the goals after a December 2012 Wall Street Journal report said the university was top-heavy with management. Last fall, President Eric Kaler pledged to continue to cut $15 million a year for six years, for a total of $90 million.
Now the U's report card shows it has surpassed those goals, in some cases by more than 5 percentage points. It cut almost $4 million on top of the $15 million that lawmakers required. It has also hit some internal goals and records.
This year, just over 60 percent of freshmen who started school in 2010 graduated in four years. That's a far cry from about 20 years ago, when 26 percent of freshmen graduated in that time.
The U has improved its curriculum, financial-aid program and academic advising and done a better job over the years giving students the support they need, especially in their first year, Vice Provost Bob McMaster said. Now a record number of freshmen are making it to their sophomore year, almost 93 percent.
That's important, he said, because if they're on the right track the first year, chances are much higher that they'll make it all the way through.
The university has also concentrated on accepting stronger students — people it thought could get through school in a timely manner.
A decade ago, the average freshman came in with an ACT score of 24.8, and was in the top 20 percent of his high school class. Now the average ACT score is just under 28, and that student is in the top 13 percent.
This new crop of students, McMaster said, is the strongest yet.
"The university has become quite selective," he said. "There are certainly solid but perhaps not exceptional students who would have trouble getting into the university now versus 10 years ago."
Maureen Ramirez, a former regent who is now policy director at Growth & Justice, a think tank in St. Paul, said it's great to see the U attracting brighter students.
But she said that as it tries to improve its academic profile and reputation, it runs the risk of becoming too exclusive, something a public land grant university shouldn't be. That's especially important considering that in coming years Minnesota students will be more and more ethnically diverse, she added.
Unless it's careful, she said, the U "might get out of touch with our graduating high school students."
McMaster said there's no intention of becoming the equivalent of an elite private institution, and that its admissions and financial aid programs do account for students who are solid but not stellar.
Terri Bonoff, chairwoman of the Minnesota Senate's higher education committee, said she was impressed but that the initial performance plan, which lawmakers worked out with university officials, was just a start.
Rep. Gene Pelowski , DFL-Winona, was not impressed. He said he thought the U's performance goals were too low.
Officials can achieve any goal "if there's money attached to it," said Pelowski, who's stepping aside as chairman of the House higher education committee.
The university is already ahead of schedule on cutting $90 million over six years, said Richard Pfutzenreuter, its chief financial officer.
Although Kaler's pledge meant $30 million in cuts the first two years, Pfutzenreuter estimated the U has already implemented cuts amounting to $38 million, though he said it'll be tougher in the coming years to make such cuts without affecting services.