St. Paul mayor defends police dept., use of deadly force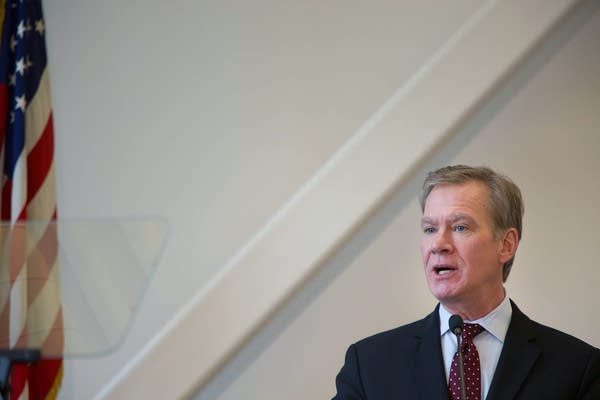 St. Paul Mayor Chris Coleman defended his police department and its use of deadly force during an interview with MPR News today.
Leaders of the city's African-American community have raised concerns about the St. Paul Police Department's tactics and the city's protocol for investigating complaints against police. St. Paul officers shot and killed at least 11 suspects since 2008. That's more than any other city in the state.
In the most recent incident, two St. Paul officers shot and killed 24-year-old Marcus Golden outside a University Avenue apartment building.
An attorney for Golden's family has called for a federal investigation into the incident, arguing the St. Paul Police Department has a conflict of interest when it comes to investigating its own officers.
Grow the Future of Public Media
MPR News is supported by Members. Gifts from individuals power everything you find here. Make a gift of any amount today to become a Member!
Police say Golden attempted to run over the officers with his car, as they responded to a complaint he'd been making death threats. They also say Golden had a loaded gun within reach at the time.
In an interview on MPR News today, Coleman spoke publicly about that shooting for the first time. The mayor said it appears to have been justified.
"At this point I've seen no evidence to suggest those aren't exactly the facts — this is an officer-involved shooting that was absolutely a part of procedure and protocol."
Coleman said the other 10 shootings were justified as well. He argues the data are misleading, because the numbers are so small; they don't mean St. Paul's officers are trigger-happy.
"I mean that's like saying, 'Well, you had one murder last year, and two murders this year, so your crime rate has doubled,'" he said. "That's not statistically significant. It doesn't mean that we shouldn't ask the tough questions. But I'd ask people to look at the facts and circumstances, because in almost every instance there was a direct threat of violence, if in fact that hadn't already been an act of violence."
In response to criticism from leaders in the black community, Coleman has agreed to an audit of the board that reviews complaints against police, but he also defended the board's record.
"The audit that I want to look at very specifically focused in on past practices," he said. "Did commissioners know that they had subpoena power? Did they exercise their full scope of investigatory authority as part of that process? The fact of the matter is the St. Paul police-civilian review authority sustains more complaints than any other one that I'm aware of in the country."
When the board sustains a complaint, it means the officer was found at fault.
It was Coleman's most in-depth discussion of police-community relations since last year's riots in Ferguson, Missouri focused national attention on the issue. Minneapolis Mayor Betsy Hodges, who also spoke to MPR News today, has held a series of public events on the issue.
Minneapolis — along with Duluth and Burnsville — has also begun equipping officers with body cameras in an effort to provide objective evidence when there are complaints against police.
Coleman said it's inevitable that St. Paul will follow suit. The City Council has asked the police department to draw up plans for a body camera pilot project beginning next year.