Hodges responds to The Atlantic's 'Miracle of Minneapolis' piece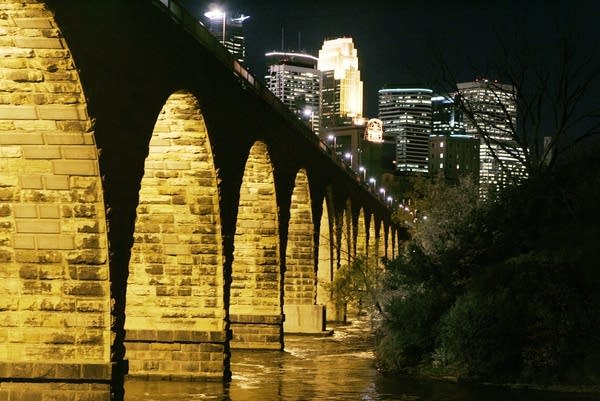 There's something happening in Minneapolis that seems to defy the trends of the rest of the country, making it one of the best cities for young people to live and work, according to The Atlantic. The magazine called it "The Miracle of Minneapolis" in their latest issue, but Minneapolis Mayor Betsy Hodges said it doesn't mean the city isn't facing major challenges.
Senior Editor Derek Thompson argues that as a metro area becomes wealthier, it becomes harder to afford to live there. And while that is an issue here in the Twin Cities, Thompson posits that it's a much better mix here than elsewhere.
Thompson looked at a Harvard-Berkeley study that analyzed inter-generational mobility--the ability for a low-income child to move into at least the middle class:
Grow the Future of Public Media
MPR News is supported by Members. Gifts from individuals power everything you find here. Make a gift of any amount today to become a Member!
Only three large metros where at least half the homes are within reach for young middle-class families also finish in the top 10 in the Harvard-Berkeley mobility study: Salt Lake City, Pittsburgh, and Minneapolis-St. Paul. The last is particularly remarkable. The Minneapolis-St. Paul metro area is richer by median household income than Pittsburgh or Salt Lake City (or New York, or Chicago, or Los Angeles). Among residents under 35, the Twin Cities place in the top 10 for highest college-graduation rate, highest median earnings, and lowest poverty rate, according to the most recent census figures. And yet, according to the Center for Housing Policy, low-income families can rent a home and commute to work more affordably in Minneapolis-St. Paul than in all but one other major metro area (Washington, D.C.). Perhaps most impressive, the Twin Cities have the highest employment rate for 18-to-34-year-olds in the country.
Hodges responded to his conclusions in an interview on MPR News.
While Hodges said it's great to have your city mentioned as a benchmark for urban success, Thompson's argument didn't take into account the area's biggest struggle: disparity.
"Everything he appreciates about Minneapolis and about St. Paul and about our region I think is accurate," she said. "I think our success is an advantage as we grapple with solving problems that every city is facing. We have some of the biggest racial disparities in the country. Our floor might be higher than others, which is good, but the gap is bigger than others. Having such a strong economy, having it be a place that people feel such an affection for and are staying in is a really great foundation to build on as we make sure that the 'American Dreaminess' of the city of Minneapolis is true for everybody."