Part of an occasional series of stories about the unusual, entertaining and downright risky things Minnesotans do outdoors.
The first time Mike Kratochwill, 45, strapped on a kite and sped across the Earth he was on the water in Hawaii. But it was on frozen Lake Minnetonka that he first understood the potential of snowkiting.
Kratochwill remembers he and a man in his mid-60s were the only people on the ice that day about 15 years ago.
"He zipped up right next to me, did something to his kite, his kite just fell out of the air and parked, and we chatted for five minutes," Kratochwill said. "Then he did something to his kite ... and he just disappears, goes near to far."
Grow the Future of Public Media
MPR News is supported by Members. Gifts from individuals power everything you find here. Make a gift of any amount today to become a Member!
Kiteboarders connect themselves to a large kite and move by catching the wind. The kite is steered by a control bar that's harnessed to the rider. Depending on the surface, whether it's water or ice, the items riders wear on their feet can range from skis to ice skates to even a surfboard.
Kratochwill, who owns the Lakawa School of Kiteboarding and Board Shop, said it's one of few activities that you can do any time of the year and on many surfaces, from lakes in the summer to frozen prairie in the winter. Riders can also be referred to as snowkiters or kitesurfers.
"It's an endless season for kiting," Kratochwill said.
The feeling of being pulled around by a kite, Kratochwill said, is euphoric.
"The very pure sense of being pulled around by these is very unique, very foreign feeling, yet very, very entertaining," Kratochwill said. "If I can get you to come out with me, you'll literally just laugh — you'll giggle."
Trainers show students how to move the kite to a place where it can grab enough wind to pull the rider in the direction they want. Riders' feet typically are used to control the kite's speed.
"You have to learn to be able to carve out the wind and manage that power and then be able to turn the power on and off," Kratochwill said. "There's timing to that, like putting the brakes on a car."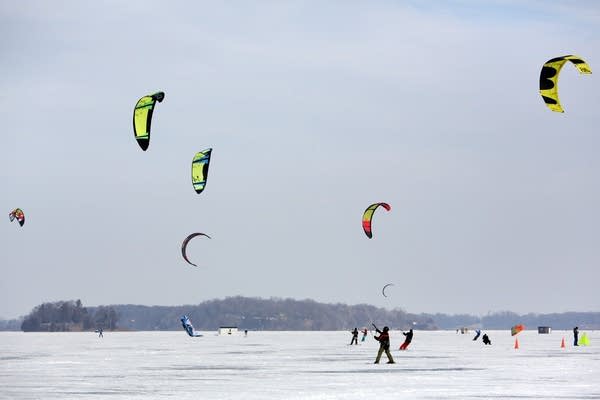 Kiteboarding can also be dangerous if the rider isn't trained. An inexperienced kiteboarder can lose control of the kite, which can lead to injury to the rider or bystanders, although kiteboarders can release the kite in a dangerous situation. Adequate training can take between 20-30 hours.
"There is an element that if you don't know what you're doing you could hurt yourself," he said. "I wish it was as easy as flying a one-line kite, but it's not."
Decent gear for a beginner can cost about $1,500, although that price can rise or fall depending on gear condition and quality.
The Upper Midwest is home to a number of events featuring kiteboarding. The Excelsior Brewing Snow Kite Open took place earlier this month on Lake Minnetonka. The Mille Lacs Kite Crossing is scheduled to take place from March 6-8, 2015.
Video of the snowkiting experience