Plan to curb runoff too costly, unworkable, farmers tell Dayton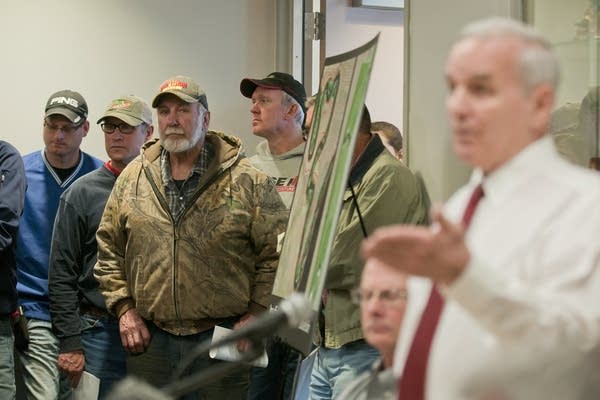 Southwest Minnesota farmers Thursday told Gov. Mark Dayton his plan to curb farmland runoff was simplistic and burdensome. They pressed him to broaden his approach.
Dayton recently called for farmers to keep a 50-foot vegetative buffer along all streams and lakes in the state, a step he says is urgently needed. State law already requires a 50-foot buffer, but enforcement is spotty across the state. The governor's plan would give state officials power to enforce the provision uniformly across Minnesota.
At a meeting in Worthington Thursday, farmers said they want to help solve the problem. But many told Dayton his plan goes too far and would take too many acres of cropland out of production.
"I foresee this as a land grab," said Tim Waibel of New Ulm, Minn. "When you start taking 50 feet of my ditch slopes away, it hurts you in the back pocket."
Grow the Future of Public Media
MPR News is supported by Members. Gifts from individuals power everything you find here. Make a gift of any amount today to become a Member!
The governor's comments put a spotlight on a problem decades in the making: polluted runoff that carries farm chemicals and sediment into streams, wetlands and lakes. The Minnesota Pollution Control Agency said recently that most of the lakes and streams in the southwest part of the state are not fit for swimming or fishing.
Runoff pollution is increasingly a national problem. A large portion of the pollution from Minnesota and other agricultural states finds its way to the Mississippi River, which carries the runoff to the Gulf of Mexico. There, it's a major contributor to the Gulf's dead zone.
Dayton said his buffer plan would help.
"The fact is that our water in this area is unsafe — for wildlife, for fish and for humans," Dayton said. "We don't want to drive anybody out of business. We're not trying to bring big government's foot down on anybody's head. We're just trying to solve a problem here."
Farmers, though, pushed back. Many said they want buffers only where they're necessary.
"I would really prefer that we as farmers could work hand in hand with soil conservation and do it our way, the right way, instead of being told how to do it," said David Vanderkooi, adding that each stream or lakeshore should have an individually planned solution.
Some farmers supported the Dayton approach.
Wabasso, Minn., farmer Paul Sobocinski predicted state and federal regulators will get even tougher on farmers if they don't join in the effort to reduce water pollution.
"We can face it now as farmers together, and look what we can do, or someone is just going to do it all for us," said Sobocinski, who came to the meeting representing the nonprofit environmental group Land Stewardship Project.
There is evidence that if Dayton's proposal passes, most Minnesota farmers will voluntarily implement the requirement.
At least six counties have already used existing state law to enforce buffer regulations. Using satellite photos, they identified areas where the 50-foot vegetation zone appeared to be lacking, then contacted those farmers. Dayton said that more than 90 percent of the landowners eventually agreed to install a buffer.