'Thunder lizard' lives: Bronto tale shows how scientific names evolve
Brontosaurus is back — even though, for many of us, it was never really gone.
The "bone wars" controversy — a centurylong debate over whether brontosaurus warranted a classification all its own — dates back to 1903. By the 1970s, research dismissed the bronto as just another apatosaurus.
Even so, the brontosaurus has continued to show up in popular culture: U.S. postage stamps; "The Land Before Time;" and Fred Flintstone's Bronto Burgers. The thunder lizard clearly has a hold on our imagination.
And now, even in science, the brontosaurus is back. Maybe.
A new study says that it's got enough differences with the apatosaurus to make brontosaurus its own genus.
We spoke with three scientists from the University of Minnesota's Bell Museum of Natural History to better understand the naming debate.
These kinds of changes happen all. the. time.
The scientific names of animals change a lot because they're meant to reflect the latest thinking on that animal's evolutionary history. And that's how science works.
"The scientific classification gives you some idea of the hypotheses of relationships," said Andrew Simons, the Bell's curator of fishes. "We expect our hypotheses to fail. We erect these hypotheses and then we test them."
When new data change the thinking, the name changes, too.
The name change might catch on. Or it might not.
Generally, name changes become accepted by other scientists, but there isn't a ruling scientific body that endorses or rejects those decisions.
"It's more or less by usage consensus," said entomologist Ralph Holzenthal. "If you don't agree with the change, you don't use the new name — ok, it's sort of forgotten."
If scientists agree with the updated classification, they start using it and it catches on.
Walleye's scientific name changed — and no one cared.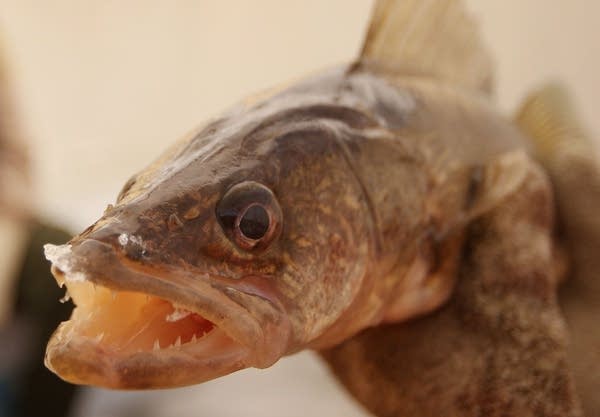 In 2004, the walleye went from being called Stizostedion vitreum to Sander vitrius. So why did that news sneak by, while the brontosaurus news is met with hoopla?
It's because walleye has a common name: walleye. Most animals are not called by their scientific names. You're not hearing about the Bos taurus competition at the state fair or the Felis catus video festival. That's because those animals have common names: cow and cat.
Dinosaurs, however, don't have common names. We call them by their scientific names: Velociraptor or Tyrannosaurus rex.
So when the names change, we notice. When other scientific names change, scientists notice.
"Squirrel taxonomy has undergone a lot of change in the last few years," said Sharon Jansa, curator of mammals. There's also a big debate about the mink genus name, as well as one concerning the vole. "Somebody actually traced the original name back and changed it. You would be surprised how angry people got about that."
Classification is changing thanks to new technology
Being able to sequence DNA has allowed biologists to better understand the evolutionary relationships among organisms.
"A lot of it now is driven by DNA sequencing, because it's so cheap and you can generate so much data in such a short period of time," Simons said. "It's really just changed the game."
But not all scientists agree.
"There are folks who think we shouldn't be recognizing species unless there are some morphological [physical] traits that allow us to identify to them. There are other people who disagree with that," said Jansa. "So it's kind of a controversial area. But I use both."
Jansa, Simons and Holzenthal have been involved in reclassifications with opossums, minnows and caddisflies, respectively. And as they learn more, names will continue to evolve.
"Evolutionary biologists have to be comfortable with name changes, because they're working with hypotheses and they also have to be comfortable with hypotheses changing," Simons said. "Any time a scientist gets too attached to their pet hypothesis, they're gonna be in trouble."
Your support matters.
You make MPR News possible. Individual donations are behind the clarity in coverage from our reporters across the state, stories that connect us, and conversations that provide perspectives. Help ensure MPR remains a resource that brings Minnesotans together.