Feds order oil trains to slow down through cities
An emergency order requiring trains hauling crude oil and other flammable liquids to slow down as they pass through urban areas and a series of other steps to improve the safety were announced Friday by the Department of Transportation.
The Obama administration has been under intense pressure from members of Congress as well as state and local officials to ensure the safety of oil trains that traverse the country after leaving the Bakken region of North Dakota.
To get to refineries on the East and West Coasts and the Gulf of Mexico, oil shipments travel through more than 400 counties, including major metropolitan areas such as Minneapolis, Philadelphia, Seattle, Chicago, Newark and dozens of other cities.
There have been a series of fiery oil train explosions in the U.S. and Canada in recent years, including one just across the border in Lac-Megantic, Quebec, that killed 47 people.
Grow the Future of Public Media
MPR News is supported by Members. Gifts from individuals power everything you find here. Make a gift of any amount today to become a Member!
Major freight railroads have already limited oil trains to no more than 40 mph in "high threat" urban areas under a voluntary agreement reached last year with Transportation Secretary Anthony Foxx.
But Friday's order makes the speed limitation a requirement and extends it to trains carrying other flammable liquids like ethanol.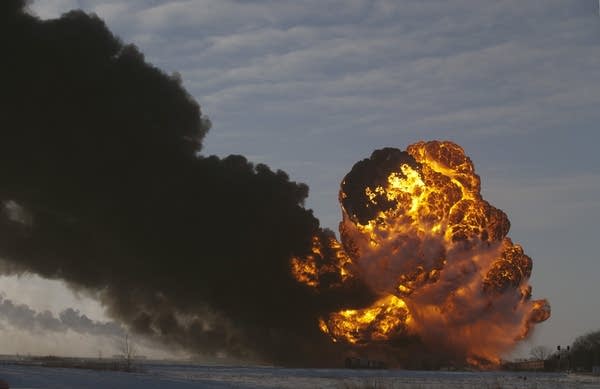 The voluntary agreement also applied only to trains that used older tank cars that are easily ruptured in crashes.
The new order includes tank cars constructed since 2011 that were designed to replace the older cars, but which have also repeatedly ruptured in crashes, spilling their contents and igniting intense fires that have burned for days.
So far this year there have been four oil train derailments resulting in huge fireballs -- two in the U.S. and two in Canada. All involved the newer tank cars known as 1232 cars.
The department has also issued an advisory to railroads to use the latest technology to check for flaws in train wheels that can cause a crash.
A broken train wheel is suspected of causing the March 5 derailment near Galena, Illinois, of a train hauling 103 cars of Bakken crude.
The department also wants inspectors with the highest qualifications to conduct brake and mechanical inspections before trains carrying oil and other hazardous liquids depart.
Railroads were also asked to put a system in place to quickly provide investigators with key information on trains and their contents in the event of an accident.
Railroads were also notified that the department is working on regulations requiring them to provide more detailed information on the trains and their contents than currently required, including any testing and analysis of the crude oil before the tank cars were filled.
Tests results of crude from the Bakken region show it is often far more volatile and likely to ignite than other types of crude oil. However, the American Petroleum Institute says Bakken crude is similar to other light, sweet crudes.
Besides the steps announced Friday, the department has a proposed a more comprehensive series of regulations to address oil train safety, including a stronger tank car design and better train braking systems.
The proposal is under review at the White House and final regulations are expected to be released in the next few weeks.