Legislature ignores pitch for soccer stadium tax break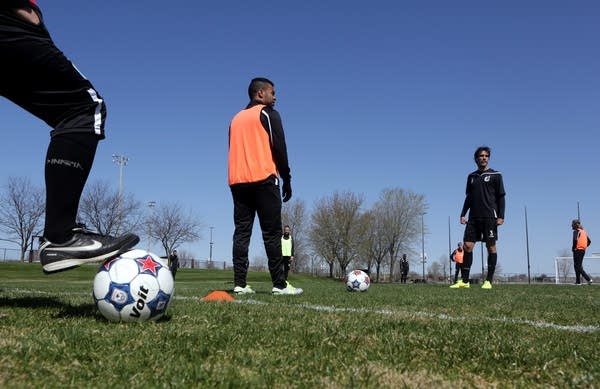 Supporters of a proposed soccer stadium in Minneapolis are regrouping after the Legislature declined to authorize tax breaks for the facility during its regular session.
The setback leaves an uncertain future for the Major League Soccer franchise. But Bill McGuire, the owner of the Minnesota United soccer team is not giving up.
McGuire is still hopeful he'll be able to build the stadium and win the property-tax exemption he said he'll need to make it financially viable. But now that the Legislature has adjourned, his path just grew more difficult.
"I consider it a setback for our state and our community that we had a whole lot of very important issues not resolved in this session, and so everybody's just going to have to come together and get them done," McGuire said. "This is just one of many."
In contrast to other Minnesota sports teams, Minnesota United isn't asking taxpayers to help cover its construction costs. McGuire and the other owners say they can come up with $150 million to do that themselves. But they have asked for a sales tax exemption on the building materials valued at about $3 million.
More significantly, they've also asked state and local officials to waive property taxes. They argue that ongoing business expense could mean the difference between turning a profit and running a deficit.
The proposed tax breaks for the stadium were never formally introduced at the Legislature, where lawmakers took symbolic votes making it clear they wouldn't support any public money for the project.
But McGuire plans to keep pushing.
"I think there's still a special session to come," he said. "So our attitude is we'll continue to explore this and see if there's a way to make it happen."
Gov. Mark Dayton will call the Legislature back into session at some point to settle a dispute over education funding. But it's unclear whether other issues will be allowed on the agenda.
Minneapolis Mayor Betsy Hodges came out immediately and vehemently against property tax breaks for a soccer stadium. She said permanently waiving taxes for a privately owned building would be unprecedented.
Hodges also raised concerns that the stadium would divert summer concert events from city-owned and subsidized Target Center.
In spite of the mayor's opposition, members of the City Council are open to the idea. Among them is Council Member Jacob Frey, who has been negotiating with Minnesota United. He said the team already has agreed to a variety of concessions.
"We wanted a minority hiring agreement, community hiring, livable wages. We wanted the facility to be environmentally sustainable. And we wanted some termination or ending point as far as when the property tax exemption would finish," Frey said. "And for the most part, the ownership has agreed to all of those asks."
Frey stressed that while the proposal from the team has been sweetened, there's still no deal in place. But even if the City Council agreed to something, he said, it would still need the Legislature to sign off.
"Clearly any proposal that would move forward would need some form of state authorization, and clearly the Minnesota United ownership don't have that right now," Frey said. "So the question now is: How do they move forward?"
When team owners first unveiled the proposal, legislative leaders described it as "modest" and "reasonable." But it lost momentum almost immediately.
Council Member Blong Yang said the team did a clumsy job selling its plan to lawmakers.
"What they were asking for wasn't very detailed or clear to anybody who was reading it, and so it allowed for other people to talk about what they were asking for in different language that made it sound awful," Yang said. "And what they were asking for isn't anything that is extraordinary. Frankly, it was a fairly decent deal."
Yang notes that all the other major league stadiums in Minnesota are already exempt from property taxes, because they're publicly owned. But he said the team's timeline for winning approval may have been overly ambitious. The team first presented its tax break proposal just one month ago — leaving little time for the Legislature to process the request.
"The Vikings went to the state Legislature years and years and years and years before something happened," Yang said. "The Twins did pretty much the same thing. ... Most people would say give it some time. This was fast-tracked pretty quickly."
It's not clear how much time the team has. When Minnesota United won its bid to join Major League Soccer, the league said it expected the stadium plan to be finalized July 1.
Team officials say that's not a firm deadline. MLS officials have not returned calls seeking comment.
Your support matters.
You make MPR News possible. Individual donations are behind the clarity in coverage from our reporters across the state, stories that connect us, and conversations that provide perspectives. Help ensure MPR remains a resource that brings Minnesotans together.